Natural gas production has been booming, but the price of this commodity has been going south as if there is no bottom. Is the end of the downtrend anywhere in sight? This is a crucial question for investors in various industries.
Fertilizer companies, for example, use natural gas as a key ingredient in many products. When the price of natural gas falls, these companies should typically save on some cost. Natural gas drillers, on the other hand, feel the pain more for every cent the price drops.
Some investors have been on a bargain-hunting spree, thinking the price of natural gas cannot stay at these depressed levels forever. Others, such as the billionaire investor Warren Stephens, have moved in when the price was higher. But Stephens continues to like natural gas a lot because he thinks over time we will come to realize the true wealth that natural gas is for the US, and what it means to us.
However, for those seeking alpha from the long side, it looks like now is still not the time to become bullish on natural gas. There is some speculation that a government report this week will show a growing inventory surplus. This has caused natural gas to sink to the lowest intraday price in more than 10 years. Now that winter is behind us, demand for the fuel will drop, and that is not a good support for the price too. Another worry is if storage space runs out, it will lead to congestion in pipelines. If that happens, price will fall further. Given the extreme condition of the current glut in natural gas, some analysts are saying a recovery in price could take years.
But there are bound to be short-term trades that could offer a careful trader many opportunities. For example, given the strong resistance at $2.57, any unexpected move to around $2.34 could be used to sell with a stop as close as above 2.45. Alternately, if you wish to invest in an ETF that mirrors the Natural Gas (Nymex) contract, then the ProShares UltraShort DJ UBS Nat (NYSEARCA:KOLD) is one choice. I also recommend that you read an article by Jared Cummans in Seeking Alpha where he discusses ETFs to bet against natural gas, including DGAZ.
From a technical perspective, the commodity is likely to go lower to at least the $1.985 levels. Initial support lies at $2.14, the target obtained from a breakout of a triangular formation. But Elliott Wave analysis of natural gas point to the lower level around $1.985 as the target for the current down leg.
Click to enlarge.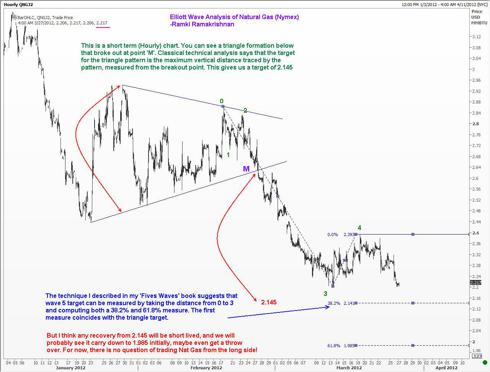 Disclosure: I have no positions in any stocks mentioned, and no plans to initiate any positions within the next 72 hours.