Pacific Drilling (NYSE:PACD) announced their second half and full year 2011 results on March 26, 2012. This was the first earnings report from the company during its operational existence (producing revenue through contract drilling operations) and it was most certainly not a bad report. Here are some of the highlights:
The company reported net income of $500,000 on revenues of $65.4 million over the second half of 2011.
The company took a loss for the full year 2011 of $22 million after adjusting for the excluded joint venture on revenue of $65.4 million.
The company had no revenue during the first half of 2011. Operations commenced in the second half and generated $65.4 million in revenues.
Fiscal year 2011 was a unique year for Pacific Drilling. The company became a public company listed on the New York Stock Exchange and also earned their first dollar of drilling revenue. As a result, Pacific Drilling incurred a number of one-time expenses that are normal for the start-up of drilling operations. These expenses include shore-based and operational expenses in advance of actual rig operations, legal and other professional fees incurred in connection with financing transactions, and specific issues related to engine performance on one of the newly delivered rigs.
Pacific Drilling has a unique opportunity with one of its ships, the Pacific Santa Ana. This is the first Dual Gradient drillship in the world. Dual Gradient Drilling is a relatively new technology (it was actually developed in the late 1990s but did not attract attention from the industry) for improving the safety and economic viability of deepwater wells. Here is a PowerPoint presentation in PDF format from Chevron (NYSE:CVX) that explains the principles behind this technology and the benefits of it.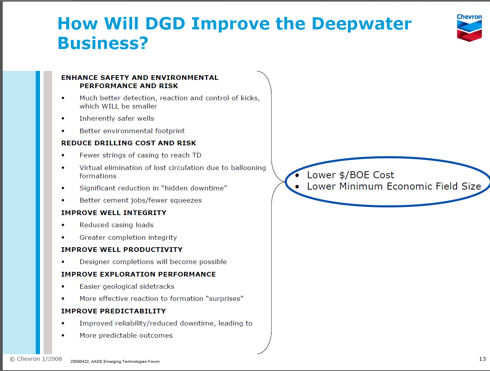 Chevron states that Dual Gradient Drilling promises to increase the safety of ultra-deepwater wells. This is something that is taking on new importance for the industry ever since the Macondo oil spill in the Gulf of Mexico in 2010. SeaDrill (NYSE:SDRL) stated in their Q4 earnings press release that customers are placing a greater emphasis on safety than ever before. The same is true of Pacific Drilling's customers (which are largely the same big oil and gas companies that make up SeaDrill's customer base). The Pacific Khamsin and the Pacific Sharav are also dual gradient drilling-capable rigs and both will be available in 2013. Pacific Drilling will thus have three of only a handful of vessels that are capable of conducting this type of drilling operation. The benefits of this technology could cause it to be very high in demand by safety-focused big oil customers and that could result in climbing dayrates for these three ships. Pacific Drilling would be a beneficiary should this happen.
In several previous articles including my last one on Pacific Drilling, I mentioned that the demand for ultra-deepwater offshore rigs is outpacing supply. Pacific Drilling noted this in their press release (linked above) as well. Christian Beckett, CEO of Pacific Drilling, stated, "We believe the market for rigs delivered in 2013 and 2014 will continue to be very robust." Pacific Drilling will take delivery of two ultra-deepwater rigs in 2013, the Pacific Khamsin and the Pacific Sharav. The company also has a seventh drillship under construction with a May 2014 delivery date. Thus, Pacific Drilling will have three of their seven ships available for first contract during what is very likely to be a period of escalating dayrates for the industry. This should prove to be a driver of growth for the company.
Pacific Drilling provided strong guidance for the coming year. The company expects their economic utilization rate to be between 90% and 93%. This is roughly in line with the utilization rates that competitors expect to achieve with their drillship fleets. It is also roughly in line with the 93.2% rate that Pacific Drilling managed to achieve in the second quarter of 2011.
Pacific Drilling provided the following financial guidance for 2012:
We expect revenue efficiency to average between 90% and 93% for the coming year; however, this average annual revenue efficiency may fluctuate from quarter to quarter. We anticipate that direct rig operating costs, excluding amortization of deferred operating expenses, will range between $160,000 and $165,000 per day per rig and shore-based and other operations support costs are expected to be an additional $12,000 to $14,000 per day per rig. Selling, general, and administrative expenses for the full year 2012 should range between $40 million and $45 million, including $2 million of legal and other professional fees related to our project facilities agreement. We expect depreciation for 2012 to range between 20% and 22% of contract drilling revenues. Finally, income tax expense is expected to range between 4% and 5% of contracting drilling revenue.
Pacific Drilling remains a new and unproven company in the ultra-deepwater offshore drilling industry, but I see a lot of potential here. The company has an experienced management team, one of the most modern and technologically-capable fleets in the industry, and a customer base that includes some of the biggest oil companies in the world. The company's results and presentation show its potential and the company's newbuilds are likely to be a major driver of growth. I look forward to seeing what this company can do going forward and am strongly considering taking a long position in the stock.
Disclosure: I am long (SDRL).