It doesn't seem that long ago when anything solar was the hottest ticker in town. The federal and municipal renewable energy subsidies that were enacted here in the U.S., as well as in places like Germany, Spain and the U.K., led to meteoric rises in solar energy stock prices in the middle part of the last decade. It seemed as if the promise of cost-effective solar power was finally coming to fruition and that the sky-high multiples given to solar manufacturer stocks were fully justifiable. Oh, how things change.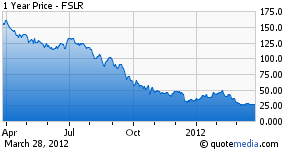 One of the highest of the high-flying solar manufacturers, First Solar (NASDAQ:FSLR) commanded a stock price of nearly $300 per share in 2008, and a P/E multiple north of 100. Of course this was prior to the bursting of the credit bubble and the collapse of the housing market in the U.S. and around the world. So, now that it seems we may be nearing the end of this economic catastrophe, I believe First Solar is worth another look.
As the premier solar manufacturing company in the U.S., First Solar has certain fiscal advantages. And with a stock price that is nearly 90% off its all-time high, it seems an attractive investment candidate. But let's dig into the numbers behind this one-time behemoth and see if it stands up to scrutiny.
Technological Advantages
First Solar makes its panels using a process that is less time and energy-intensive than its competitors. That's because they use cadmium-telluride (CdTe) as their semi-conductor material and apply it in a thin-film process onto glass. The result is fewer production steps and less energy spent in the manufacturing of panels. Most of its competitors, including LDK Solar (NYSE:LDK), Suntech Power (NYSE:STP), Yingli Green Energy (NYSE:YGE) and SunPower (NASDAQ:SPWR) use crystalline silicon as their semi-conductor material.
Another advantage of using CdTe instead of silicon is access to the raw materials. At the height of PV panel production around 2006, silicon wafers were in huge demand and manufacturers were paying a premium for access to them. Since then, as demand for panels has fallen, the prices have come in a bit. But production has dropped as well, leaving the costs of silicon wafers still at very high levels.
First Solar doesn't have this problem, as their panels don't require the use of silicon. The price of the raw materials for CdTe, cadmium and tellurium, are negligible when compared with the overall cost of production of solar panels. As a result, First Solar PV panels are cheaper to produce and have a lower price per watt (PPW) than the competition.
One thing to note is that CdTe-based PV panels are not as efficient as the traditional silicon-based ones. That being said, First Solar has made progress toward increasing the efficiency ratings and has recently exceeded 14% in real-world testing. The maximum efficiency rating for silicon panels is around 20%, so the gap is closing.
Also, First Solar has always primarily focused on the production of large-scale power generation for use by electric utility companies. With government mandates dictating a certain percentage of electricity generation be produced using alternative energy sources, First Solar seems to be in the sweet spot there as well.
Valuation
While most of its competitors are losing money and have negative EPS numbers, First Solar is still profitable. At around 26 bucks a share, the stock has a current price to sales ratio of .83 and an expected year-over-year revenue growth rate north of 8%. Nearly all of its competitors have negative growth rates.
For fiscal year 2011, First solar reported negative GAAP earnings per share of ($0.45), but when accounting for write-offs and special charges, the company actually earned $6.00 per share. The resulting P/E ratio at this normalized earnings rate is around 5, giving it a very attractive .7 PEG ratio.
Finally, First Solar had sales in 2011 of $2.7 billion, surpassing most of its competitors. Only Suntech had higher sales volume at $3.1 billion. Furthermore, Suntech, along with LDK and Yingli, are Chinese companies that receive huge incentives from the government of that country. There are negotiations taking place between the U.S. and China to level the playing field by removing those subsidies, which can only benefit First Solar.
Headwinds
Just in case you're starting to believe everything is now sunny for First Solar, I want to point out some potential headwinds for the company. Germany has recently cut by 30% the subsidies that the government had in place to promote solar and other renewable energy programs. As the world's largest consumer of solar energy, this has a potential impact on all manufacturers, including First Solar.
In addition, the recent fiscal problems within the European Union has meant cutbacks and austerity measures for countries like Italy, Spain and the U.K., all big consumers of solar power. And if the current financial problems continue or get worse, this could lead to even more cutbacks on solar programs. First Solar sold 900 megawatts of solar power in Europe in 2011, but expects sales of only 600 megawatts in 2012.
As if these problems weren't enough, a recent decision by the U.S. Commerce Department imposed import duties of less than 5% on Chinese companies importing solar panels into this country. This is far less than had been anticipated and led to a sharp sell-off in shares of U.S. based manufacturers.
Finally, massive over-capacity remains a huge drag on prices of solar panels, even as input costs remain unchanged. Even with First Solar's innovative technology, decreases in panel pricing by competitors means they must lower their selling prices to match. This is expected to continue for the next two to three years according to analysts who follow the industry.
One bright spot is that First Solar has enough capital and sales capacity to survive this downturn. Combined this with drastically reduced expectations, and you can see that they stand to benefit from any missteps by the competition. As competitors are driven out of business and demand for panels normalizes, First Solar is in a unique position to benefit and rapidly grow their sales base.
Conclusion
First Solar is an innovative company that is experiencing tough times through no fault of its own. It's a company with a unique product and a business model that would be wildly successful in a normal economic environment. Given the period that this company and the entire industry have experienced, it's no wonder that things look dismal. It's at these times when an investor must look at the fundamentals and judge whether the future looks brighter for those who have made it this far. In my opinion, it looks brighter for First Solar than it has in a long time.
Disclosure: I have no positions in any stocks mentioned, and no plans to initiate any positions within the next 72 hours.