Earlier in the month, global communications market research firm Infonetics Research released excerpts from its fourth quarter 2011 reports, providing investors an inside view into the competitive dynamics and industry trends facing several of the most widely traded tech companies around the world. Their reports covered such majors as Cisco (NASDAQ:CSCO), Hewlett-Packard (NYSE:HPQ), Motoral (NYSE:MMI), Juniper (NYSE:JNPR), F5 Networks (NASDAQ:FFIV), Aruba (NASDAQ:ARUN), Alcatel-Lucent (ALU), Adtran (NASDAQ:ADTN), Extreme Networks (NASDAQ:EXTR), and NETGEAR (NASDAQ:NTGR).
Below we summarize Infonetics' release of reports dealing with three broad markets: the enterprise router market, the wireless LAN and Ethernet switch market, and the data center equipment market. The data indicate that in several key divisions, including in the enterprise router, wireless LAN, Ethernet switch, and data center equipment markets, global growth is predominantly deriving from the emerging economies and the industry is becoming increasingly competitive amidst global expansion.
Enterprise Router Market: The Report
Infonetics reports that although enterprise router overall volume is back to pre-recession levels, revenue is down 18% from the peak. According to Infonetics analyst Matthias Machowinski, "While the high-end of the market remains robust as buyers invest in congested and mission-critical parts of their network, there is significant substitution in the bulk of the market (branch and mid-range routing) with lower cost solutions." You can read the company's full release on its "Enterprise Routers vendor market share and forecast report" here. Below is a summary of the release:
- Total enterprise router sales rose $920 million, or 1%, from 3Q11 to 4Q11. Sales are up a total of 2% in 2011.
- Growth was driven almost entirely by China, which saw a 34% increase in revenues% in 2011.
- Cisco's share of the market dropped 2% in 2011, but it still owns nearly 3/4 of the market.
- Hewlett Packard more than doubled its enterprise router sales in 2011 by capitalizing on the Chinese market. It has roughly equal marketshare to Juniper, which combine in roughly equal parts to comprise approximately 1/8 of enterprise router revenue.
Wireless LAN & Ethernet Switch Market
Infonetics also issued a release for its "Wireless LAN Equipment and WiFi Phones and Ethernet Switches vendor market share and forecast report," found here.
On the topic of the markets for Wireless LAN and Ethernet Switches, Infonetics analyst Machowinski stated, "Enterprises are racing to upgrade their infrastructure to support the wave of wireless devices hitting their networks. While the bulk of expenditures still goes toward wired Ethernet switches, and will for some time to come, the growth is coming from wireless networking gear, up 24% in 2011, compared to flat sales for Ethernet switches." Below is a summary of the release:
- The global wireless LAN (WLAN) equipment market continued its double digit year-over-year growth trajectory for the ninth consecutive quarter by reaching $893 million in sales in 4Q11, up 1% over 3Q11.
- The growth rate of the WLAN market is expected to slow amidst declining prices, only to pick back up in 2015.
- Cisco is still the market leader in WLAN but in 2011 saw significant competitive pressure across its product sphere. It maintained roughly 50% of the market, with Aruba in second, and Hewlett- Packard and Motorola neck-in-neck for third and fourth.
- Global ethernet switch sales gained 1% in 2011 to reach $18.9 billion. The only growth segment were in 10G ethernet ports, which increased by 90%.
- China had the biggest growth in Ethernet switch sales in 2011 with 32% growth, while Latin America saw 19% growth.
- Cisco saw its market share decline by 3% to 67% of the market, while Hewlett Packard gained 2% to reach 12% and Juniper gained 0.5%.
Data Center Network Equipment Market
The last industry report from Infonetics we present is its "Data Center Network Equipment market share and forecast report." You can read the Businesswire synopsis of the report here. Below is a summary of the release:
- Global data center equipment sales grew on-track in 4Q11 to $2.36 billion, to total a 9% growth in data center gear for the year. That growth was much larger in 2012 (59%). Infonetics predicts double- digit percentage increases in revenue for the overall data center equipment market over the next two years, followed by a tapering off of growth.
- Cisco is the industry leader in data center equipment, though it lost market share in all 3 major segments in 2011: switches, ADCs, and WAN optimization.
- F5 is the leader in the application delivery controller (ADC) market and grew its revenue by 20% in 2011.
- Hewlett Packard remains second behind Cisco in the data center Ethernet switch market, but increased its revenue 38% in 2011.
Making Sense of the Data
If you are long Cisco, there is cause for concern in these reports. Cisco's market share took a hit across the board in the final quarter of 2011, if only moderately, but nonetheless almost universally. Cisco's stock price reflected these competitive pressures throughout 2011 and lost significant ground to the broader market in the first three quarters of the year: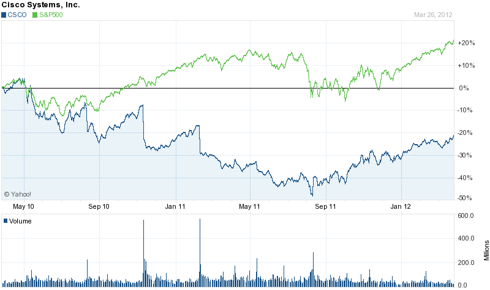 In many of the specific industries Infonetics addresses, Cisco owns such a substantial share of the market that there is little it can do to keep from losing ground as global demand rapidly expands and fragments the customer base.
Take the enterprise router industry as an example. With still nearly 75% of the enterprise router market, Cisco is on solid footing and actually fending off competition quite well. Still, it lost two percentage points of market share in 4Q11. Hewlett-Packard, meanwhile, is the primary beneficiary of Cisco's leaked market share. HP managed to not only eat into Cisco's market share, but also doubled its sales in 2011 by focusing on the Chinese market.
So, too, in the Ethernet switch market did Hewlett-Packard gain at Cisco's expense. With China's leading 32% growth in Ethernet switch sales in 2011, HP gained 2% of the global market share while Cisco shed 3%. Again, despite Cisco's firm hold on 67% of the market, its loosening hold on the industry gives its shareholders reason to worry that HP and others are stronger positioned in the major growth markets in Asia and Latin America.
In the area of Wireless LAN, not surprisingly, Cisco again experienced significant competitive pressure in 2011. Cisco still maintains roughly 50% of the market, with a group approaching behind it led by Aruba, Hewlett-Packard, and Motorola.
And, lastly, in the broad area of data center network equipment, Cisco once more lost market share - in all three major segments: switches, ADCs, and WAN optimization. Notable contenders for that market share in 4Q11 were Hewlett-Packard once more and F5 Networks.
Hewlett-Packard's Competitive Stature Growing
It is clear from Infonetics' releases that several competitors are emerging as real threats to Cisco, and Hewlett-Packard appears to be the most serious emergent competitor. In each of the industry segments reviewed, HP grew market share at Cisco's expense and did so, perhaps more significantly, by capitalizing on emerging market growth. This bodes well for the prospect of future gains for HP.
Still reeling from management shake-ups and a PC industry on the decline, HP recently announced a major reorganization that will see it combining its PC and printer divisions. This should free up corporate resources to focus on HP's higher growth, higher margin areas like software, services, data, and storage. We see a good entry point in HP's share price at current levels and recently published our view on the stock - Hewlett Packard: A Bluechip in Transition, Attractive Value Play. The data presented in Infonetics' releases would seem to confirm that HP is well positioned in a diversity of growth industries. We feel the results speak to HP's effective execution of this new growth strategy, and we see further market share gains in the future.
Disclosure: I have no positions in any stocks mentioned, and no plans to initiate any positions within the next 72 hours.