According to Seeking Alpha "Market Currents", Larry Page of Google (NASDAQ:GOOG) is "defiant in the face of widespread criticism" over his company's integration of Google+ content into its search results. Page reportedly responded: "This is the path we're headed down -- a single unified, 'beautiful' product across everything. If you don't get that, then you should probably work somewhere else."
I have but one response: "You go, Page".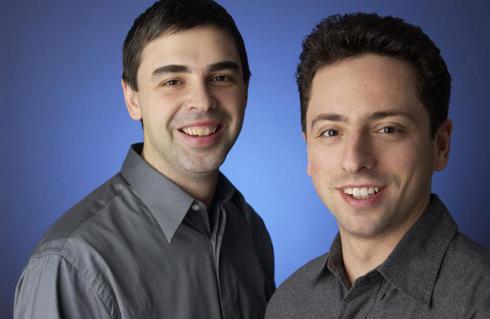 Sergey Brin and Larry Page (pictured on right), unlike Mark Zuckerberg of Facebook, actually have something that is sustainable. The complaint that Google+ is doomed and that Facebook will reign supreme on something as ephemeral as a website is just out of touch with historical examples and, I would even argue, human psychology. Humans move. We change. We're fickle. And, perhaps most upsettingly, we are often only fixated on what is immediately in front of us (like that zoomy picture of Brin and Page). Remember Instant Messenger? Then came Gmail. Remember Myspace?… You know, the company that really started social networking until the much cooler Facebook came into the scene.
This is a craze and with a valuation that requires a Google and a half, it's not sustainable. What Google and Yahoo both have going for it, however, is sustainable.
Integration is key and Google has proven strong execution time and time again. From creating the most attractive search engine to solidifying that lead with Gmail to becoming #1 in Mobile through Android, Google is led by a stellar team. And the integration through social networking is a brilliant answer to Facebook. Yesterday, I was looking for movies, and a few thoughts from professionals on Google+ graced my screen: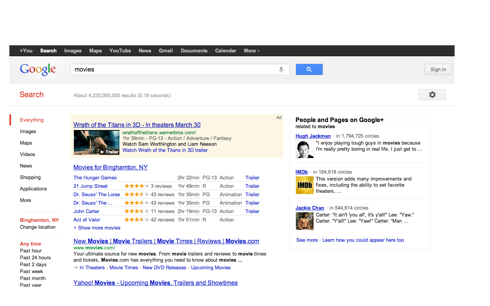 Perhaps most importantly, this form of social networking can transmute into attractive advertising dollars. I think the entire fad of people sharing what is immediately on their minds is not here to stay. When people want to stay close, email will serve that function. But finding recommendations from top experts on the "Internet's highway", if you will, is reasonable. I think professionals like Jackie Chan would be interested in branding themselves this way.
In light of my bullish opinions on Google and background in shareholder activism and investor relations, I was particularly interested by the proxy fight going on at Yahoo! (YHOO). Yahoo has failed to move like Google and has thus paid the price. The whole idea of the company appointing three independent directors to the board is rightfully viewed skeptically by activist investor Daniel Loeb. It is more of a political effort than anything else. Loeb, the company's largest independent shareholder, seeks to ultimately get his own slate elected and is pushing for strategic actions like an outright sale.
Like Google (see here), Yahoo is trading at a deep value discount. In order to come up with an intrinsic value for the shares, I employed a DCF model. I assumed 11.5% per annum growth rate over the next half decade and modeled cost of goods sold, SG&A, R&D, and capex as 35%, 29%, 0.6%, and 9.4 - 9% of revenue, respectively. Factoring in taxes and net increases in working capital hovering around -4% of revenue while adjusting for depreciation yields free cash flow above what the market appreciates. Taking a perpetual growth rate of 2.5% and discounting backwards by a WACC of 9.5% yields a fair value figure of $20.38, implying 32.1% upside. In short, this is well worth the proxy fight.
All of this falls within the context of having a stronger brand than what the market acknowledges:
"You all know Yahoo! has an exceptional foundation; a powerful brand; enormous numbers of unique visitors, 702 million of them globally; relationships with the world's leading advertisers and technology platforms operating at massive scale. We plan to do more with all of these advantages. We're going to work not just at scale, but with speed. We will focus on generating real, sustainable growth and value creation".
From a multiples perspective, Yahoo, is decently priced. It trades at a respective 18.8x and 16.8x past and forward earnings versus 21.8x and 13x for Google and 49.8x and 23.2x for Baidu (NASDAQ:BIDU).
As Google edges out Facebook, Yahoo, Baidu, and other search engines will generate strong returns. As the go-to search engine in China, Baidu offers ideal exposure to emerging markets. Freedom of speech issues represent significant headwinds; but, on the positive, side, I don't see matters getting too much worse. The market has factored in this risk and thus has a bottom to improve off of. I anticipate that it will make similar efforts in social networking like Google. Another company worth backing for this kind of exposure is Rediff.com (NASDAQ:REDF), which targets India. Overall, I strongly recommend buying shares in Google and smaller emerging players that can benefit from the fall of the Facebook giant.
Disclosure: I have no positions in any stocks mentioned, and no plans to initiate any positions within the next 72 hours.
Disclaimer: We seek IR business from all of the firms in our coverage, but research covered in this note is independent and for prospective clients. The distributor of this research report, Gould Partners, manages Takeover Analyst and is not a licensed investment adviser or broker dealer. Investors are cautioned to perform their own due diligence.