In December, I wrote two articles on China Medical (CMEDY.PK). I pointed out some factual errors in a report that Glaucus Research issued. Additionally, I commented on the debt restructuring that management accounced. Since then, shareholders have experienced a roller coaster ride.
In mid-January, Standard & Poors credit research downgraded the company's credit rating as it was their understanding that the company missed a coupon payment on its 2016 convertible debt. Speculation of this, and the subsequent news, sent shares reeling from nearly $3.71 on January 18 to $1.82 on February 6. Shares of the company's stock were halted the next day on lack of communication from management to the NASDAQ. Before shares opened for trading again, S&P dropped its rating on the company due to lack of available information. After opening at $0.62 on the Pink Sheets on February 28, the stock, having traded nearly 14.5 million shares since, is up to over $3 per share, 70% higher than where it was halted.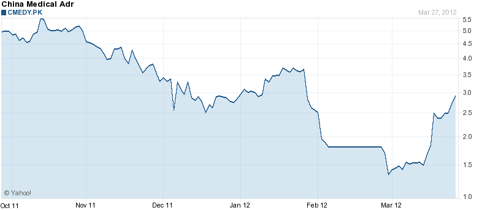 Now that shares are back to where they opened the year, it is time for investors to reevaluate their stake in shares of China Medical. The most clear signal that investors need to be skeptical is that the company has not put out an official (or unofficial) communication since December of last year, despite efforts by the NASDAQ and ratings agencies to do so, not to mention what i'm sure amounted to countless communications from shareholders. This act alone constitutes a breach of management's fiduciary duty. Even if one day management comes out of the woodwork to explain themselves, the company, the board and management will face significant back lash and lawsuits over what has occured over the past three months.
Maybe the most miraculous part of this story is that despite the company's radio silence, shares, as of today, are over $3. It's difficult to understand who is buying shares in China Medical right now and what their rationale is. Some investors have speculated that the convertible bond holders converting into shares is a good thing, as it takes the liability off the company's balance sheet. If investors believe the company's most recent balance sheet, which states it has $200 million in cash, that would make for an interesting floor for the stock.
A best case scenario is that management goes public in the not so distant future and says that the radio silence was an effort for management and its affiliates to buy the majority of the shares at a discounted price, however, as I mentioned before, this would breed all types of lawsuits. With that being the case, we have sold out of the majority of our position. It's impossible to justify holding a company that does not communicate with its shareholders in any significance in a portfolio.
Alternatively, if the company's financial records were accurate, there could be significant upside in shares. By holding on to a limited number of shares, shareholders still benefit on the upside and considerably hedge their risk on the downside.
Disclosure: I am long CMEDY.PK.