Market Recap: The market struggled on Wednesday after starting the week out strong with Bernanke's QE comments and Merkel's EFSF comments. Now, the market is looking at a fairly flat week, moving into the final two days of the week, which have the most data and excitement. We thought we would have a fairly bullish week with funds and market makers wanting to do a bit of window dressing and hold key levels on the market. They are still slated to hold 1,400 on the S&P and 13,000 on the DJIA. Tomorrow, the market, however, will be looking at GDP, jobless claims and getting one day closer to Q2. Where it goes will be strongly based on those results, and we believe good news will send us higher.
The market dipped on limited news with durable goods weaker and crude inventories building, but the news points can easily be outweighed by GDP, QE talk, jobs situation, etc. Yet, the issue we saw is the depth of the sell-off on limited news today. That sell-off does give us a bearish tinge, and we have to now start to look at what can move up or down from here.

Two Trades
Here is what we like to trade for both directions. Constellation Brands (NYSE:STZ) and Apollo Group (NASDAQ:APOL). If we get some upside, we like Constellation Brands. We have a Buy rating on the stock with $30 PT. The company has been on a slow rise uptrend with a breakout over $23. The stock is starting to consolidate over the past two days, but a stronger market would definitely be a positive for this stock, and we could see it taking off again from here. The stock broke out of its price channel, and the past two days have allowed some consolidation. The trend today was to move down quickly early and move higher throughout the day, which shows a lot of strength in this stock. The move was on limited volume as well on the way down.
APOL has looked weak for awhile, and we have a bear call spread we entered before earnings. The earnings came out as we expected - weak. Enrollment is down, and it is not showing signs of picking up. The issue for for-profit institutions is that they perform well when economies are weak. When people are losing their jobs, they are ready to up their appeal by education. As jobs are improving, however, they are going to see less people wanting to take that path. We believe that the downside for APOL is still strong, and we would look for them to continue to decline if the market continues to weaken.
We recommend going long STZ stock on good data tomorrow at the open. We would do a bear call spread at the Apr20 42/43 level if we are looking at another red day tomorrow.
Click to enlarge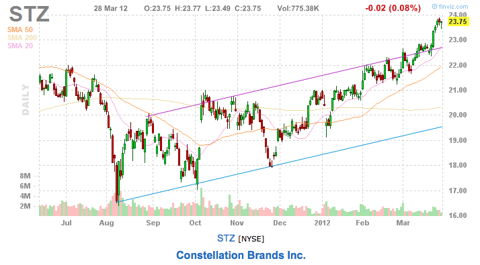 Tomorrow's Outlook
As we have covered, GDP and jobless claims are crucial tomorrow. Window dressing will be large on good data. We highly doubt we can lose that 1400 level to end the quarter, so if we lose it tomorrow, we would look for it to be retaken on Friday. Europe and Asia are quiet this week. Europe has unemployment changes for eurozone tomorrow, which is something interesting to consider for the European markets that will affect ours. We also get several eurozone indicators like Business Climate and Consumer Confidence. Those reports are not nearly as impactful as GDP, but they will affect European stocks, which affect us. Asia is quiet for tomorrow.
Analyst Moves
The interesting analyst moves for us today was Frontline (NYSE:FRO) being upgraded to Buy from Dalhman Rose one day after Goldman Sachs (NYSE:GS) downgraded the company. The companies seem to be battling a bit, and the stock prospered today. Those type of battles are tough for investors and traders and should be avoided. Salesforce.com (NYSE:CRM) got another price target up from Canaccord today from $170 to $180. We continue to hold a Sell-rating on CRM with $95 PT. While we continue to look wrong at this point, CRM has astronomical valuations that will eventually disappoint.
Commodity Talk
We went short oil yesterday as we laid out in our weekly plan, and oil is looking highly pressured right now. The U.S. is thinking about an SPR release. France is close to doing it as well. Inventories were at 7M today, and everyone knows that these gas and oil prices are going to choke our markets. For that reason, we only took half off of our Ultrashort Proshares Oil (NYSEARCA:SCO) position, and we look for another move down tomorrow or Friday. Gold's short-term boost was just that ... short-term. Retesting bottom - looks like a lower move is in order unless QE comes.
Our Moves
We closed several positions today. We got a 3.25% gain on the SCO position mentioned. We also closed our long on American Express (NYSE:AXP) in our short-term portfolio for a 2% gain. We also closed out Canadian Pacific (NYSE:CP) long in our earnings portfolio for a loss but averaged out with a gain after a big gain on Monday. We added a bull put spread for May expiration in Visa (NYSE:V), and we are heavily bullish on credit card companies.
We have the following positions. In our Short-Term Equity Portfolio we are long Coventry Health (CVH) and SCO. In our Options Portfolio, we are long V, PetSmart (NASDAQ:PETM), CF Industries (NYSE:CF), Starbucks (NASDAQ:SBUX), Ralph Lauren (NYSE:RL), Google (NASDAQ:GOOG) and IBM (NYSE:IBM). We are short Apollo Group and iShares Russell 2000 (NYSEARCA:IWM). In our Earnings Portfolio, we are long Monsanto (NYSE:MON), Ulta (NASDAQ:ULTA), Canadian Pacific and Goldman Sachs.
Chart courtesy of finviz.com.
Disclosure: I am long SCO.