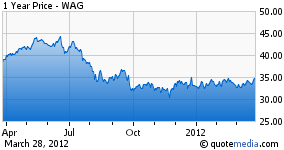 Walgreen (WAG) is up 6% so far this year.
Sounds good, but the S&P is up 10%. More important the shares of its chief rival, CVS (NYSE:CVS) Caremark, are up almost 11% and those of ExpressScripts (NASDAQ:ESRX), which kicked it out of its reimbursement system at the start of this year, are up 8.3%.
Given the latest reports indicating the ExpressScripts' acquisition of the third-leading pharmacy benefit manager, Medco Health Services (NYSE:MHS), will go through as early as next week, you might be tempted to sell Walgreen short.
That would be a mistake. Now may be the time to buy.
There are growing hints that the war with ExpressScripts may be ending. UBS has kept a "buy" rating on the stock expecting a deal next month or in May. While admitting that the lack of an ESRX connection has cost 7 cents per share in earnings so far this year, WAG is also saying it expects to keep MHS customers after the merger.
It all smells suspiciously like a fix may be in. As I noted back in December, Walgreen has been hurt by this dispute, and as I noted in February, I profited by buying MHS, then selling it before the merger. It's just hard to see how the government could approve ESRX buying MHS, then using both to squeeze out WAG. Good news is coming.
A second reason for bullishness on WAG is its ongoing makeover. Under the catch phrase "Well Experience," Walgreen is transforming its outlets into a new healthcare front line, with clinics and other services, and the impact of that won't be felt until later this year.
The company is not heating up Wall Street now, but it will. At its present price it's a real buy.
Disclosure: I have no positions in any stocks mentioned, and no plans to initiate any positions within the next 72 hours.