Both Gamestop (NYSE:GME) and Netflix (NASDAQ:NFLX) are transitioning from physical to digital business models. They both have around 20MM (18M Powerup Rewards, 23M Netflix Subscribers) members in their formal programs. They both have to prove themselves in digital, perhaps in direct competition with content creators.
But Gamestop
benefits from a demographic shift from watching to gaming

is more heavily shorted than Netflix

is harder for outsiders to understand, compared to Netflix

has a lower P/E than Netflix

I don't hate Netflix, I don't love Gamestop, but I love money, and I think the market has left some on the table here.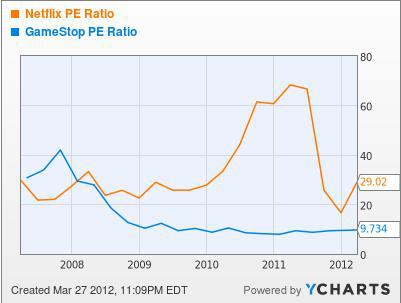 I'll be honest with you. I don't know which direction these streaming leaders are headed. That's why I like this "streaming neutral" bet. It's a way of saying to the market with your money, "I don't know what will happen in streaming, but I don't think Netflix is 3 times more fertile than Gamestop."
How does Netflix add value, and why does the market understand this?
Netflix adds value by offering a viable alternative to traditional consumption mediums for television and movies. Netflix is a "simplifier" that does not require a lot of technological literacy. This overall value proposition to the consumer is in turn simple for the market to understand.
How does Gamestop add value, and why does the market not understand this?
Gamestop adds value by creating a resale market for physical games. The stock market does not understand why this value should endure a shift to digital. What the stock market misses is Gamestop's interaction with the consumer. By 'gamifying' the purchase or "trading" of games, Gamestop induces a net increase in new game purchases. And this relationship of a "game around the games" can endure across digital. Meanwhile the devices used to play games will allow Gamestop to continue its market making and repair operations in the pre-owned space.
Brick and mortar has the market confused.
Okay, so Netflix doesn't have to pay rent and cashiers for retail outlets, and Gamestop does. Guess what? Apple (NASDAQ:AAPL) has stores. So physical presence can be profitable, even when the product transcends retail distribution.
Netflix built its brand with a discovery algorithm that is no longer special. But Netflix still has a special relationship with consumers, as does Gamestop. I am agnostic as to Netflix's overall prospects. But relative to Gamestop, I see no big reason for the streaming middleman to be treated as different from Netflix. The market will realize this soon enough. So I think Gamestop will outperform Netflix substantially through 2013.
Disclosure: I have no positions in any stocks mentioned, and no plans to initiate any positions within the next 72 hours.