Northern Hemisphere beet crops are critical to future sugar prices.
Sugar prices began an explosive bull run in June 2010. By February 2011, prices had more than doubled from 14 cents a pound to 36 cents a pound. Concerns of a supply deficit fueled the rise, and uncertainty over Brazil's crop, by far the world's largest exporter, kept traders on edge. The result was sustained volatility.
For most of 2011, prices ranged widely between 22 to 31 cents a pound. During the past four months, prices found a more restricted trading range of between 24 and 26 cents a pound.
Nervous traders pummeled the ICE Futures benchmark No. 11 contract on Monday. Prices for the nearby May delivery fell by almost 3 percent to 24.78 cents a pound on concerns of a firming dollar and a possible increase of Indian exports.
Where To Next?
According the USDA, total world production of sugar for the 2011/2012 (September/August) marketing year is forecast to be 168 million tons, up about 4 percent from the previous year. Although unfavorable crop conditions have lowered forecasts of production in Brazil by as much as 10 percent, record or near-record crops are expected out of the EU, Russia and Thailand.
Some 65 percent of all sugar grown is consumed domestically, leaving only 35 percent available for export. The leading consumers of sugar are India, the 27 EU nations, China, Brazil and the U.S. Global sugar consumption has been rising steadily by about 2 percent a year, and has grown from 128 million tons in 2000 to 159 million tons estimated for the 2011/2012 year.
Total world ending stocks for the 2011/2012 crop year are expected to be 30 million tons, only slightly above the 29.4 million tons a year earlier. This level is considered tight by historical standards and leaves no room for a supply disruption.
About 75 percent of total world sugar supply is made from cane sugar, grown primarily in tropical or subtropical climates. The balance is produced from sugar beets, grown mostly in the Northern Hemisphere's temperate zones.
Cane sugar has a long crop cycle. It can take 12 to 24 months, depending on geography, for cane stalks to mature. The harvested cane then regrows itself without the need for replanting for five to seven cycles.
The largest cane producers are Brazil, India, China and Mexico. Beet sugar is grown from seeds that need to be replanted for each crop. However, the growing season for a commercially viable beet crop can be as little as 100 days. The largest beet producers are France, the United States, Germany and Russia.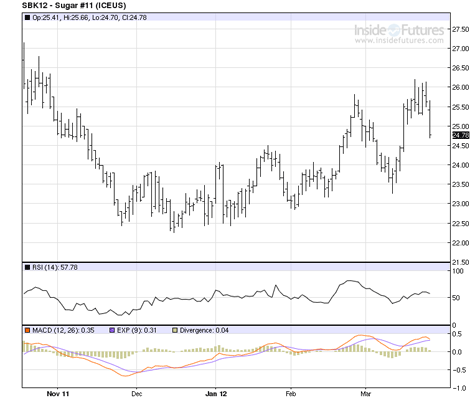 The U.S. grows both cane and beet sugar and all the sugar grown is used for domestic consumption. The United States is one of the largest consumers of sweeteners, including high-fructose corn syrup, and is both one of the world's largest importers and producers of sugar.
But politics play a large role in the domestic sugar market, which is governed by the U.S. Sugar Program, a federal commodity support program. Among other things, this Byzantine program restricts raw sugar imports (as well as refined sugar, sugar syrups, specialty sugars and sugar-containing products) through a quota program. The result is higher domestic prices for sugar cane and sugar beet growers, often substantially above international prices. The USDA establishes a minimum quota of 1,117,195 metric tons annually (under 10 percent of annual consumption) in order to comply with WTO commitments. The import quota is expanded to allow for more imports if domestic supplies tighten.
ICE Futures operates two sugar futures contracts.
The No. 11 contract is the benchmark for world sugar prices. One contract is 112,000 pounds of raw cane sugar FOB (free-on-board) a receiver's vessel at a customary port within the country of origin of the sugar. There are many tenderable origins and delivery points. Raw sugar is defined by a measure of light polarization; in this case, 96 degrees. Light polarization measures syrup concentration or purity. According to the last Commitment of Traders report, managed money operators were net long 134,000 contracts. There is also an active options market.
The No. 16 contract is a domestic contract for delivery of U.S. grown cane sugar (or duty paid foreign cane sugar) to five domestic refinery ports. The contract is also 112,000 pounds of raw sugar. The No. 16 contract is not nearly as fluid as the No. 11 contract. The total open interest for the No. 11 is currently 750,000 lots, with average daily volumes often in excess of 100,000 lots. The No. 16 contract's open interest is tiny by comparison, at only 12,000 lots, and daily volumes tend to be around 500 lots.
There are several sugar ETFs available. The Dow Jones-UBS Sugar Total Return Sub Index (NYSE Arca: SGG) has returned around 11 percent year-to-date. The iPath Pure Beta Sugar (NYSE Arca: SGAR) has returned 8 percent YTD, while the Teucrium Sugar Fund (NYSE Arca: CANE) has returned 3 percent YTD. All are based on futures contracts.
Over the next few months, prices will be influenced less by Brazil's prospects and more by the prospects of beet crops grown in the Northern Hemisphere. Final planting numbers and weather conditions will play a major role.
Managed money operators have already made their bet with a sizable long position in the ICE Futures No. 11 contact, reasoning that even with today's historically high prices, the market could go higher. However, if the dollar continues to firm and the weather cooperates, prices will come under pressure, and the longs will be forced to reconsider their positions.