Nathan's Famous (NASDAQ:NATH) has historically been valued around 7-9x trailing EV/EBITDA. After reporting an excellent Q407, where EBITDA and EPS grew 100% YoY, the stock was positively revalued and experienced significant upside. Now the company trades at around 11x trailing EV/EBITDA (note, I have made a -0.3mm adjustment to trailing EBITDA to account for the sale of Miami Subs).
The great performance that quarter was primarily the function of 1. High margin license royalties from its supermarket brand licensing program that grew 45% YoY (not a huge revenue line item but much more important in terms of its bottom line contribution) 2. Commodity tailwinds related to dropping beef prices which have caused COGS to decrease by 440 basis points YoY.
I submit that both of these items are benefited from non-recurring forces and that the stock is currently overvalued at today's levels: 1. license revenues are comprised of recurring and non-recurring elements and that 45% growth rate was likely the beneficiary of the lumpier non-recurring payments from the company's contractual licensees. This segment over the long term should exhibit a historical growth profile in the low double digits. 2. Commodity tailwinds have already become headwinds this year, as evidenced by the current rise in beef prices.
The reality of Nathan's longer term growth profile is this:
1. the company has experienced very nice historical growth rates from 2003-2007 primarily as a result of its branded products program, which seeks to sell Nathan's branded products (mostly hot dogs obviously) to various retailers/restaurants. Branded products revenue expanded to 16.5mm in 2006 from 6.4mm in 2003. These rates of supernormal growth are unsustainable since the likely customers of the program have already been penetrated. Over the next few years, one should not expect more than the 10-20% revenue growth rates from this segment expected in FY2007 and Q108.
2. The core company owned and franchised restaurant business is a flattish business in terms of both same store sales and restaurant count. This is certainly as expected since the hot dog restaurant concept is a mature concept at best with what I expect to be very poor restaurant unit economics.
3. Over the long term, I do not expect more than a high single digit – low double digit revenue growth profile from this company. Over the next year, I expect commodity headwinds to cause earnings to be flat to down slightly.
Based on this growth profile, the company's historical trading multiples, and other factors, I submit that the company is moderately overvalued at 11x trialing EBITDA. I also see no reason why this company should be valued with a multi year discounted cash flow analysis (with highly speculative growth and discount rate assumptions) as if it were some sort of early stage biopharmaceutical company. I note that the major large cap restaurants like McDonald's (NYSE:MCD), Wendy's (NYSE:WEN), and Yum! Brands (NYSE:YUM) are currently trading at 10x EBITDA, and that a small, illiquid microcap without analyst coverage and limited investor communication (and in a mature hot dog space) should trade at a discount to these peers.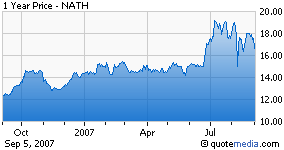 Disclaimer: This is not a recommendation to buy or sell stocks. Please do your own research