The American Society of Clinical Oncology (OTC:ASCO) 2012 annual meeting will take place June 01 - 05, 2012, at McCormick Place in Chicago, IL. This meeting brings together more than 25,000 oncology professionals from a broad range of specialties, making it an excellent venue for exploring the theme of the Meeting - "Collaborating to Conquer Cancer."
The goal of the 2012 ASCO Annual Meeting is to foster communication among oncology-related sub-specialties and the exchange of a wide range of ideas related to cancer. ASCO's objectives are to advance the education of physicians and other professionals caring for patients with cancer, to support the development of clinical cancer researchers, and to facilitate the delivery of high-quality health care to patients with cancer.
Investors are digging into the list of the companies presenting this year trying to find the company with the best odds to run up ahead of the presentation. The best chances to make a high profit is getting in early into a trade as cancer drug stocks mostly trade upward into the anticipation of good results presenting in the medical meeting.
Celldex Therapeutics (NASDAQ:CLDX) is the first antibody-based combination immunotherapy company. Celldex has a pipeline of drug candidates in development for the treatment of cancer and other difficult-to-treat diseases based on its antibody focused Precision Targeted Immunotherapy (PTI) Platform. The PTI Platform is a complementary portfolio of monoclonal antibodies, antibody-targeted vaccines and immunomodulators used in optimal combinations to create novel disease-specific drug candidates.
Celldex has a wide pipeline, with Phase 3 rindopepimut program in glioblastoma, but the spotlight is aimed at the trial CDX-011 for advanced breast cancer. Celldex completed accrual of the EMERGE study, a randomized, multi-center, controlled Phase 2b study evaluating CDX-011 (glembatumumab vedotin) in patients with heavily pre-treated metastatic or locally advanced breast cancers that express glycoprotein NMB (GPNMB), including a significant portion of enrolled patients expected to have triple-negative disease. The CDX-011 is an antibody-drug conjugate "ADC" technology licensed from Seattle Genetics (NASDAQ:SGEN).
Per the company's presentation, CDX-011: EMERGE Phase 2b Study in Advanced Breast Cancer Fully Enrolled; Data presentation planned for ASCO-2012.
Advanced breast cancer patients who are refractory/resistant to available treatments
Patients selected for GPNMB expression.
120 patients have been randomized (2:1) to receive CDX-011 or "Investigator's Choice" chemotherapy.
Endpoints will include overall response rate, duration of response, PFS, OS, and PK/PD.
Study initiated September 2010; enrollment completed December 2011.
The company is expecting a positive response rate in the study to be 12% to 15% with a progression-free survival of greater than 12 weeks.
Technical Analysis
The price dropped hard from $4.36 to $3.85 on Feb. 24th after the dilution. The price of the public offering was $3.85, the price kept dropping to $3.52 finding a support at the Fibonacci 61.8% line, and bouncing back from it, breaking up the main resistance line at $4.27, giving the signal to the traders to start accumulating in preparation for the ASCO-12 presentation.
We may see a technical correction to the big run-up from $3.52 to $5.47; if the correction started, it will find 2 support points, $4.75 and $4.27 as you can see on the chart below.
If we look back at the chart for 2010, we can see the price run-up from $4.96 ahead of ASCO-10 to $9.49 on May 21, 2010, we are looking for a similar run-up till ASCO-12 too.
Click on the chart to enlarge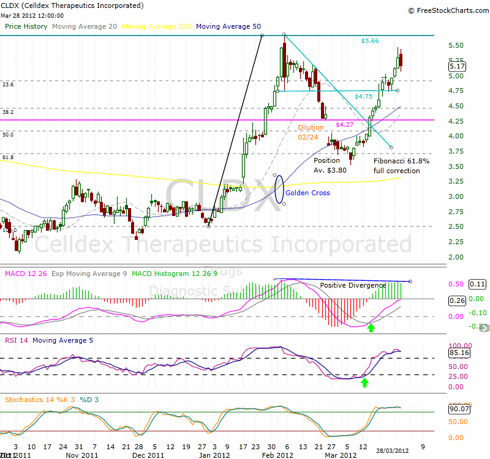 Disclosure: I am long CLDX.