Campbell Soup reported a 39% increase in fourth-quarter net income to $61 million ($0.16/share) on revenue growth of 9.6% to $1.59B. However, adjusted EPS of $0.14 came up short of expectations of $0.18/share on sales of $1.52B. Campbell gave fiscal-2008 (ending July) guidance of EPS growth of 5-7% and adjusted EPS of $1.95, on 3-4% higher sales (approx. $8.10B-$8.18B). Analysts had forecast EPS of $2.14, on sales of $8.16B. A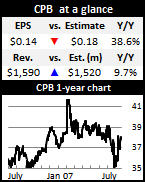 Citigroup analyst who rates Campbell shares a "hold" commented that "many of the company's initiatives in the soup category appear to be gaining traction" and said "pricing increases across Campbell's portfolio should enhance profitability." Shares of Campbell Soup are down 2.5% to $37.05.
Sources: Press release, Bloomberg, MarketWatch
Commentary: Campbell to Sell Godiva -- WSJ • Cramer's Take on CPB • 100 Stocks to Offset Rising Food Prices
Stocks/ETFs to watch: CPB. Competitors: GIS, HNZ, KFT
Seeking Alpha's news briefs are combined into a pre-market summary called Wall Street Breakfast. Get Wall Street Breakfast by email -- it's free and takes only seconds to sign up.