Headquartered in Sweden and with manufacturing facilities around the world, Autoliv (NYSE:ALV) is a producer of airbag and seatbelt systems as well as other advanced safety devices. The company experienced a difficult period around the time of the GM (NYSE:GM) bankruptcy and global recession, but managed to stay profitable and generate positive operating cash flow throughout the period.
Since the recovery began in global automotive production, the company's profit has expanded rapidly, exceeding levels prior to the recession. Although relatively cheap on a PE basis, today's equity price appears warranted and is perhaps even slightly high.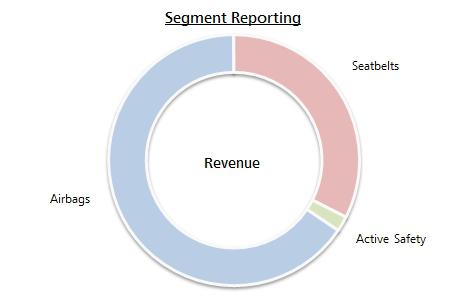 Autoliv segments revenue by three product lines: airbags, seatbelts and active safety products. The largest portion (66%) of revenue comes from airbags while seatbelts and active safety products generate 33% and 2% of revenue, respectively.
The company supplies a group of products in each category that constitute an entire safety system, for example, in airbags the company will supply not only the bag units themselves but also a steering wheel and the electronic control system that regulates deployment of the device.
The airbag market grows slightly faster than overall automobile production due to a higher percentage of cars equipping airbags each year, especially in developing markets. Side airbags are also a growth product in developed markets.
The company experiences about 2-4% price deflation in airbags and seatbelts, with recent trends tending toward the high end of the range. GM is the company's largest customer, representing 15% of sales, and Renault, Ford (NYSE:F) and Volkswagen (OTCPK:VLKPY) are all significant contributors to revenue as well.
Active safety represents products such as night vision and pedestrian sensors. Growth has been strong in the product line with revenue increasing from $49 million in 2009 to $160 million in 2011; however, some portion of this was due to acquisitions.

Autoliv's overall growth trend has been strong with revenue showing a compound growth rate of 5.9% since 2006. Cash flow from operations minus the change in working capital has managed to keep pace with revenue over the period while capital expenditures and research and development have grown well below revenue and cash flow.
Although net income has been volatile, it has managed to outpace revenue growth over the period. This fact is likely explained by stringent cost controls across the automotive industry, especially in terms of labor and the related impact of the growth of capacity in low cost regions such as Asia.
At 10.1%, returns on capital invested on an IRR basis are above the cost of capital and in line with a large portion of manufacturing companies. Given the company's concentrated customer base, returns should always be under pressure, while new initiatives in safety can help keep returns higher over time.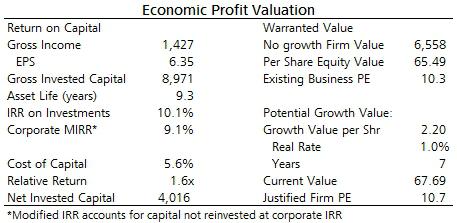 In my view, Autoliv's shares are trading around fair value, based on current levels of profitability, but that does not account for the fact the company's profit is cyclical. If profit is weak one in six years, average profitability over the cycle could be 10-15% lower. The value of growth could make up for a portion of this volatility, perhaps 30-40%, leaving the shares trading at only a slight but meaningful premium to fair value.
One issue to briefly consider is the investigation into price fixing ongoing at the company and at other companies in the industry. While I have no specialized knowledge of the matter at hand, it is worth recalling that automotive glass manufactures were fined about EUR 1.4 billion in Europe during 2008 for a price fixing scheme.
Autoliv is being investigated in both Europe and the United States. In the model presented above, about $250 million of cost has been considered in relation to price fixing. In reality, nothing may come of the investigations, but if there is a fine, it could be well above $250 million.
One of the quirks of valuing companies using economic profits is the role of the balance sheet. In Autoliv's case, the impact comes from the company's highly depreciated asset base which from an accounting perspective implies that perhaps the company has underinvested in its business. In reality, it may not be the case, and perhaps the company's assets are not as old as they seem.
At the same time, it is possible that pricing pressure will erode any gains from low capital expenditure needs over time. Given the price fixing case, customer concentration, the existing trend of price deflation and potential future capital needs surrounding building the business in developing countries, no adjustment should be made, in my view. However, the Autoliv's justified PE could a point or so higher for this reason.
Disclosure: I have no positions in any stocks mentioned, and no plans to initiate any positions within the next 72 hours.