We moved to much larger quarters yesterday, and I am somewhat out of the loop, as we await Verizon (NYSE:VZ) to hook up our big fat pipes, office furniture, etc. Hence, this quick, Starbucks (NASDAQ:SBUX)-sourced, caffeine-fueled update.
I was not expecting very much in terms of back-to-school sales, but so far, most of what we have heard from the retailers was rather robust.
Wal-Mart (NYSE:WMT) reported a higher-than-expected 3.1 percent rise in August sales, almost double the 1.6% expectations. While some of the gains may be attributable to food inflation, the world's largest retailer has been very aggressive about price cuts. Reuters noted that since July, Wal-Mart "announced price cuts of as much as 50 percent on 16,000 items -- including school supplies and backpacks, to jump-start back-to-school sales."
The big winners in the same-store-sales data were Saks (NYSE:SKS) (plus 18.2%), Zumiez (NASDAQ:ZUMZ) (plus 17.4%), American Eagle Outfitters (NYSE:AEO) (plus 9%), Target (NYSE:TGT) (plus 6.1%), and Abercrombie & Fitch (NYSE:ANF) (plus 6%).
I mentioned a few weeks ago on Kudlow that this would be a telling sign of the strength of the U.S. consumer -- and on first glance, it's much better than I expected.
~~~
Good sortable table from the (free) WSWJ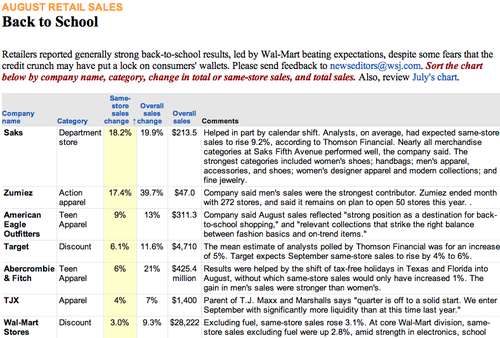 Sources:
Retailers Post Generally Strong Sales During Back-to-School Period
KEVIN KINGSBURY
WSJ, September 6, 2007 8:48 a.m.
http://online.wsj.com/article/SB118907726101519242.html
Wal-Mart August sales beat expectations
Reuters, September 6, 2007
http://news.yahoo.com/s/nm/20070906/bs_nm/walmart_
sales_dc_3;_ylt=Av47HcqZZala.P3o84EGQr0E1vAI
AUGUST RETAIL SALES
WSJ, Back to School
http://online.wsj.com/public/resources/documents/retro-070906sales.html