I personally own and am long Intel (NASDAQ:INTC), but I have mixed feelings about its future due to the realization of a shift in computing trends. Apple (NASDAQ:AAPL) has opened the flood-gates to a more light-weight, mobile style of computing. Intel must be willing to throw their hat into the mobile market to stay with the times. If they can land the AAPL account, the sky is the limit.
Apple and Intel have already collaborated on the development of the Thunderbolt technology used in the Apple computers. Samsung is obviously dropping the ball on this one and INTC is the only other choice.. The growth of future mobile and cloud computing can not be overstated, though.
I do not feel continued innovation will be a problem with INTC.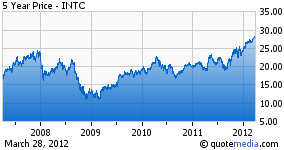 It is currently trading at a 7 year high, but at a P/E ratio relatively low at around 11. Perhaps recent buybacks have artificially manipulated that multiple downward. There is, however, it seems, a continued innate need by human beings to make the speed of things increasingly faster.
PC sales are down. To counteract this INTC has introduced the Ultrabook.This slender new notebook format was created to offer an alternative to the MacBookAir. Because of its stature it will not be able to hold any type of a hard disk drive. This could mark a shift to flash based solid state drives over the next couple years. Also, the elimination of a hard disc drive and the low power level of the new 22nm TriGate Intel processors will extend battery life substantially.
It currently offers an attractive dividend yield of right around 3% to investors along with a formidable history of consistent dividend payout increases. I might even qualify it to be a dividend growth growth champion. I also really like Otellini as he seems to be a visionary like Jobs.
Action
Will I continue to be long and add to my INTC position? The answer is a resounding yes.
Disclosure: I am long INTC.