You've all heard the old saying "Buy on bad news." Well Nuance Communications (NASDAQ:NUAN) really didn't have a bad earnings report. But it was not only less than what the Street expected but it was also less than the guidance given by the company. The $9.3 million profit consisted of a $9.4 million tax benefit. The disappointment from the market can seen in this chart provided by Barchart when there was a up spike on February 9th in anticipation of guidance and then the drop on the 10th after the disappointing actual report the next day:
Click to enlarge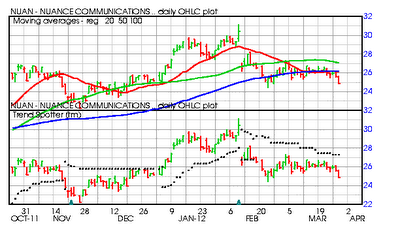 Since then the stock hasn't been able to keep up with the market as expressed in the Value Line Index.
Click to enlarge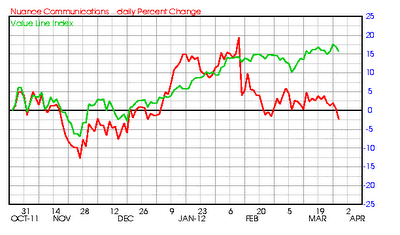 Nuance Communications provides voice and language solutions for businesses and consumers worldwide. It offers dictation and transcription solutions and services, which automate the input and management of medical information; and speech recognition solutions for radiology, cardiology, pathology and related specialties that help healthcare providers dictate, edit and sign reports without manual transcription. The company also offers mobile and consumer solutions and services comprising an integrated suite of voice control and text-to-speech solutions, desktop and portable computer dictation applications, predictive text technologies, mobile messaging services, and emerging services, such as dictation, Web search, and voice mail-to-text for manufacturers and suppliers of mobile phones, automotive products, personal navigation devices, computers, and other consumer electronics. In addition, it provides customer service business intelligence and authentication solutions for enterprises in the telecommunications, financial services, travel, entertainment, and government sectors to support, understand, and communicate with their customers.
Further, the company offers document imaging, print management and PDF solutions to multifunction printer manufacturers, home offices, small businesses and enterprise customers; software development tool kits for independent software vendors; and licenses its software to multifunction printer manufacturers. Nuance Communications, Inc. markets and sells its products through a direct sales force; its e-commerce Web site; and a network of resellers, including system integrators, independent software vendors, value-added resellers, hardware vendors, telecommunications carriers, and distributors. The company was formerly known as ScanSoft, Inc. and changed its name to Nuance Communications, Inc. in November 2005. Nuance Communications, Inc. was founded in 1992 and is headquartered in Burlington, Massachusetts (Yahoo Finance profile).
Factors to Consider
Barchart technical indicators:
Declining or sell indicators can signal a bargain entry point in stocks with strong projected fundamentals.
88% Barchart technical sell indicator.
Trend Spotter sell signal.
Trading below its 20, 50 and 100 day moving averages.
Presently 20.10% below its one-year high.
Relative Strength Index 38.74%.
Barchart computes a technical support level at 25.10.
The stock currently trades at 24.84 which is not only below the support level but under the 20 day moving average of 27.05.
Fundamental factors:
16 Wall Street brokerage firms have assigned 19 analysts to monitor the company's numbers.
Analysts project revenue to grow by 20.60% this year and another 14.70% next year.
Earnings are estimated to increase by 16.20% this year, an additional 11.40% next year and continue to increase by an annual rate of 16.00% over the next five years.
These consensus numbers result in firms issuing nine strong buy, six buy, three hold and a lone sell recommendation to clients.
The P/E ratio is 26.53% which is higher than the market P/E ratio of 15.60.
Since the company has only recently broken into the black dividends haven't been declared.
The voice recognition products this company offers will see increased use in medical dictation, smart phone and other voice recognition software applications.
General investor interest:
In spite of the premium P/E ratio in a stock that has just become profitable the readers at Motley Fool highly follow and rate this stock.
5,712 readers have given it a 96% vote that it will beat the market.
The more experienced and savvy All Stars agree with a 98% vote for the same result.
Of the columnists and analysts Fool follows they note 83% have given positive comments.
While Stifel Nicholas is positive Goldman Sachs is the firm giving the sell signal.
The market is the final judge so when I compare Nuance to the other software providers I find that in the last six months Nuance was down 2% along with Oracle (NYSE:ORCL) down 10% while Microsoft (NASDAQ:MSFT) was up 20% and SAP AG (NYSE:SAP) was up 18%: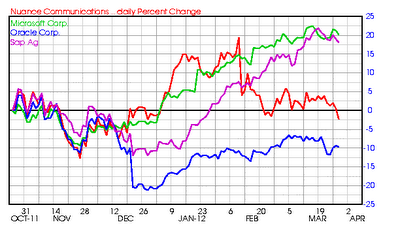 Summary: Don't expect a quick hit investing in Nuance Communications. The stock has hit a support level as is evidenced in this 14 day turtle channel graph. But I will look at several quarters of flat prices until the company shows solid progress on both revenue and earning before the premium P/E ratio is justified. Long term investors who are sitting on the sideline should watch the 14 day turtle channel to find an accumulation point.
Click to enlarge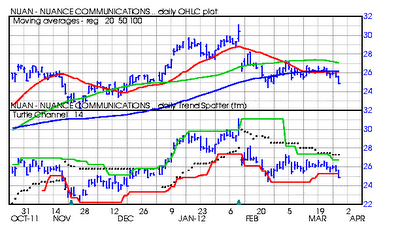 Disclosure: I am long SAP.