In the biotechnology sector, takeovers are more frequent than in any other sector, due to the desire of large pharmaceutical companies to augment their drug portfolios with new medicines. As of Wednesday, March 28, there is a potential new company facing a takeover: Amylin Pharmaceuticals (AMLN).
On the morning of March 28, Bloomberg reported that Amylin had rejected a $3.5 billion offer from Bristol-Myers Squibb (NYSE:BMY), which valued the San Diego based company at $22 per share. Amylin immediately soared past that, climbing over 54% to nearly $24 per share, as investors anticipate another offer emerging. Before we analyze the situation, we must provide a brief overview of where Amylin stands.
Overview
We first profiled Amylin at the beginning of February, arguing that there were better opportunities in the biotechnology sector. We cited several reasons for that thesis. Chief among them were concerns with the medicinal properties of Bydureon, and Amylin's financial position. After all, Amylin has more debt than 90% of biotechnology companies. We freely admit that our position regarding Amylin was not well-received at the time. Clearly, Amylin has many defenders here on Seeking Alpha, and it is true that our prior article should have been vetted more thoroughly. The article had interesting timing, for it was published just 3 days before Amylin reported its fourth quarter and full year 2011 earnings.
On February 6, Amylin posted its fourth quarter and full year 2011 earnings. And what the company posted impressed us. Amylin finally posted a non-GAAP profit of $25.7 million for 2011. GAAP EPS came in at -$3.73 for 2011, and -$3.15 for the fourth quarter, due primarily to costs associated with acquiring exenatide rights from Eli Lilly (NYSE:LLY). Revenues for 2011 came in at over $650 million. We decided that while the results were better than we expected, investing in Amylin was still not something we were comfortable with, primarily due to the balance sheet. Biotechnology companies, despite their losses in the development stage, usually begin the process of commercializing their drugs with healthy balance sheets. Not Amylin. Though the company now has full exenatide rights, reacquiring those rights came at a high price. Amylin agreed to pay Eli Lilly royalties of up to $1.2 billion on future exenatide sales. The debt Amylin took on to finance that deal greatly weakened the company's financial position, as shown by its balance sheet.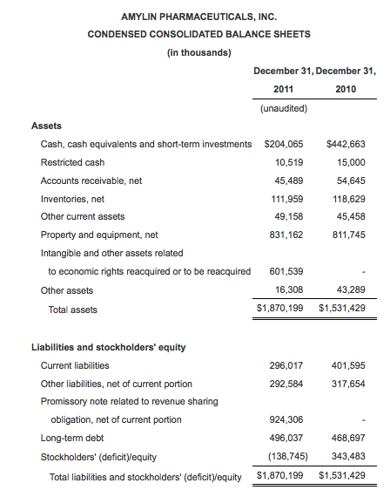 At the time, we did not invest in Amylin because we wanted the company's finances to improve. And then, Amylin announced that it had agreed to sell 13,000,000 shares, for proceeds of $203.1 million (before fees), to help replenish the company's coffers. It is at that moment that we decided to jump in. The stock offering gave Amylin enough cash to meet its current liabilities, and we felt that it also gave the company enough time to resolve long-term financial issues. In addition, the decrease in the stock price on the back of Amylin's share sale provided a good entry point.
The Takeover Offer
On March 28, 2012, word leaked that Amylin had rejected a $22 per share offer from Bristol-Myers. The stock quickly soared through that as the market assumes that a higher offer will be on the way. Going forward, we will focus on the financial aspects of this takeover, rather than the medicinal properties of Amylin's products. The reason is that if Bristol-Myers offered to acquire the company, it deemed Amylin's products good enough to acquire.
However this offer was leaked to Bloomberg, it was a clever ploy. As Leerink Swan noted, this development effectively ties Amylin's hands. Amylin has made no secret over the fact that its top priority is to find an international partner for its exenatide products. But, now that Amylin is in play, we expect few investors to actually support an international partnership as opposed to an outright sale.
The "quality" of a deal with Bristol-Myers is debatable. Deutsche Bank sees a great deal of synergy to be gained, for Bristol-Myers, with its existing diabetes sales force (such as Bristol-Myers), could potentially cut SG&A by 40%, and R&D by up to 80%. Yet Lerrink Swan thinks that the company is not the best suitor for Amylin, given its weaker diabetes presence in Europe and emerging markets. The firm thinks AstraZeneca (NYSE:AZN) would make for a better fit, for it would be able to better market Bydureon.
With a takeover of Amylin on the table, it is important to examine how analysts reacted. In addition, the options markets reveal expectations as well. We discuss both below.
Market Reactions
Until Amylin decisively addresses the offer from Bristol-Myers, the company is effectively in play, as evidenced by the fact that it closed almost $2 above the $22 per share offer. Clearly, the market expects a higher offer. So do analysts. We provide an overview of their reactions below.
Deutsche Bank: The firm maintained a hold rating on the stock, and argued that a deal with Bristol-Myers makes sense. Deutsche Bank sees Amylin being worth up to $31 per share (representing upside of 30.4% from current levels). A company with an existing diabetes franchise could cut costs deep enough to justify such a price. The firm noted that Bristol-Myers, AstraZeneca, and Sanofi (NYSE:SNY) all have existing franchises that could provide the necessary synergies.
Leerink Swan: The firm compared this leak to the deal between Sanofi and Genzyme. It sees this news as preventing Amylin from signing its international partnership, for investors will never support such a move now that a takeover is on the table. Should Amylin's management pursue an international partnership, it will have to explain how it creates shareholder value, when an announcement of such a partnership would cause Amylin shares to plunge. The firm does not think that Bristol-Myers is the best acquirer. Lerrink Swan thinks that someone like AstraZeneca could derive more benefits from the deal.
Piper Jaffray: The firm downgraded the shares to neutral, and maintained its $21 price target, arguing that investors who are in the stock based solely on fundamentals should move to the sidelines, given the huge rally the shares have seen. That being said, Piper Jaffray sees a deal, should one occur, at between $28 and $37 per share. The firm thinks that a possible deal will be at the low end of that range, given the high costs of marketing exenatide. The firm sees Bristol-Myers, Merck (NYSE:MRK), and Takeda as potential suitors. Benefits of the deal, according to the firm, include essentially gutting Amylin's existing costs, and a lack of regulatory risks for Amylin's approved products.
Baird: The firm maintained its outperform rating and $19 price target, arguing that takeover speculation can cut both ways. It recommends that existing investors keep at least some of their position, but that there is little reason to chase shares at this point. Baird sees Bristol-Myers as a good strategic fit.
ISI: The firm values a deal for Amylin in the low $20's range, but argues that Bristol-Myers is not an ideal suitor. While ISI sees reasons why the company may want to acquire Amylin, there are several reasons why it is not a good fit. First, Bristol is digesting the Inhibitex acquisition. Secondly, Bristol has historically shown a preference to acquire biotechnology companies in the development stage, not companies with products already for sale.
Rodman & Renshaw: The firm is very bearish on Amylin, and it fails to understand why Amylin would turn down a $22 per share offer. It cites competition in the diabetes space, as well as Amylin's debt, as deterring potential suitors. Rodman & Renshaw values Amylin at less than $10 per share.
Barron's: Barron's is taking a view similar to that of Baird. The publication believes that Amylin can continue to climb higher, for the FDA rejected a diabetes drug from Bristol-Myers and AstraZeneca earlier this year, and as such both companies could look to Amylin to fill that hole in their diabetes franchises.
For the most part, analysts believe that a deal will occur, somewhere above $22. We think that Amylin's fair value in a deal lies somewhere around $26-$30 per share. The options markets agree.
According to Bloomberg, the options market is expecting Amylin to be taken out at a price 26% above where it is currently trading, putting the deal at just under $30 per share. July contracts with strike prices ranging from $28-$30 were the most actively traded on March 28. Specifically, one investor sold 10,000 July $30 contracts to purchase July put options at $16 and $20 strike prices. This collar strategy is designed to limit downside should a deal fail to materialize by capping upside at $30. Credit Suisse likes this strategy, for it sees a deal in the $28-$30 range.
Next Steps
Whether Amylin's board of directors likes it or not, the company is now effectively in play. And it will remain so until the company either quashes talk of a takeover, ore sufficient time with no bidder has passed. Bristol-Myers has yet to re-approach Amylin about a deal. The leak of discussions with Bristol-Myers put Amylin in a bind. The company has made no secret of its desire to partner with a large pharmaceutical company to commercialize its products internationally. But announcement of such a partnership, long seen as a catalyst to drive the stock higher, would now send the shares crashing, as it means that there is no sale. Investor psychology is a very powerful thing, and it is one of the most important factors that drive the markets. We do not see how Amylin's management will be able to justify walking away from a sale to an investor base that has been badly burned by the stock in the past. As recently as 2007, Amylin traded at almost $51 per share.
In addition, Carl Icahn has a stake of 9.73% in Amylin, and controls 2 of the 11 seats on the board of directors. He has long pushed for a sale of the company, and we find it highly unlikely that he will support a partnership as opposed to an outright sale. In addition, Fidelity and Wellington together own over 27% of Amylin, and they too will likely push for a sale. We think it will be difficult for Amylin to resist its largest shareholders in this matter. Shares will likely be volatile in the days and weeks to come as rumors come to light regarding the discussions, if any, that Amylin will be having with its investors and potential acquirers.
What Should Investors Do?
For investors already holding Amylin shares, we agree with Baird and Barron's that at least some of that position should be maintained. How much, if any, of that position investors wish to take off the table is dependent on individual risk tolerances and expectations. For the moment, we are holding on to our full position, but will be evaluating that stance in the days to come, depending on where we feel the prospects for a deal are heading.
As for investors not yet in Amylin, the easy money has been made. A deal could certainly be struck at a price above $24 per share, but the risks to investors buying in at that level are much greater than to existing investors. Risk tolerance will be key here. While the options market is indicating that investors expect a higher price, nothing is certain (we also think that investors without a current position in Amylin could use options to speculate on a takeover).
Conclusions
We believe that the chances of a takeover for Amylin Pharmaceuticals are good. The company has been put into play, and the prospects for an international partnership have dimmed considerably. It would be extremely difficult for Amylin executives and the board of directors to justify turning down a takeover offer in order to proceed down that route. And the options market believes that a higher offer for the company is in the works. While Amylin's product portfolio may not be perfect (is any drug company's?), it is compelling enough that a takeover of the entire company makes sense. We think that Amylin should command at least $26 per share in a takeover. There are a number of suitors for whom Amylin would be a good strategic fit, and we think that in the days and weeks to come, they will be drawn out.
Disclosure: I am long AMLN, MRK.
Additional disclosure: We are long shares of MRK via the SPDR Dow Jones Industrial Average