It wasn't that long ago that Chesapeake (NYSE:CHK) shut down production at several wells because it had a surplus flow and the price of natural gas was too low. Now we recently learned that on top of the past shut down CHK is projecting an 18-22% production growth for 2007 and upped the production growth estimates for 2008 to a 14-18% range. This implores for a little analysis.
On the one hand, CHK announced that it is selling reserves and production equaling 1.5% of all output in West Virginia and Kentucky. Supposedly the reason for the asset sale is to provide cash for additional drilling at other sites. The problem with this is twofold and contradictory. First, CHK doesn't need to sell assets to raise cash for drilling. Second, CHK may have a regional production surplus. Without the ability to acquire new customers it makes sense to sell some assets. The contradiction is that CHK management are straight shooters and usually do not (have not) disseminate misleading PR statements.
At first I had to double check the press release. It does sound like CHK is selling assets to raise cash for drilling. Then on a second reading it became clear what CHK is up to. CHK has tremendous reserves in the Appalachian mountain region. Recently CHK has been buying new reserves in Texas and other geographical locations. In essence what CHK is doing is an asset swap without adding substantially to its 10 trillion cubic feet reserve. The geographical diversification is expected to help lower delivery costs to market and help margins.
Only $310M was spent on acquiring the new assets and CHK expects to sell $600M of existing production sites. The Deep Haley site (Texas) hasn't been developed yet. I guess you can call this 'selling assets to drill more'. In reality it is just an asset swap. By diversifying geographically, CHK is hedging against a possible future downturn in the Northeast and Eastern seaboard or alternately the Northeast market stays strong yet the West provides better future demand/growth. The latter is more likely as CHK has more than enough reserves to supply the Northeast and East, even after selling off 1.5% of current production.
In any event, CHK is drilling again. Now wouldn't it be nice if Deep Haley bumps up reserves by a trillion cubic feet or more? It's a long shot, but you never know!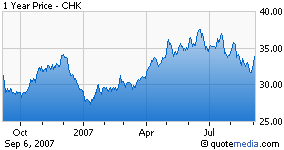 Disclosure: No conflicts.