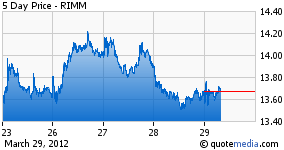 Research in Motion (RIMM), or RIM, is expected to report Q4 earnings after the market close on Thursday, March 29, with a conference call scheduled for 5:00 pm ET.
Guidance
The consensus estimate is 81c for EPS and $4.54B for revenue, according to First Call. Investors should get the first clue as to whether newly appointed CEO, Thorsten Heins, will be able to fulfill promises to improve execution and marketing. His plan hinges on a successful rollout of RIM's next-generation smartphone, dubbed BlackBerry 10, due this year. Most analysts think RIM will come in below its guidance for revenue -- between $4.6B-$4.9B in the quarter -- and that sales of both older generation smartphones and the newer BlackBerry 7 devices will remain weak. Some analysts think that even sales in recent RIM regional strongholds such as Latin America may be weaker than in the past.
Analyst Views
William Blair estimates Q4 of 81c, with the firm's revenue estimate of $4.5B implying a 14% sequential decline and a 19% year-over-year decline. The firm expects 11.2M device shipments (11M smartphones and 200,000 PlayBooks), with an average selling price, or ASP, of $296. William Blair's channel checks across North America indicated the issues that have plagued RIM over the past several quarters, such as lack of new OS, weak consumer offering, new products, and threat from competition, are expected to continue. Checks also indicate that BlackBerrys have become an "after-thought" in the minds of consumers.