XPO Logistics (NYSEMKT:XPO) is in the business of providing logistics services for clients who want to send goods from point A to point B. They play the middleman without owning any of the trucks, ships or planes. XPO has 3 business segments, namely;
Express-1 Inc (Provides expedited transportation services in US, Canada and Mexico with a focus on high-value, time-critical and priority shipments),
Concert Group Logistics (Provides global transportation logistics services through a network of qualified independent business owners. It is a global network of over 2,500 partners servicing 500 markets worldwide. Also know as freight forwarding) and
Bounce Logistics (Helps you find the right truck carrier to move goods to your desired destination)
The catalyst in this growth story is Bradley Jacobs, who took over as Chairman, CEO and controlling shareholder in July 2011 by committing $150M of capital. Bradley Jacobs started his first venture in 1979, followed by 3 more extremely successful businesses prior to XPO Logistics, growing each one of them to billion or multi-billion dollar corporations, and in the course completing over 400 acquisitions. Before we get into XPO let us look at what Bradley Jacobs has achieved in the past in some more detail.
Bradley Jacobs in the 1980s - Amerex Oil Associate, Hamilton Resources
After dropping out of college in the 70's to broker oil contracts, in 1979 he founded Amerex Oil Associate (an oil brokerage firm that was similar to XPO in being a non-asset based business model) turning it into a business with over $4B in contract before selling it. Hamilton Resources, his next venture was an oil trading company that he grew to $1B in revenue.
Bradley Jacobs in the 1990s - United Waste Systems, United Rental
In July 1989 he started United Waste Systems and soon realized that getting a large share of smaller markets in the US, and consolidating the trucking companies that served the landfills was the sweet spot. He took the company IPO in 1992 and later sold it to Waste Management for $2.5B. From IPO to sale, United Waste's stock outperformed the S&P 500 Index by 5.6x.
In 1997 he co-founded United Rentals (NYSE:URI) and grew the company to the world's largest equipment rental company in 13 months. At the peak of the cycle, United Rentals had $3.9 billion in revenue, with about 750 locations. During the time he led United Rentals (from 1997 to 2007), the company's stock outperformed the S&P 500 Index by 2.2x
Bradley Jacobs in the 2010s - XPO Logistics
In July 2011 Bradley Jacobs put $75M into XPO with an option to put another $75M in the company. His goal is to grow the company into a multi-billion dollar business in a manner similar to his past ventures. The industry dynamics in non-asset based transportation logistics service are similar to his past successes - fragmented industry (there are more than 10,000 licensed truck brokers in the U.S, only about 25 brokers have more than $200 million in revenue), large growing market (US Logistics spend over $1T in 2011, while US truck brokerage spend $350B. The truck brokerage sector is growing at about 2x to 3x GDP). This presents a great opportunity to consolidate the industry through acquisitions.
Understanding XPO Logistics Growth Potential
XPO's logistics business can be broadly classified into: Truck brokerage (Bounce Logistics), Expedited Services (Express-1) and Freight Forwarding (Concert Group Logistics). A snapshot of business segment contribution as a percentage of revenue in 2011 is given below.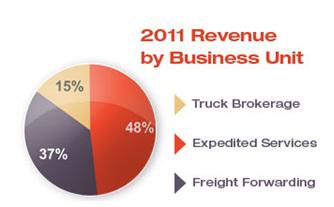 The company plans to grow by:
Opening new offices and increasing their sales force in order to increase carrier, client recruitment and retention
Acquisition of businesses in one or more of their existing segments
Improve efficiency (IT infrastructure, incorporating industry best practices, and leveraging scale to share capacity more efficiently and increase buying power) which translates to higher margins.
In the 2011 fourth quarter and full year conference Bradley Jacobs explained his plan to grow XPO's revenues above $500 million in 2012 (a growth of over 280%). This is further illustrated in the 2011 annual SEC filing. The simplest way to understand the growth opportunity in XPO however is by comparing it to one of its competitors - ECHO Logistics (NASDAQ:ECHO). Echo went public in 2009 with revenues of $259.56M and profits of $4.39M, and grew its revenues to $602.79M and profits to $12.05M by 2011 - a growth of 232% and 274% respectively. So how did Echo grow and what do they do?
ECHO built proprietary software systems as part of the back office infrastructure, which was used by clients to choose carriers and manage all transportation logistics. In a similar fashion XPO hired a bunch of MIT grads and Phds for this task to provide comparable or better technology infrastructure and introduced best practices to increase gross margins.
In truck brokerage, XPO increased the size and productivity of their sales force as a result growing profits by 27%. Express-1 gross profit improved by 18%. In freight forwarding; while revenues were down 5% from a year ago, revenues were relatively flat in the third quarter. XPO continues to grow the Bounce Logistics unit where revenues increased 27% and operating income was up 43%.
ECHO brought an Industry veteran as CEO after the IPO, who brought relationships that are key to generating growth and retaining business. At XPO Bradley Jacobs took the lead himself and spend the last few months putting together a senior management team capable of accelerating and sustaining growth.
XPO also hired John J. Hardig as Chief Financial Officer in Feb 2012 who brings a great deal of industry experience to the company. Prior to XPO Hardig served as managing director (since 2003) for the Transportation & Logistics investment banking group of Stifel Nicolaus Weisel.
Other hires include Rob Martin (who worked with C.H. Robinson - the Industry leader) to head up the first truck brokerage in Phoenix, and the first of 5 that XPO plans to open this year.
XPO has an aggressive acquisition pipeline, which combined with greenfield investments should propel them over $1B in valuation over the next 3 years. J. Thomas Connolly who served as managing director of EVE Partners joined the XPO senior management to focus exclusively on acquisitions.
ECHO continuously invested in sales team to bring in more clients. Similar plans are underway at XPO. In the latest conference call XPO announced plans to scale up sales force as well as open new truck brokerage and freight forwarding offices in 2012. (Listen to the conference call by registering here):
We're on track to reach our goal of five new truck brokerage cold starts by the end of this year and 20 in total over the next several years. The real goal here is to get the average of the 20 that we opened to 75 million, let's say between 50 million and 75 million. Some are going to be higher than that, and top out at hundreds of millions, and some are going to top out at 10 million to 15 million. So you hope to average around $75 million each.For a cold start the first six months are not profitable, you turn breakeven pretty quickly.
Let's go back to ECHO Logistics. Since inception (in 2005) ECHO has created a market place backed by proprietary software system where over 22,000 clients can choose from over 24,000 carriers for their transportation and logistical services. With the exception of acquiring Trailer Transport Systems Inc in December 2011 and Raytrans Distribution Services Inc in June 2009 (both small transactions), all growth was organic.
Raising Capital to Accelerate Growth - 15th March 2012
On 20th March 2012 XPO announced issuing $137M worth of common stock at $15.75 a share. Most of the cash is likely to be used in acquisitions. With each acquisition XPO's value will grow allowing it to raise more capital for future acquisition at a higher stock price than today. As case in point look at what happened since Bradley Jacobs decided to invest $150M in the company. The stock traded at $12 after the cash infusion, then went down to $7 over uncertainty regarding future plans, only to go back up as much as $18.60 once the strategic roadmap was laid out. After the first wave of acquisitions the stock price is bound to increase, at which point XPO will raise more capital at a higher valuation for future acquisitions.
This brings our attention to the possible acquisition target. Panther Expedited Services Inc owned by private equity firm Fenway Partners is the most likely candidate. Panther had annual revenue of $142 million in 2011, according to Reuters and had filed for an IPO of up to $115 million in 2010. The IPO was cancelled in November 2011.
The new round of fund raising and a current cash balance of $74M give XPO enough cash to make the buy and have money for organic growth and operational necessities. With the acquisition of Panther and planned organic growth I would see XPO breach the $500M market cap barrier this year.
Risk of Dilution
As shown in the recent SEC filing 1,457,311 shares can be issued upon the exercise of options outstanding as of March 9, 2012, with a weighted-average exercise price of $9.00 per share of Common Stock.
10,714,286 shares can be issued upon the exercise of the Warrants outstanding as of March 9, 2012, at an exercise price of $7.00 per share of Common Stock.
10,714,286 shares can be issued upon conversion of the Series A Preferred Stock outstanding as of March 9, 2012, at an effective conversion price of $7.00 per share of Common Stock.
While this would be a concern, the recent shares issue shows that when XPO can raise cash at $15.75 as they did in 15 March 2012, and possibly higher after their first round of acquisitions, it does not make sense to exercise the options or preferred shares now. The preferred share and warrants dilution are more likely to come in a few years after XPO has grown to a multi-billion dollar enterprise. By that time today's investor is likely to have doubled his money despite the effects of dilution.
Deep Value considering Expected Growth
With a dual strategy of organic and inorganic/acquisition driven growth it is not hard to see XPO Logistics surpass the $500M revenue mark at the end of 2012. Extrapolating a similar growth trajectory over the next 3 years would see XPO reach $2B in revenue. At a 1x multiple of revenue (which is a good industry benchmark) the market cap is in the $2B range. This can be considered the optimistic scenario. A direct comparison with ECHO leads us to believe that at a net income margin of 2% and an earnings multiple of 30, we are looking at a market cap of $1.2B in 3 years for XPO Logistics.
Disclosure: I am long XPO.