After a short summer vacation, Compete's monthly ranking of the top online video sites is back- now with an improved methodology that reflects the latest industry trends. For starters, we peel back the label on several popular video sites to put them in a high-level competitive context. In addition to acknowledging Google's (NASDAQ:GOOG) ownership of YouTube, we credit Photobucket's contribution to MySpace (NASDAQ:NWS) and chalk up growth over at StupidVideos to parent PureVideo Networks.
Google continues to stand out from the Top 5 online video competitors by 2X the UVs of its nearest rival.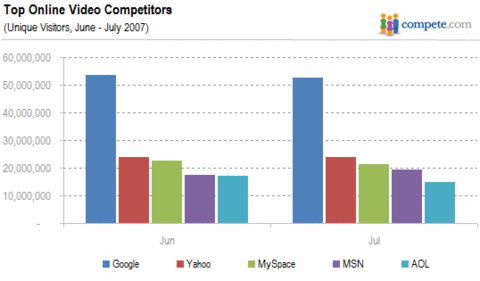 Compete also recognizes that online video comes in many flavors, from search to movie trailers to the just downright wacky. With significant traffic from the likes of Yahoo! (YHOO) News, Movies and Music Videos, Yahoo beats out MySpace in terms of UVs.
Looking at visits, though, MySpace trades up with a 15% share among the top online video competitors, while Yahoo slides to 3rd place with a 12% share.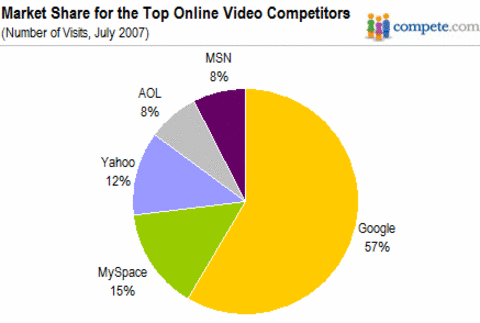 Despite less UVs, MySpace took the 2nd place by wringing 40% more visits per visitor than Yahoo. MySpace also had solid 3% monthly growth in visits per visitor during the slow summer season.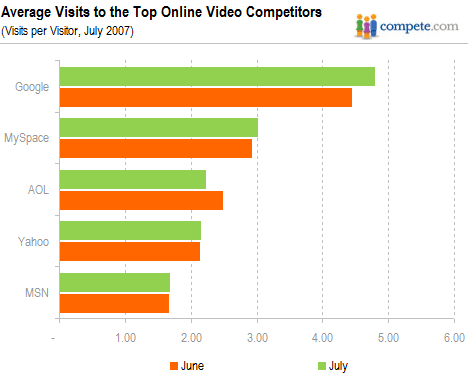 Yet Google, with 58% share of all visits to the top video competitors, sets the pace with 4.78 visits per visitor and industry leading 8% monthly growth.