Jamie Dimon, CEO of JPMorgan Chase (NYSE:JPM), believes that the housing market has bottomed and that there's virtually no risk of recession. However, the head of the most profitable U.S. financial corporation may be banking too much on the Federal Reserve alone.
Granted, Bernanke is unlikely to step away from the electronic money printing press until job growth is double what it is today. And the ultra-accomodative monetary policy is indeed benefiting stockholders and businesses.
However, the market may be overlooking the potential for year-end political ineptitude. For instance, Barclays Capital estimates that if the Obama payroll tax reduction, emergency unemployment benefits and the Bush era tax cuts all expire at the end of 2012, as they are currently slated to do, it would subtract 2.8% from GDP in Q1 2013. That alone could be enough for contraction in the first few months of next year.
Why worry about next year? Won't cooler minds eventually prevail? I'd like to think so.
That said, an Obama victory could make for a very uncertain November and December vis-a-vis future tax policy. And while a clean Republican sweep might be met by investors with enthusiasm initially, one should expect a similar drag on GDP from overly ambitious deficit-reducing measures.
In other words, while investors and Mr. Dimon may think that compromise will reign supreme, the negotiation process may erode consumer certitude as well as the convictions of business owners. Moreover, we've seen how the slightest amount of austerity - whether it was tighter rate/reserve policy in China or sovereign debt crisis negotiations in Europe - can rattle stock assets.
Nevertheless, CEO Dimon knows Bernanke like few others know the chairman of the Federal Reserve. He knows high finance like few others understand the flow of money.
It follows that there are a number of ETF investments that should continue to do well in Mr. Dimon's world. Here are two of them:
1. iShares iBoxx High Yield Corporate Bond (NYSEARCA:HYG). Cash yields 0% and 10-year treasuries yield 2.15%. The paltry returns make it exceptionally likely that even the most skittish investors may need to step further out on the risk curve. The 7.25% annualized return with a monthly income stream is difficult to beat for the diversified vehicle. Default rates for "junk" bonds are negligible.
2. Market Vectors Mortgage REIT Income ETF (NYSEARCA:MORT). The exchange-traded fund seeks to replicate the price and yield performance of the Market Vectors Global Mortgage REITs Index, an index that endeavors to track the overall performance of publicly traded mortgage REITs. Those familiar with the sector will recognize names like Annaly, Chimera and Starwood Property. Others may simply like the 10% distribution yield. Note: MORT remains in a technical uptrend.
Click to enlarge
(Click to enlarge)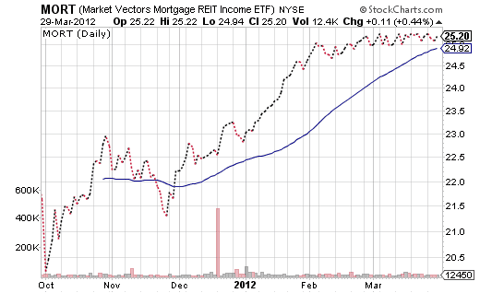 Disclosure: Gary Gordon, MS, CFP is the president of Pacific Park Financial, Inc., a Registered Investment Adviser with the SEC. Gary Gordon, Pacific Park Financial, Inc, and/or its clients may hold positions in the ETFs, mutual funds, and/or any investment asset mentioned above. The commentary does not constitute individualized investment advice. The opinions offered herein are not personalized recommendations to buy, sell or hold securities. At times, issuers of exchange-traded products compensate Pacific Park Financial, Inc. or its subsidiaries for advertising at the ETF Expert web site. ETF Expert content is created independently of any advertising relationships.