Kinetic Concepts, Inc. (NYSE:KCI) makes its bed and has no problems lying in it. The company's products include hospital beds, specialized mattresses, and pressure relief and pulmonary care systems. Such "therapeutic surfaces" treat and prevent complications associated with patient immobility, such as pressure sores and buildup of fluid in the lungs. Kinetic Concepts also makes vacuum-based wound care systems and critical care therapy systems which rotate immobilized patients to reduce the incidence of pulmonary complications. Customers include acute and long-term care facilities, home health agencies, wound care clinics, and individuals in the US and abroad.
One number pops out for Kinetic Concepts: Return on Equity at 55%. That was down from 89% in 2005. This year analysts expect 37%, then 31% next year. Longer term, analysts predict 23.5%. So it's diminishing but what a great number to start with. And 23.5% return on equity is still a very meaningful return. Another impressive number: officers and directors own a little over 25% of the stock.
Earnings have been increasing since the company went public in 2004. They were $1.64 then, followed by $2.32 and $2.69. This year expect $3.20 and $3.65 next year, if the analysts are right. Growth for earnings is projected at 15.5% a year, on average, for the next 5 years. Revenues should increase by 13% a year, on average, in the same time period. They're predicted to be $1.58 billion this year and $1.775 next year.
Kinetic is big on Research and Development. New products continue to flow, especially from its VAC (vacuum assisted closure) devices. The FDA recently approved 2 new VAC's: InfoVAC, designed for acute care settings, and ActiVAC, a simple, low profile bed for home use. Both give proper therapy as well as good recordkeeping . Another new product: a wound-cleansing anti-bacterial solution scheduled for release in 2008. The company is also working for VAC approval in Japan and about to complete its VAC therapy trials there.
Other applications for its VAC therapy may be with tissue engineering and regeneration of bone cartilage and meniscus. Currently, VAC therapy is used for the most complex wounds which are estimated to be about 3.4 million per year. All wounds, globally, are thought to be about 17 million annually but are mostly less severe in nature.
Other numbers: Debt is only about 27% of capital, brought down considerably in the last few years. Net operating profit is 14.6%. A relatively low P/E ratio of 15. 71% of revenues come from renting its beds and other products while 28% of sales come from international business. Current assets are almost 3 times current liabilities with close to $200 million in cash.
Look for KCI to be on the acquisition path as it works to deploy its cash and grow its business, especially to leverage its existing infrastructure. Of course, it could also buy back shares or start a dividend.
KCI hit an all-time low last year of $22.50, then took off, getting to $66.80 before taking a break. It's down about 9% from that high. In 2004, it hit $78.40. With earnings growing and new products coming soon, this is a stock worth more of your time to investigate.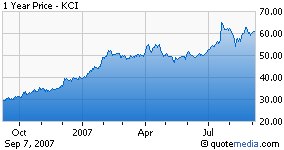 Disclosure: none