Let's see if you can figure out what company we are talking about:
Warren Buffet has a long lasting relationship with this company. He manged to take a position in times when the markets where shying away from this company and has managed to reap extraordinary gains from his investment.

The company is recognized an an American icon, has strong fundamentals and is a 5 start pick amongst the world's leading investors.

On average, they are trading at an 18% discount to fair value (28% depending on the assumptions).

Few business men would ever consider leaving home without it….
How does it stack up against competitors? Well, here are some numbers:
37.97% Return on Equity vs. an industry average of 20.13%

Current P/E Ratio of 15 vs. an historic average of 25 and an industry average of 16.80

Debt to Equity Ration of 6.18 vs. an industry average of 9.46
Have you guessed what company we are talking about? Yes, it's American Express (NYSE:AXP).
Markets always tend to punish this stock in uncertain times but they always manage to navigate through the storms they encounter. Furthermore, despite changing higher transaction fees to merchants, they manage to keep a firm hold on the market due to the fact that their card holders keep on spending more than the others.
Regardless of short term fluctuations, we find it difficult to believe that patient investors will not be rewarded for holding this stock in their portfolios (currently trading at 57,75 USD).
Can you imagine leaving home without it?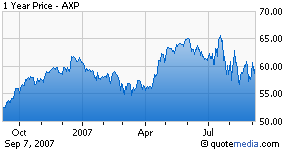 Disclosure: none