Afren Plc (OTC:AFRNY) announced its 2011 financial and operating results for the year-end December 31, 2011. For readers not familiar with Afren, the company's oil and natural gas portfolio now extends to 29 assets in 12 countries, from Nigeria, Ghana, Côte d'Ivoire, Nigeria and São Tomé & Príncipe JDZ, Congo Brazzaville and South Africa, East African opportunities in Ethiopia, Kenya, Madagascar, Seychelles, Tanzania, with more recent activity in the Middle East through entry to the Kurdistan region of Iraq.
During 2011, Afren's revenue increased to $597 million, 87% more than the $319 million the company generated in 2010. The company reported net income of $122 million for 2011, or $0.12 per share, as compared to net income of $45 million, or $0.05 per share, during the same period in 2010. Afren's average EPS estimate for 2011 was $0.11 per share according to the eight analysts who cover the company.
Afren also reported strong production growth in 2011. During 2011, Afren reported an average production rate of 19.2 MBOEPD net, 34% more than the 14.3 MBOEPD net production rate during 2010. Production volumes for 2011 comprised 93% oil and 7% natural gas. Year-end gross proved and probable (2P) reserves grew 132% to 185.0 MMBOE (99% oil), compared to 79.8 MMBOE (99% oil) at year-end 2010.
Click here to review the Q4'11 and year-end news release.
While Afren's production growth predictably translated into higher revenues, the company's ability to keep costs down is one of the reasons why profits leaped in 2011. AFR grew revenues 87%, yet costs of sales grew only 55%, resulting in earnings growth of 171% and cash flow from operations growth of 61%. As a result, the company expects to fund its entire CAPEX budget (see graph below) through the use of internally generated funds instead of having to dip into the capital markets to raise equity or increase financial risk by leveraging-up the balance sheet. As of March 23, 2012, AFR's debt to market capitalization was 46% using debt at December 31, 2011.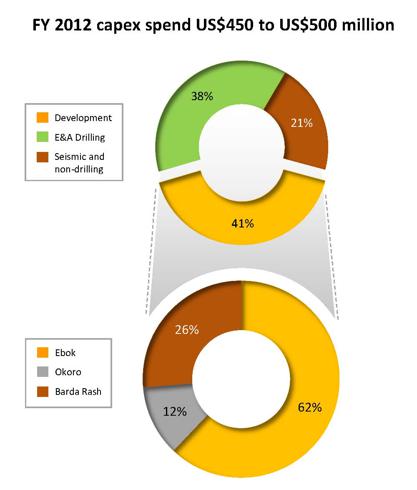 Source: Afren's 2011 Corporate Earnings Presentation
Despite extended production delays at its Ebok field during 2011, Afren increased total company production 34% during 2011 and exited the year producing at a rate of 55.4 net MBOEPD, above company guidance. Expect production growth to continue for Afren in 2012, as it continues to develop and workover existing wells in its offshore Africa assets and begins workovers on its recently acquired Barda Rash asset (Click here for the link to Oil & Gas 360's note on Afren's acquisitions in Kurdistan) in the Kurdistan region of Iraq. Current company guidance calls for 2012 production to average 44 net MBOEPD (midpoint of guidance) during 2011, a 129% increase over its 2011 average production rate. See graph below for details on AFR's producing assets: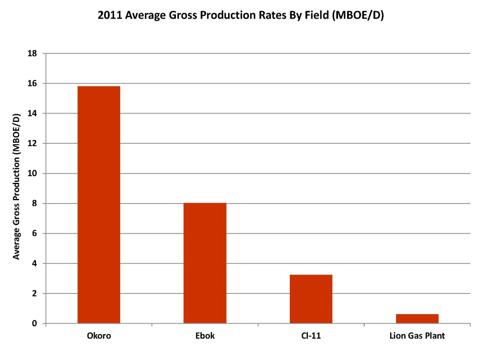 Source: Afren Q4'11 and Year-End News Release
The Barda Rash oil field in Kurdistan will be a principle source of Afren's 2012 production growth, driven primarily through work-overs on three wells, each of which is expected to produce between three and five thousand barrels of oil per day gross. In the Barda Rash, the company is the operator and owns a 60% working interest in a production sharing contract (PSC) covering approximately 1,243 MMBbls gross 2C contingent reserves and 190 MMBbls of gross 2P reserves in the field. Takeaway capacity from the field will be limited to trucks until construction of the KICE pipeline (expected to be commissioned in 2013), which will have an initial capacity of 420 MBOPD when completed. The company expects trucking capacity to grow to 125 MBOPD by 2017, before it begins large-scale production growth. As infrastructure in the Barda Rash is built, the field will become a source of 2P reserves for the company, as the field's contingent reserves become commercially marketable.
Tullow Discovers Oil in Kenya - Related Event
On March 26, 2012 Tullow Oil Plc (OTCPK:TUWLF) announced that it encountered 20 meters (66 feet) of net oil pay while drilling its Ngamia-1 exploration well in Turkana County, Kenya, Block 10BB. The oil was encountered at 1,041 meters (3,414 feet) on its way to a total depth of approximately 2,700 meters (8,856 feet).
This oil find is a potential catalyst for Afren, as it owns a 20% working interest in Block 10A (also operated by TLW), the offset to Block 10BB.
AFR's stock price is up over 9% this week as of market close March 27, 2012.
Disclosure: I have no positions in any stocks mentioned, and no plans to initiate any positions within the next 72 hours.