TRW Automotive (TRW) is a U.S. headquartered manufacturer of auto components with significant operations in Europe and Asia. The company has expanded profitability dramatically since the onset of the recovery in global automobile production although a portion of this has been driven by non-operating items; still, profit is above levels seen in 2006-07. In terms of valuation, although the company trades at a low PE, even if current profit is sustainable, the company is not undervalued. Taking into account the cyclical nature of the company's cash flows, TRW likely trades at a slight premium to fair value.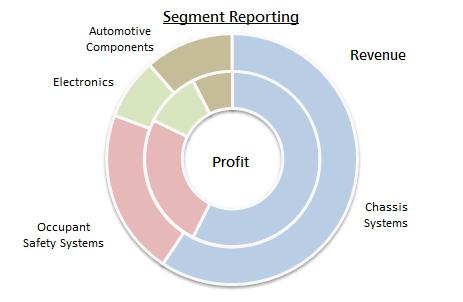 TRW's most important segment in terms of earnings is Chassis Systems. Products within the segment include steering systems, brakes, brake controllers such as ABS and ESC systems, and suspension components. The segment represents about 57% of profit and has shown some of the strongest growth over the past several years.
Occupant Safety Systems represents 25% of profit and includes airbags, seat belts and steering wheels. Growth in the segment has been slower over the past several years and profit declined slightly in 2011 versus 2010. The operations within this segment are under investigation by the European Community and the U.S. Department of Justice for price fixing in airbags.
The two smallest segments of the company's operations are Electronics and Automotive Components, representing 10% and 7% of profit, respectively. Products in the former include crash sensors, occupant weight sensors, remote entry systems and engine control units for large diesel engines. In the latter segment, products include a range of internal controls such as for heating and air conditioning as well as engine valves and miscellaneous fasteners.
The overall company generates about 49% of revenue in Europe, 32% in North America and the balance in Asia. TRW's largest customer is the Volkswagen group of companies representing 21% of sales, followed by Ford and GM with 16% and 11%, respectively. Taking Chrysler and Fiat together yields a concentration of about 13%.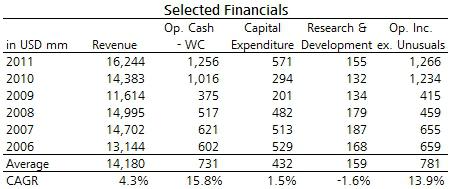 As can be expected, TRW suffered a significant decline in profitability during the recession, but did remain profitable excluding non-cash charges and maintained positive cash flow. Revenue has grown at a 4.3% compounded rate since 2006 while profit has grown much more quickly. Lower capital expenditures which have translated to falling depreciation have contributed to this trend on a normalized basis. As important has been the expansion of gross margins, likely due to labor cost containment.
While operating income is expected to remain about flat in 2012 compared to 2011, net income should fall due to a one-time tax gain in the previous year and likely a higher tax rate on operations. The company has not paid U.S. Federal taxes for at least the last three years due to deferred tax assets related to prior year losses. Current year EPS is estimated at $5.93 per share which is in line with analyst estimates.
Given the current level of profitability, the company's shares trade at about fair value including some value of future growth, in my view. One adjustment is the inclusion of a $150 million accrual for the settlement of a potential price fixing case. In reality, if the company is fined the amount may be higher, but there is a chance no fine will occur which leads to the lesser expected value. With annual profit of about $350 million in the segment where airbags are located, a $150 million charge would eliminate a fair portion of one year's profit in airbags.
The main question to answer is whether the company should be valued on current profitability and in my view the answer is no. TRW exists in a cyclical business and current profitability is quite high compared to historical norms. Even if the new level is sustainable, one year of six, on average will likely see very low levels of profit. This factor alone could account for a 10% lower long-term total value. As the company's chart shows however, the sharp falls in profit in recessions lead to value decreases in the shares far in excess of 10%. Another factor to consider is that the company's tax rate will likely increase in the future as the company becomes U.S. tax payer again.
TRW's shares appear quite cheap on a PE basis, but after a full accounting of the relevant valuation factors, the shares are near fair value or perhaps trading a small premium, in my view. Moving beyond the valuation, we should also consider longer-term trends in the automobile market. High oil prices have presented themselves again for the second time in five years showing they are likely a permanent feature of the business environment which could compromise future growth in the automobile market.
Disclosure: I have no positions in any stocks mentioned, and no plans to initiate any positions within the next 72 hours.