There is an old saying which goes "every cloud has a silver lining", which is typically used as a metaphor for optimism. Today, the cloud we hear most about in the investing world is used to describe the service delivery of computing via the internet from remote data centers or server farms. Does this cloud have a silver lining? According to just about every major technology and content delivery company, the cloud is the silver lining. Enter data center REITs. In order to have cloud computing, very specialized buildings are needed to house the sensitive hardware and technology required to create the "cloud". This requirement fits the REIT model like a glove - companies designed to create, own and lease buildings designed for hosting the cloud (and industrial off site) data centers.
There are three primary REIT players in the datacenter sector: Digital Realty (DLR), DuPont Fabros (DFT) and CoreSite Realty (COR). Of the three, Digital Realty is, by a large margin, the largest of the three (by market capitalization). While all three are well positioned and decent companies, I am going to focus on the largest player: Digital Realty. (All of the charts and data below, unless otherwise noted, are sourced from company presentations and filings - links to which can be found at the end of the article)
Digital Realty owns, acquires, develops, redevelops and manages technology-related real estate. The company has the following broad attributes:
It owns 102 properties comprising 19.1 million rsf including 2.4 million sf held for redevelopment,
It has a diversified portfolio located throughout North America, Europe, Singapore, and Australia.
Digital boasts a diversified tenant base - 1,600+ leases with 500+ tenants, including leading global companies across various industries, and
Digital Realty is one of the 15 largest REITs with an equity market capitalization of approximately $8.1 billion.
Digital Realty targets high-quality, strategically located properties containing applications and operations critical to the day-to-day operations of technology industry tenants and corporate enterprise datacenter users, including the information technology, or IT, departments of Fortune 100 and financial services companies.
What makes this REIT part of the cloud's silver lining?
One of the key factors in the ability of a REIT to create and maintain steady growth in earnings (the silver lining) is a well diversified property and tenant base. Digital Realty has created a geographically diverse property profile, with operations across core metro areas in the United States and regional centers in Europe, Australia and Singapore.


Source: company report
Similarly, the company has a diverse tenant base across multiple data intensive industries. As of December 31, 2011, the 20 largest tenants in the company's property portfolio represented approximately 49% of the total annualized rent. Importantly, their tenant base reads like a who's who of data-centric clients: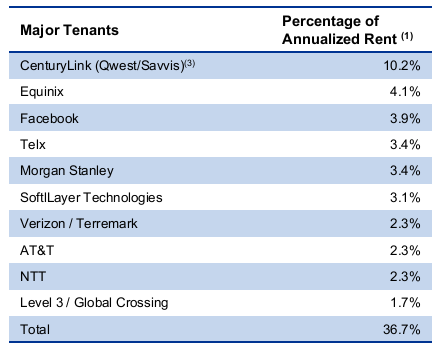 Source: company report
The company has also shown consistency in their occupancy rates, with same store occupancy rates of greater than 94% and tenant retention of approximately 92%. Lease maturities are relatively moderate, with a maximum maturity of 11.8% of rentable square feet occurring in 2015. The in-place rent increases of 2.5-3% and 5-8% mark to market increases in 2012 leases should continue to drive growth.
An overall snapshot of their property types and statistics reveals their focus on internet gateway and datacenter properties, as well as strong occupancies within these properties:

Digital Realty's upcoming lease maturity schedule is as follows:
The REIT's lease maturity schedule over the next five years is manageable and does not exhibit significant "lumpiness" in lease maturities (which helps keep the cloud from raining on Digital Realty's parade).
The growth of cloud computing, continued expansion of data center requirements and a diverse geographic and tenant footprint has led to strong growth in Digital Realty's key metrics:
2011 Adjusted EBITDA of $622.9 million was an increase of 21.7% from 2010:
Likewise, 2011 FFO growth continued its upward trajectory as FFO per diluted share and unit of $4.06, was up 19.8% from $3.39 in 2010.
The growth in EBITDA and FFO has translated into strong dividend growth as well:
Keep in mind, that the current dividend equates to an adjusted funds from operations payout ratio of approximately 82% as of Q4 2011. At this payout level, the dividend should be sustainable (and have room for growth) in more difficult years.
As investors know, growth in revenues (EBITDA, AFFO etc.) is not enough to sustain growth, a rational capital structure must be in place to make growth sustainable and consistent. Digital Realty's capital structure consists of the following: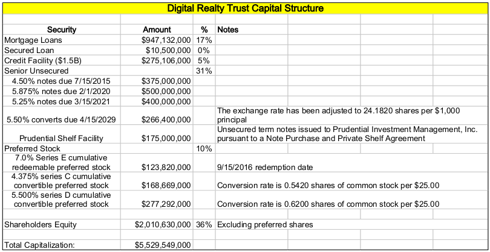 Equity
The equity portion of Digital Realty's capital structure consists of 165,000,000 shares authorized, 106,039,279 shares issued and outstanding as of December 31, 2011. The following is a snapshot of the key equity statistics and a peer comparison:


Note: P/FFO multiples courtesy BMO, other data courtesy Bloomberg
When comparing the three primary REIT participants within the datacenter sector, Digital Realty stands out as the largest participant as well as the cheapest participant on a 2012 consensus multiple basis. These factors, when combined with the highest dividend yield in the sector make Digital Realty the strongest choice in the sector.
While I am sure that many will argue the dividend is low at 3.8%, we have to consider the growth rate of dividends (as stated above at greater than 16% 5yr CAGR) and the sunsetting of QDI (which should, in theory, make an investor indifferent between collecting dividends and selling requisite shares to create cash flow). Many might argue that selling shares will reduce their position, but consider the following: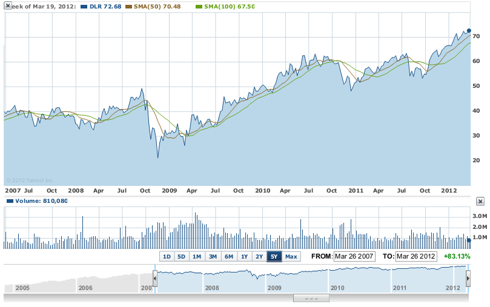 Note: Chart courtesy Yahoo! finance.
The capital appreciation of the company's equity would allow for share redemption to fund income needs while not reducing the market value of the position over time.
Preferred Stock (Baa3/BB+)
Part of the impetus to write this article was Digital's new preferred issue, the 6.625% Series F Cumulative Redeemable preferred.
The price/yield at which the DLR series E preferred (as well as peers) trade is as follows:
DLR 7.00% $25.90, 6.77% (Baa3/BB+)
DFT 7.875% $25.90 7.74% (Ba2/B-) - Dupont Fabros
ARE 6.45% $24.42, 6.62% (Baa3/BB) - Alexandria (ARE) - science lab
BMR 7.375% $25.10, 7.34% (NR/NR) - Biomed (BMR) - medical lab
While the five year redemption protection afforded by the new issue is greater than the four years of redemption protection available to the Series E preferred, given the outlook for rates in the intermediate-term (up), I would not have a problem giving up call protection to pick up additional yield. Due to this opinion, I would position the DLR-Es. As well, the company's preferred stock is attractive relative to Alexandria and DFT - as DFT pays only 1% higher yield for a lower rated entity.
Senior Debt (Baa2/BBB):
The non-convertible and tradable senior debt of Digital realty consists of three issues (the '15s, '20s and '21s) totaling $1.275 billion. The issue mainly quoted and traded is the 5.25% due 2021.
DLR 5.25% '21 +250-235 (to curve) (Baa2/BBB)
DLR 4.50% '15 +230/220 (to curve) (Baa2/BBB)
DFT 8.50% '17 +350-300 (to curve) (Ba1/BB)
ARE 4.60% '22 +260-250 (to curve) (Baa2/BBB-)
BMR 6.125% '20 +230-220 (to curve) (Baa3/BB-)
Based on the above trading levels, DLR's debt is attractive relative to other specialty REITs and should warrant strong consideration for inclusion into a fixed income portfolio. Inclusion is warranted due to relative value and the ability to diversify the REIT sector of a fixed income portfolio.
Digital Realty's unsecured debt contains the following covenants:
leverage ratio not to exceed 60%,
secured debt leverage ratio not to exceed 40%,
interest coverage ratio of greater than 1.50, and
unencumbered assets of not less than 150% of the aggregate principal amount of unsecured debt.
The company's debt maturity schedule is well staggered and should not present a refinancing problem due to the company's ability to access the market and availability under both their revolving credit facility and new term loan commitment.
Bottom line: Digital Realty Trust affords investors an opportunity to diversify their REIT holdings without sacrificing safety, growth or income. I believe the company's securities are attractive across the capital structure.
Source links:
Investor presentation
10k
Preferred stock prospectus
Disclosure: I have no positions in any stocks mentioned, and no plans to initiate any positions within the next 72 hours.