In recent news, Google (GOOG) emulates Apple (AAPL) by moving to unify the fragmented Android tablet. This introduces a new channel of competition for Apple, and highlights the value of RadioShack (RSH).
RadioShack shares are trading pessimistically on margin concerns. Contrarians should watch closely: of heavily shorted stocks, RadioShack has performed the worst in 2012 (source). If and when facts avert this pessimism, shares should revert upwards to the $8 levels, 30% higher than the current $6.31 at 9 P/E.
The market is calling RadioShack's fundamental business model into question. The question is, what value does a retail middleman add in gadgets?
We will find answers in tablet sales. Apple has so far benefited from discordant Android standards. With AAPL pushing new highs, Cook's company is focusing on a smooth, sustained performance. But now Google is taking off the gloves and simplifying its brand, so Apple's tablet is no longer in a league of its own. This competition should give RadioShack leverage in its symbiotic relationship with Apple.
Apple's current ubiquity in plain view, we know RadioShack is dependent on Apple, just like we knew Zynga (ZNGA) was dependent on ubiquitous Facebook (FB). The market was surprised to learn that actually, Facebook was quite dependent on Zynga too. But fundamentals hinted at this before the market figured it out. Social media is far away from RadioShack, but Zynga illustrates that in times of uncertainty, one should try to imagine the bottom line. Bottom line is, middlemen help solve sales problems, and Google has a history of giving leading brands (MSFT) (YHOO) problems to solve. And for Apple, Google, and RadioShack, competing for new customers in smart devices is an enviable problem going forward: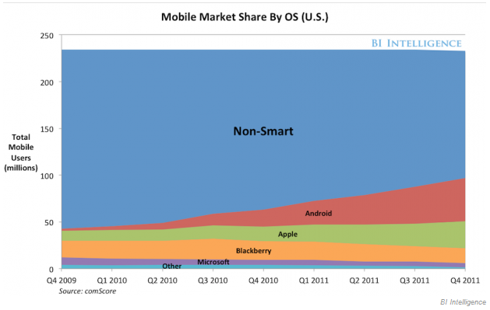 (from BI Intelligence,
Starbucks (SBUX) has shown the extent to which retail is theater. The retailer might not be selling $1 instant coffee packets, but RadioShack's historical margins will make an encore if it can just keep its basic act together. We reiterate "strong buy."
Disclosure: I have no positions in any stocks mentioned, and no plans to initiate any positions within the next 72 hours.