Hennes & Mauritz AB (H&M) (OTCPK:HMRZF), Europe's second largest clothing retailer after Spanish Inditex (OTCPK:IDEXY), reported Thursday its first quarter 2012 earnings (from December 2011 to February 2012) below market estimates, leading to the lowest profitability in eight years.
Although H&M Group's sales increased by 13.6 percent in the first quarter, and by 3% in same stores sales, the gross margin disappointed with decreasing 2% from 57.8% in first quarter 2011 to 55.8%. That was the lowest since the first quarter of 2004 and weaker than street estimates which expected only a 20 bps gross margin decrease.
This isn't a complete surprise in view of management's decision since 2010 to invest in price perception, in order to gain market share. According to the company, the decrease in the gross margin is due to increased purchasing costs together with H&M's decision to not raise prices. Increased markdowns have also contributed to the gross margin fall because of an increase in inventory as mild fall weather hurt demand in Europe.
This has led to declining profitability without material improvement on sales (in same stores year to year) over the last quarters compared to peers. Against its closest peer Inditex, H&M's strategy is even weaker given that Inditex's gross margin has been much more stable over the last year and has a similar same stores sales growth rate.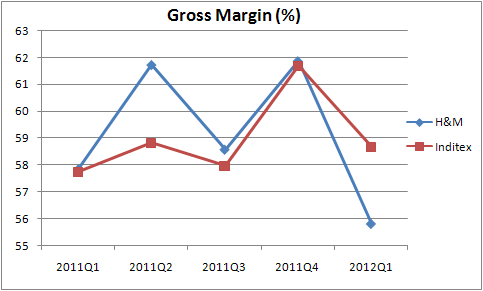 Source: Bloomberg.
The Group's profit after tax was SEK2.7bn ($412m), a 4.6% increase, and profit margin stood at 9.8%, a decline from the 10.7% margin in the first quarter 2011. Return on shareholders' equity declined to 34.9% from 39.3%. The growth targets remain the same, H&M aims to increase the number of stores by 10-15 percent per year while at the same time increasing sales in comparable units (stores open for more than one year).
H&M shares were down intraday more than 5%, which pared this year's gain to 7.5%. That is below its larger competitor Inditex's 12% year to date advance. The stock is near its 52 week high, making a short-term correction likely after this disappointing first quarter earnings.
Conclusion
H&M's price perception strategy will continue to pressure profitability, unless H&M is less aggressive on prices, and its large exposure to Europe makes it difficult to justify the high stock multiples and the premium over Inditex.
H&M trades at 22x forward P/E against Inditex's 20.5x fwd P/E, which given Inditex's more resilient business model and higher exposure to emerging markets, makes H&M overvalued on relative terms.
Disclosure: I am short HNNMY.PK, long IDEXY.PK.