When Friday rolls around, we roll out the charts in the Wall Street Daily Nation. After all, a picture is supposed to be worth a thousand words. So we figure, why not embrace it?
This week, we're serving up some timely snapshots on corporate cash, the U.S. housing market (hint: we're getting even closer to a bottom in prices) and one more reason to be bullish on stocks. Take a look and be sure to let us know what you think!
Hoarders: Wall Street Edition
A&E's Emmy-nominated show, "Hoarders," documents people with an inability to part with any belongings. Well, it appears Corporate America has a hoarding problem, too.
I know we keep hearing about record stock buybacks and dividend increases. But don't be fooled into thinking companies are emptying their coffers. To the contrary, thanks to record profits, they're actually stockpiling cash.
In fact, the amount of cash and liquid assets compared to total assets increased to 7.5% last quarter. That's the highest it's been since 1959.
(Click to enlarge)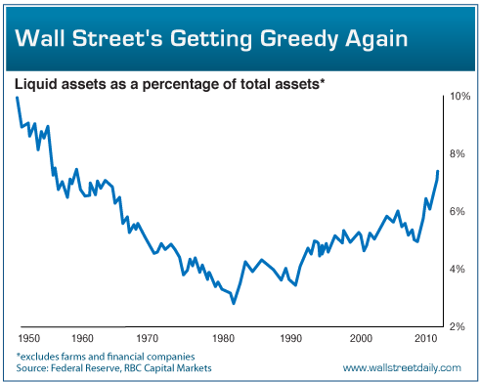 So keep spreading the wealth, Corporate America! You can certainly afford it.
It's a Buyer's Market
We got January figures for the S&P/Case-Shiller home prices indexes this week. I told you prices would be the last sign of a bottom in the housing market. So it's no surprise they dipped again.
But we're getting even closer to an inflection point. How can I be so sure? Simple. The average home is now a bargain. It costs about what it did in late 2002 and early 2003. And more importantly, it's now cheaper to buy than rent.
(Click to enlarge)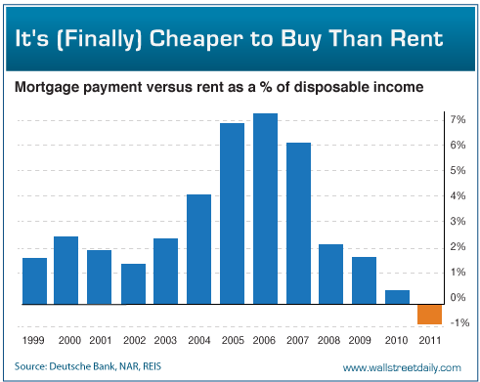 For the fifth quarter in a row, rent payments were more than after-tax mortgage payments. And the gap is widening, too. Now the average rent is 14.9% more than the average home loan payment, up from 8.1% in the previous quarter.
You might think the average American is a dummy. But they understand the basic economics of keeping more money in their pockets. The best way to do that now is to buy, not rent!
Let the Good Times Roll
I've made no attempts to hide my bullish bias. And the next chart serves as another reason why I'm so shameless about it.
(Click to enlarge)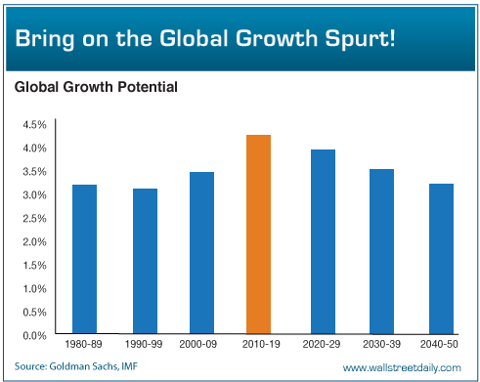 Although people think the world is slowing down, perception doesn't match reality! We're actually in the first inning of what could prove to be a monster growth spurt for the world.
Combine that tailwind with cheap valuations and we have the makings of a long and immensely profitable bull market. Don't miss out!