MGM Resorts (NYSE:MGM) is one stock that enjoyed a phenomenal rise up to the credit crises but then tanked and hasn't come even close to regaining its previous share price. In MGM's case, the culprit is its debt load. With a debt to EBITDA ratio of nearly 8, this is one of the more leveraged and risky stocks in the market. However, that risk of downside goes both ways. If MGM's properties manage a recovery, the stock could find itself back near the triple digit range it was at in 2007. However, that may not be that easy as analysts still project a loss for the company in 2012 and 2013. Below is an in-depth look at the valuation metrics and stock chart.
Valuation: MGM Resorts' trailing 5-year valuation metrics suggest that the stock is undervalued as all of the metrics are below their respective 5-year averages. MGM Resorts' current P/B ratio is 1.2 and it has averaged 2.1 over the past 5 years with a high of 5.6 and low of 0.2. MGM Resorts' current P/S ratio is 1 and it has averaged 1.3 over the past 5 years with a high of 3.3 and low of 0.1. MGM Resorts' current P/E ratio is 2.6 and it has averaged 14.8 over the past 5 years with a high of 30.2 and low of 1.7.
Price Target: The consensus price target for the analysts who follow MGM Resorts is $16. That is upside of 13% from today's stock price of $14.5 and suggests that the stock is fairly valued at these levels. This also suggests that the stock has limited upside and should be avoided at its current stock price.
EV/EBITDA: MGM Resorts is currently trading at an EV/EBITDA ratio of 12.7. Taking a look at the company's publicly traded comparisons will give us a better idea of the stock's relative valuation. Las Vegas Sands (NYSE:LVS) is currently trading at a 15.2 multiple. Wynn Resorts (NASDAQ:WYNN) is currently trading at a 12.5 ratio. Melco Crown Entertainment (MPEL) is currently trading at an 11.1 multiple. The mean EV/EBITDA ratio of MGM Resorts' competitors is 12.9, which suggests that MGM Resorts is undervalued relative to its publicly traded competitors.
Earnings Estimates: MGM Resorts has beat EPS estimates two times in the past four quarters. The company's EPS figures have come in between -2 cents and 8 cents from consensus estimates or about -10.5% to 61.5% from analyst estimates. The company has reported earnings that have differed from analyst estimates by a wide margin, which suggests that the stock may experience upside from earnings surprises.
Price Action: MGM Resorts is up 10% over the past year, underperforming the S&P 500, which is up 10.1%. Looking at the technicals, the stock is currently above its 50-day moving average, which sits at $13.86 and above its 200-day moving average, which sits at $11.92.
(Click chart to enlarge)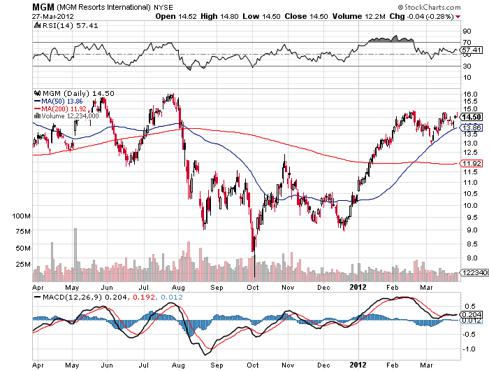 Disclosure: I have no positions in any stocks mentioned, and no plans to initiate any positions within the next 72 hours.