Siemens (SI) has officially opened a new facility, called the Siemens Medical Park, Shanghai. The facility, which combines space for R&D, manufacturing, service, sales and marketing under a single roof, is located in the Shanghai International Medical Zone [SIMZ] in the Nanhui District of Shanghai.
The Medical Park represents an investment of 300 million RMB ($40 million) for Siemens. At the outset, the Siemens Medical Park will employ 800 people, a number that will grow to 1,000 next year. According to Siemens, the Park combines the Siemens Medical customer service center and a medical equipment show center, making it the new "center of gravity" for Siemens' activity in China and throughout Asia.
The Siemens Medical Park seems aimed more at sales than R&D. The press release mentions that a number of world-class hospitals are scheduled to be built in the Shanghai International Medical Zone. This includes the Sino-German Friendship Hospital, a joint venture of Tongji University, Siemens and German hospital operator Asklepios.
Siemens has pledged itself to double its revenues across its many lines of business inside China by 2010. The aging population and increasing penetration of western healthcare into the huge China market are both factors behind the investment that the medical division of Siemens made in Shanghai.
The Shanghai Nanhui District and the 11.5 square kilometer Shanghai International Medical Zone aligns with the Eleventh Five-Year Plan of China. The goal of the SIMZ is to become a first-class location for medical services.
Siemens Medical Solutions brings together medical technologies, healthcare information systems, management consulting, and support services. It has recently been concentrating on building up its in-vitro diagnostics business by acquiring Diagnostic Products Corporation and Bayer (BAY) Diagnostics.
Siemens has been in China since 1872. A widely diversified company, Siemens has 70 operating companies and 60 regional offices in China, employing 43,000 people.
SI 1-yr chart: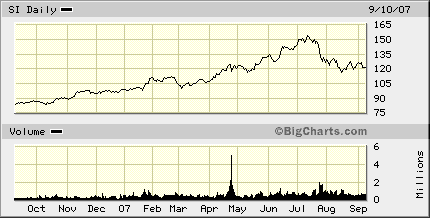 Disclosure: none.