Yesterday morning, Accentia Biopharmaceuticals (OTC:ABPI) reported they have evidence that most cases of chronic sinunsitis are due to fungal-inflammation, as originally proposed by investigators at the world known Mayo Clinic.
Accentia's lead phase 3 compond Sinunase, which is a formulation of an already FDA approved drug amphotercin B, could be on it's way to approval if the trial is a success. With 37 million people in the USA suffering from Chronic Rhinosinsutuis and not one FDA approved drug to treat patients this could be a major windfall for the Mayo clinic and Accentia shareholders.
I am long stock and believe that with just a 2% market penetration into the 37 million sufferers could equate to $2 billion in annual revenue for Accentia Biopharmaceuticals. Therefore you could see the stock approach $20.00 per share rather quickly on a positive phase 3 clinical trial.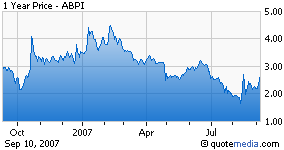 Disclosure: Author is long ABPI