MACRO AND HOUSING
Recession Now Economists' Greatest Fear
As conditions in the housing credit markets worsen, economists now put the odds of a U.S. recession at one-in-three within the next 12 months, up from one-in-four a month ago, a new poll revealed Monday. According to the National Association of Business Economists survey of 46 economists, more than 60% now cite recession as the major risk to the economy in 2008, while just one-third cite inflation. "The NABE panelists see reduction in economic growth across major spending categories" for the balance of this year and into next, said Ellen Hughes-Cromwick, NABE president-elect and chief economist at Ford Motor Co. The group's outlook for GDP this year remained at 2%, but its view for 2008 was at 2.6%, down from the 2.8% expected a month earlier. Expectations for consumer spending next year were down to 2.5% from 2.8%, while the forecast for business fixed-investment dropped to 3.7% from 5%. Its inflation view was little changed. As for interest rates, the group expects the Fed to cut 50 basis points from the current 5.25% by 2008, and then hold steady at 4.75%. On a positive note, the group forecast that disposable personal income will outpace spending for the first time since 2002.
Sources: Reuters, Financial Week
Commentary: Gauging the Current Economic Scene a Week Before the Next FOMC Meeting • Wall Street: Where to Now?
Stocks/ETFs to watch: DIA, SPY, AGG
'Near Perfect Storm' Brewing in Housing -- WaMu
With conditions in the housing market continuing to deteriorate, Washington Mutual Inc. said Monday it may be forced to set aside reserves to cover bad loans. The largest U.S. thrift may have to increase its loan loss provision, which had been estimated at $1.5B-$1.7B for the year, by $500M, as the corrections in housing and capital markets now appear to be worse and longer lasting than expected. It would mark the fourth increase in reserves this year. "The combination of rising delinquencies, higher foreclosures, more housing inventories, increasing interest rates on many mortgages and greatly reduced availability of mortgages due to limited liquidity is creating what we call a near-perfect storm for housing," CEO Kerry Killinger said at a financial services conference. A perfect storm is a situation in which several events, which on their own may not be
significant, occur simultaneously creating a more powerful situation. WaMu expects to write down $200M in Q3 for the value of loans moved to its portfolio that are not eligible to be sold to government-sponsored agencies like Freddie Mac and Fannie Mae. Killinger said the thrift also could face higher levels of charge-offs for the foreseeable future. Nevertheless, he said WaMu hoped to benefit from the situation by increasing its market share and adding more loans to its portfolio as competitors retreat from the market. Wachovia Corp. CEO G. Kennedy Thompson, also speaking at the conference, said it too was grabbing more business as a result of the shakeout, noting that its outstanding mortgage loans increased by some $1.2B during the first two months of the third quarter.
Sources: Bloomberg, Wall Street Journal, Reuters
Commentary: Washington Mutual: Riskiest Portfolio in U.S. • Goldman's Take on the MBA Foreclosure Data • Washington Mutual : Fundamentals Spiraling Downwards
Stocks/ETFs to watch: WM, WB, FNM, FRE. Competitors: WFC, BAC. ETFs: KRE, RKH, IAT
Home Depot Bumps Up EPS Guidance Post-Buyback
Home Depot revised its full-year guidance upward slightly after it agreed to buy back 289.3 million shares of its common stock for $10.7 billion. The $37-per-share price is at the low end of the company's $37-42 tender offer. The buyback amounts to 14.6% of Home Depot's outstanding shares. The company is now forecasting EPS from continuing operations to fall by 7-9% in fiscal 2007 versus a prior estimate of a 12-15% drop. The new guidance reflects the

company's expectation that the number of its outstanding shares will be reduced by about 165 million and 290 million shares in Q3 and Q4, respectively. Last month, Home Depot sold its contractor supply business to a private equity group for $8.5 billion, an almost 18% discount to a previously agreed-upon price. The proceeds of that sale funded most of this portion of the company's planned $22.5 billion buyback. Home Depot now has approximately 1.69 billion shares outstanding. In related news, Home Depot CFO Carol Tome said Monday the company is expecting turmoil in the housing market to continue into next year. The implosion of the subprime-mortgage market "is impacting the housing environment," she said. "We don't think we'll see an improvement in that until the back half of 2008."
Sources: Press release, Reuters, Wall Street Journal, TheStreet.com, Bloomberg
Commentary: Home Depot's Tender Offer Disappoints; Shares Fall • Home Depot's Supply Unit Sale Was a Fiasco • Home Depot Slashes Unit Sale Price By 18%
Stocks/ETFs to watch: HD. Competitors: LOW. ETFs: RTH, XHB, VCR
Earnings call transcript: The Home Depot Q2 2007
Fed's Yellen: Economic Downside Has Increased Appreciably
San Francisco Federal Reserve President Janet Yellen said Monday current market turmoil has "appreciably" increased downside risk to the U.S. economy. Speaking at the National Association of Business Economics' annual meeting, Yellen said the Fed needs to take a 'forward-looking' approach to tackling economic issues, and warned financial conditions can change quickly. Yellen said she sees significant downside pressure on consumer and business demand. She stressed price stability and full employment should be the "unswerving focus" of Fed policy decisions, rather than to protect investors: "Monetary policy should not be used to shield investors from losses." Yellen said housing weakness could negatively affect consumer spending, and added that risks to economic growth could become "significant" if housing prices fall and unemployment grows. Yellen is not a 2007 voting member of the FOMC, which will determine the much-watched fed funds target rate at its Sept. 18 meeting.
Sources: Reuters, MarketWatch
Commentary: Options Trader: Monday Morning Ideas • All Defensive Strategies Come With Risks • The Federal Reserve: Putting Out Fire with Gasoline
Stocks/ETFs to watch: DIA, SPY, AGG
Fed's Lockhart Reevaluates After Weak Job Data
Dennis Lockhart, Atlanta Federal Reserve Bank President, backed off a statement last week in which he said that the housing crisis had not clearly affected the broader economy. Lockhart said Monday that Friday's payroll data showed "employment was beginning to soften back in June. This news should be evaluated with recently positive reports in retail sales." The Labor department said nonfarm payrolls dropped by 4,000 in August, well short of the 115K gain forecast by economists, and the first drop in U.S. payrolls since August 2003 (full story). Lockhart also repeated a comment from Ben Bernanke that the Fed will consider "all timely information" when it meets next week. Though Lockhart, a FOMC voting member, seems undecided, the divergence in his comments demonstrates a step towards acknowledging that the housing slump and an increase in volatility of the financial markets has hurt the broader U.S. economy. Lockhart also mentioned strong August retail sales. Consumer spending, responsible for two-thirds of the U.S. economy, will be monitored closely between now and the meeting: "The other set of data that we are watching carefully... is the consumer spending data. Even small changes in consumer sentiment resulting from either direct impact on households of the housing-related issues, or just conceivably caution coming into household thinking ... all of that can add up to a change in consumer sentiment," he said.
Sources: Reuters, International Business Times
Commentary: What's the Connection Between Non-Farm Payroll, a Recession and Gold? • Fed Rate Cut Not Certain - Plosser
Stocks/ETFs to watch: SPY, DIA
TECHNOLOGY
Take-Two Gains on Better than Expected Earnings
Shares of Take-Two Interactive Software rose 4.13% in AH trading after the gamemaker reported lower-than-expected net losses and better-than-expected revenue.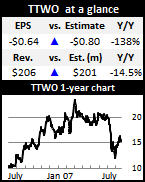 Net income was -$58.5 million (-$0.81/share), vs. a net loss of $91.4 million, (-$1.29) a year earlier. Revenue was down 14% from the year-earlier period, to $206 million, due to strong sales of Grand Theft Auto last year. Take-Two recently was forced to delay the release of its latest version of Grand Theft Auto [IV], its most popular game, to its second fiscal quarter 2008, sending its shares lower 18.7% after-hours on August 2 (full story). One bright spot in Take-Two's latest quarter were strong shipments of 'Bioshock,' an unexpected hit released less than a month ago. 1.5 million units have already been shipped, and Take-Two should see gains on its next quarter earnings report as a result. The game is available only for PC and Microsoft's Xbox. For the next (fourth) quarter, Take-Two said it expects revenue of between $275 million and $300 million. Analysts had been expecting revenue of $287.4 million. It also said it expects full-year EPS of $0.80-1.00 (see full earnings call transcript). Todd Greenwald, an analyst with Nollenberger Capital Partners said he was "pretty skeptical of them being able to do the earnings number they put out there given the revenue number. They would have to just completely right the ship ... and I just don't think they're there yet."
Sources: Press Release, Reuters, TheStreet.com, The New York Sun, Dow Jones Newswires
Commentary: Take-Two Software: Risky But Worth It • Take-Two Plummets On 'Grand Theft' Delay; Sony, Microsoft May Be Affected • Take-Two Is Buyable On This GTA Delay Stock Collapse
Stocks/ETFs to watch: TTWO, MSFT. Competitors: ATVI, ERTS
Apple Might Bid For Wireless Spectrum -- BW
Apple might bid in the FCC's January 16 wireless spectrum auction, Business Week reported Monday. The 700Mhz spectrum is the last chunk of spectrum available to have the attributes required to construct a new broadband network. Its signals would allow for much faster Internet access than cellular or Wi-Fi. Apple has almost $14 billion in cash, so it can easily produce the required $4.6 billion minimum bid. If it does bid, it will compete with DirecTV and eBay, as well as possible new entrant Google. A bid would have a certain logic, since an Apple with its own spectrum would no longer have to depend

on a phone company to deliver digital content to the iPhone. Apple could dramatically undercut the fees currently charged in the network service marketplace, possibly even giving service away for free. "Apple is the most anti-carrier company there is," said a former Apple executive. "...If they put a few billion behind this, they could build a kick-ass network." BW forecasts, however, that Apple will not bid, since it would mean shifting energies away from "creating the next innovative gizmo" and into the "low-margin, hardscrabble world of running a massive-scale network." Apple could employ an equipment provider like Ericsson or Alcatel to handle the "grunt work," but it would then be harder to generate a return on the original investment.
Sources: Business Week, Dow Jones, Information Week, C|Net Blogs
Commentary: FCC Spectrum Rules Favor New Entrants Over Incumbents -- Source • IPhone Sales Hit 1M; Moving Toward 3G • Is Google Serious About Bidding For Wireless?
Stocks/ETFs to watch: AAPL, GOOG, DTV, EBAY, T, ERIC, ALU. ETFs: IAH, FPX, FDL
Earnings call transcript: Apple F3Q07
Western Digital Follows Seagate, Boosts Guidance
Western Digital raised its fiscal Q1 2008 (September-quarter) outlook on Monday, citing "improvements in demand, product mix and pricing," after its rival, Seagate, issued upward revised guidance in late August. Western Digital now expects earnings per share of $0.61-$0.65 (excluding Komag acquisition-related costs), compared to its previous guidance from late July of $0.43-$0.47. Analysts had been forecasting EPS of $0.51, on average.

Revenues are now seen between $1.6 billion-$1.65 billion, vs. $1.45B-$1.5B previously and analyst expectations of $1.49B. Western Digital projects gross margin of about 17.5%, a 1.5%-2.0% improvement over its earlier guidance. In a statement, Western Digital also said it expects the Komag acquisition to be accretive to earnings by fiscal Q4 2008, instead of fiscal Q1 2009, as it had initially announced. Shares of Western Digital rose 0.2% to $22.41 during normal trading, and traded up 2.6% to $23.00 in thin after-hours activity.
Sources: Press release, Associated Press, TheStreet.com
Commentary: Western Digital Joins Seagate in Boosting FY Q1 Guidance • Seagate, Western Digital: Expecting Seasonal Updrafts in Volume and Earnings • Continued Pricing Power in Store For Data Storage?
Stocks/ETFs to watch: WDC. Competitors: STX, HIT, OTCPK:FJTSY
Dell Unveils New Storage System
In a significant change of focus for PC manufacturer Dell, the company is releasing the MD3000i, a new, low-cost storage system directed toward small and mid-size businesses. The move is seen as a clue to the company's restructuring, about which details have been scant since Michael Dell took back the CEO position from Kevin Rollins in February. "We're pointing the company into new areas and making a number of longer-term investments," Dell said Monday at an event in San Francisco. The company has been plagued of late with tepid sales, layoffs and an accounting scandal. It also lost its position as the world's top PC manufacturer to HP. Michael Dell was relatively upbeat at the event about business with its main customer base

of large corporations, but said the company is shifting its sights toward sales of laptops and desktop PCs to small businesses and international consumers. On the latter front, Dell has announced partnerships with retailers in Europe and Asia. Dell recently broke with its straight-to-the-client strategy by inking a distribution deal with discount retailer Wal-Mart. It also saw 24% revenue growth from computer data-storage equipment in Q2 while HP declined 0.3%.
Sources: TheStreet.com, Forbes, MarketWatch, Reuters
Commentary: Michael Dell Focuses On New Directions • Dell Beats Estimates on Healthy Sales • Dell Admits Falsifying Results; Will Restate Four Years of Earnings • Selling PCs at Wal-Mart? Dell's Had Its Day
Stocks/ETFs to watch: DELL. Competitors: HPQ, IBM, INTC. ETFs: IAH, PRFQ, ROM
iPhone Delay in Asia Proves Costly As Counterfeits Steal Share -- Bloomberg
Counterfeit iPhones have been on sale in Asia since at least six months before Apple released the product, Bloomberg reported Tuesday. "iClones" are available in Taiwan with touchscreens and Apple's logo on the back. A counterfeiter identified only as "Ben" said his company designed the knockoffs from photos posted on the Internet after Steve Jobs displayed the product. "The guts aren't hard," he said. "The hard part is the design and the exterior." Apple is not planning to launch the iPhone in Asia until 2008, but "[w]e can't ignore iPhone because it's so hot," Ben said. He sells his knockoffs over the Internet for the equivalent of $270 to customers in China, Hong Kong, Singapore, Malaysia, Australia and the U.S. His phones do not use Apple software and can be used on any network. "It's the exterior we are imitating," Ben says. "If customers want functions, we can offer more and much better functions than the real phone." Apple has not explained the delay to Asia, although JPMorgan analyst Kevin Chang suggested carrier networks may not yet be able to support iPhone technology. "We are committed to pursuing counterfeiters and others who steal from us and deceive our customers," said Apple spokeswoman Jennifer Bowcock. According to the U.S. Chamber of Commerce, phony goods cost the global economy $650 billion a year.
Sources: Bloomberg
Commentary: IPhone Sales Hit 1M; Moving Toward 3G • Apple Co-Founder Thinks iPhone Price Cuts Reflect Inventory Problems • iPhone Revenue Hit Worsens: Apple Gives Prior Purchasers $100 Credit
Stocks/ETFs to watch: AAPL. Competitors: MOT, NOK, RIMM, PALM
Earnings call transcript: Apple F3Q07
Intel Boosts Q3 Outlook
Semiconductor giant Intel Corp. boosted its Q3 revenue forecast Monday morning to between $9.4 billion and $9.8 billion from a previous 9.0 billion to $9.6 billion, amid stronger than expected worldwide demand for its computing products. It also said it expects gross margin percentage to be in the upper half of a

previous "52% plus or minus a couple of points." "We see strength in computing demand continuing in the 2nd half," S&P told clients in a Monday morning note following the announcement. It raised its 2007 EPS estimate by $0.02 to $1.16. The announcement comes on the same day rival AMD rolls out its much-awaited Barcelona quad-core server chip line (full story). On Sept. 6, HP was the first computer maker to launch servers using Intel's new Tigerton quad-core 4-way server chip. In a note to clients, AG Edwards said it believes Tigerton will help Intel remain competitive, or perhaps even strengthen its position in the multi-processor space. INTC shares closed down 0.5% to $25.35, while AMD shares gained 2.6% to $12.94.
Sources: Press release
Commentary: Intel Should Jump on 2 Bullish Notes • Intel and the Power of Having a Monopoly • Intel's Move To "Core" Design Should Cement Lead Against AMD
Stocks/ETFs to watch: INTC, HPQ. Competitors: AMD
Earnings call transcript: Intel Q2 2007
IPhone Sales Hit 1M; Moving Toward 3G
Apple Inc. shares closed up 3.7% to $136.71 Monday after the company said it has reached the one-million-iPhones-sold mark ahead of its own forecast. The company previously expected to sell one million units by the end of September. "One million iPhones in 74 days -- it took

almost two years to achieve this milestone with iPod," said CEO Steve Jobs. Last week, Apple cut the price of its high-end iPhone by $200 from $599 to $399, sparking speculation sales were lagging. As one pundit noted, Apple will now have to sell another 1.67 million iPhones just to produce the same revenue it did with its first million. Separately, the Inquirer reports Apple has struck a deal with wireless tech firm Interdigital to use the company's 3G radios and interfaces in an upcoming iteration of the iPhone. The new iPod line, the Inquirer says, proves Apple has the ability to shrink its electronics even further, "meaning that room for a 3G radio should open up in the next few months." 24/7 Wall Street says several AT&T stores have told it they expect the 3G iPhone "soon."
Sources: Press release, Inquirer, 24/7 Wall Street
Commentary: iPhone Sales Dominate Smart Phone Market • iPhone Price Drop Is A Bad Sign
Stocks/ETFs to watch: AAPL. Competitors: MOT, NOK, RIMM, PALM
ENERGY AND MATERIALS
Housing Market Weakness Could Cause Weyerhaeuser to Close Plants
Lumber and paper company Weyerhaeuser said in a U.S. regulatory filing on Monday that the market for wood products was not performing as expected, and would cause closures, curtailments, and restricted operations in its wood product factories. Last quarter, the wood-product business, which accounts for 36% of the company's revenue, lost $123 million and caused company sales to slip 11% from a year ago. The U.S. housing market has severely hurt prices and created challenging market conditions. The filing also noted the markets for "cellulose fibers and containerboard, packaging and recycling segments continue to improve." The company has considered selling these assets, after receiving pressure to do so from large institutional shareholders for some time. Weyerhaeuser stock closed down 0.7% to $66.85.
Sources: Wall Street Journal, Reuters
Commentary: 11th Hour Panic and Using More Lumber • Paper and Forest Product Sector Stock Picks
Stocks/ETFs to watch: WY. Competitors: IP, LPX. ETFs: XLB, UYM
FINANCIAL
Billionaire Trader Takes Major Bear Stearns Stake
Billionaire trader Joseph Lewis has taken a 7% stake in battered U.S. brokerage Bear Stearns Cos Inc., according to a SEC filing made Monday morning. His 8.1 million shares, purchased between Aug. 6 and Sept. 4, likely make Lewis Bear's biggest shareholder. As of the end of June, Putnam

Investment Management was Bear Stearns' largest shareholder with 7.03 million shares. Bear shares have shed about 35% this year after two of its hedge funds folded, and due to its mortgage-heavy revenue stream in the face of a subprime lending meltdown. Shares closed up 2% to $107.50 Monday.
Sources: Reuters
Commentary: Bear Stearns: Recent Plunge Looks Tempting
Stocks/ETFs to watch: BSC
Blackstone Buys 20% Stake in State-Owned Chinese Chemical Producer
Blackstone announced it would buy a 20% stake in chemical maker China National Bluestar for $600 million. Blackstone has been looking for its first major Chinese investment for some time, and had been rumored to be negotiating for a stake in Bluestar (full story). Blackstone connections with the Chinese government have grown strong in the last year, as the Chinese government bought a stake in the firm in May, and Blackstone hired former Honk Kong financial secretary Antony Leung in January. Ben Jenkins, Blackstone's head of private equity group in Asia Pacific, noted that Blackstone made the deal "as a play on global growth in the chemical sector." He followed, "China in particular is a very important market for the chemical industry." Blackstone will nominate Leung and Jenkins to Bluestar's board. The company's stock finished Monday up 1.6% to $21.88.
Sources: Reuters, Wall Street Journal, RTT News
Commentary: Blackstone Interested in Wind Stake -- Reuters • Blackstone Seeks To Capitalize On Market Downturn • Blackstone Is A Dog
Stocks/ETFs to watch: BX. Competitors: GS. ETFs: XLF
ETFs: The Blackstone Group Q2 2007
HEALTHCARE/BIOTECH
Pfizer and FDA Warn of Possible Carcinogen in Viracept
World-leading drug manufacturer Pfizer issued a warning Monday that traces of a carcinogen have been found in its HIV medication Viracept. Nine-year old Viracept (nelfinavir) is a protease inhibitor, an older class of HIV treatment that blocks a chemical the virus uses to replicate itself. Pfizer began to test Viracept for the cancer agent ethyl methanesulfonate [EMS] after Roche, which distributes the drug outside North America, detected traces of it in the tablets. Roche has since suspended sales of Viracept in Europe. Pfizer found particles of the toxin in Viracept as well, but did not recall it from the U.S. market because the quantity of EMS found was "substantially lower" than that found in European Viracept. The FDA warns that although there are no human data, EMS has been shown to cause mutations, tumors and birth defects in animals and is a "potential human carcinogen." Pfizer advises children and pregnant women not to start the drug, although children already taking it may continue. "Pfizer is working with the FDA to prospectively limit EMS levels in Viracept, while still considering the immediate needs of patients on therapy," the company said. Pfizer shares fell 1.2% to close at $23.96 Monday.
Sources: Wall Street Journal, Reuters, Bloomberg,
Commentary: Roche Recalls Contaminated Drug • Pfizer's Dividend Yield To Get Even Better; 'Patent Hole' Remains Huge Challenge • Pfizer: Lipitor Reissue Patent Application Rejected
Stocks/ETFs to watch: PFE, OTCQX:RHHBY. Competitors: BAY, MRK, NVS. ETFs: FDL, IHE, PPH, PRFH
Earnings call transcript: Pfizer Q2 2007
Another Safety Review on Tap for Bayer's Trasylol -- FDA Panel
Bayer Pharmaceuticals' Trasylol, a drug used to control bleeding in heart bypass patients, will undergo a second safety review on Wednesday after two studies showed it could increase the risk of death. Already the subject of an ongoing FDA review after two studies last year suggested the drug, approved in 1993, doubled the risk of kidney failure and carrying the FDA's strictest "black box" warning, the agency will meet "to provide recommendations about the overall risk-benefit assessment for Trasylol, especially when considering the information that was not provided to the 2006 advisory committee." One of the latest studies had been given to Bayer before an FDA panel meeting in September 2006, but Bayer didn't submit the findings until after the meeting. Bayer has said it did not release the study of some 67,000 hospital records to the FDA because the results were

preliminary, though it has suspended two senior staffers over the issue. That study found that Trasylol increased the risk of death by 54%, according to the FDA. The agency is now reviewing the final results of the so called I3 study recently submitted by Bayer. The drugmaker, in documents posted on the FDA Web site, admitted that the drug seemed to be associated with "renal dysfunction" but said it did not appear to be associated with a higher death risk. Trasylol is the only FDA-approved drug to prevent blood loss during bypass surgery. Originally projected to generate sales of more than $500M, the drug has disappointed Wall Street because of the safety issues surrounding it.
Sources: Reuters, Wall Street Journal
Commentary: Bayer Ready to Cure Investors' Headaches - Barron's • Bayer Buyout Rumors Materialize Again
Stocks/ETFs to watch: BAY. Competitors: JNJ, PFE, SGP. ETFs: PPH, IHE
MUST-READS ON SEEKING ALPHA TODAY
Have Wall Street Breakfast emailed to you every morning before the market opens.