Actionable Items:
CEF Weekly Review: On average, the 13 closed-end fund (CEF) types registered a share price advance of 0.8% for the week ending 3/30/12 The PowerShares CEF Income Composite (PCEF), an ETF that invests in taxable income CEFs, increased 0.3% for the week. PCEF is up 6.2% YTD on price appreciation. Currently, PCEF's trailing twelve months' yield is 8.1%. The S&P 500 increased 0.8% during the week on tepid share volume (see below). The S&P 500 is up an impressive 12.0% YTD.
CEF Weekly Fund Type Performance: Fed chief, Ben Bernanke, promise, at the beginning of this week, of a continuation of a low interest rate policy was helpful for the fixed-income fund types. With the exception of WrldEqFnds, the balance of the fund types posting better results than the average was fixed-income nature.

images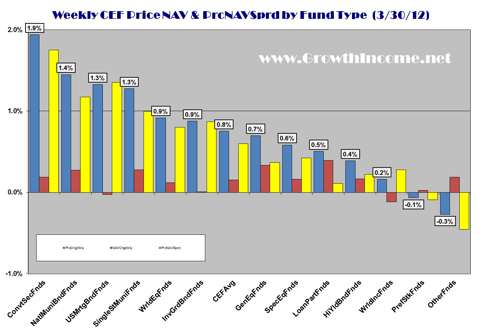 ConvtSecFnds, which typically trade in line with equity-oriented funds, advanced the greatest at 1.9%. Stocks in this sector were uniformly strong. Gabelli Convertible & Income Securities Fund (GCV) advanced 5.6% for the week. Both NatlMuniBndFnds and SingleStMuniFnds continued their recovery from the shellacking they experienced two weeks ago.
Weekly CEF Winners and Losers: One of the CEFs with the greatest positive PrcNAVSprd* for the week was Aberdeen Chile Fund . CH's share price advanced 6.4% while its NAV per share declined 1.2% generating a positive PrcNAVSprd of 7.7%. This was in contrast to a more modest rise in iPath DJ-UBS Copper Trust ETN (JJC) at 0.5%.
The price action of the stock was a little unusual as the stock went ex-dividend on Wednesday. Volume on Wednesday tripled and continued at that pace for subsequent days pushing the stock higher. Earlier in the month there was a merger of its advisor into a larger related entity which effectively should have no impact. The stock is trading at a 14.4% premium so speculation regarding liquidation of the fund would not come into play. (See our "CEF Weekly Review: Focus on Aberdeen Chile Fund (2/17/12)" for additional information.)
The CEF(s) with the greatest negative PrcNAVSprd for the week was DNP Select Income Fund . The stock was off 6.6% while the NAV was up a modest 0.1% generating a negative PrcNAVSprd of 6.7%. DNP was hit with the double whammy of going ex-dividend this week and its potential for a "rights" offering announced in mid-March. DNP has previously announced its ex-dividend dates for its monthly distributions of $0.065 for April and May.
CEF Focus Stock(s) for the Week: The focus stock this week is PIMCO High Income Fund . It is our focus stock because we continued to be confounded at its excessive valuation based upon its premium relative to its peer group and our "back of the envelope" calculations.
Start with the Obvious: PHK has the second highest premium of 662 CEFs in our database at 60.4%. (The only one higher is its sister CEF PIMCO Global Stock Plus (PGP) at 64%). The average premium in PHK's peer group of HiYldBndFnds is 3.6%. PHK has over the past 5 years sported a premium of 32.9% which is half its current premium.
The next highest is Babson Capital Corporate Investors (MCI) at 33.3%. However, MCI has a limited float and trades only 15,000 shares daily. Additionally there is an equity component to MCI. MCI typically gets an equity stake by attaching warrant, or other means of equity participation, to their loans.
Quick Calculation: Some quick calculations create more questions than they answer. Let's make the assumption that PHK doesn't pay interest on its debt nor does it pay any advisory fee, i.e., it has no expenses nor debt.
If one annualized the first half of the 2012 total investment income it would generate $137.6 million in total income before expenses. Let's divide that number by its 122 million shares outstanding. We would arrive at a per share number of $1.13 per share. This is the exact same number both for fiscal 2010 and 2011 actual NII (expenses included). This NII is approximately 23% shy of the annualized distribution. (Actual first-half FY 2012 NII is $1.03 per share.)
Distinction with a Difference: The difference in FY 2012 from both 2011 and 2010 was that in each of those latter years the net realized gain per share was $1.03 and $5.58 per share, respectively. Clearly this was enough to cover the NII shortfall in each of those years.
For the 6 months of FY 2012, there has been a net realized loss of $1.74. So, unless there is a substantial reversal of fortune, the gains that were available in the prior two years will not be in FY 2012. In fact, the average undistributed net investment income per share is at a negative $0.452 per share. So there is no reserve from this source to fund the distribution.
Why the Distribution Will Likely be Maintained. It is unlikely that the distribution will be cut anytime soon. This is because, in our opinion, PIMCO needs to protect the franchise value of Bill Gross, founder of PIMCO. In addition to Mr. Gross being the designated portfolio manager of PHK (taking it over in 2009), Mr. Gross also runs the Firm's $240 billion Flagship Total Return Fund. This Fund has been leaking funds as a result of Mr. Gross being on the wrong side of an interest rate call last year. Additionally, it would be inconvenient for PHK to reduce its distributions as it parses The Total Return Fund to create a newly launched ETF clone (TRXT). It would just be bad timing.
Limitations of Kings: However, like King Canute, who was unable to turn the tide back by will, Mr. Gross, the "Bond King", will not be able to turn the tide of interest rates that could negatively impact the earnings and distribution of PHK.
Investor Caution: This is an OK investment for traders. However, for long-term investors I would make sure you "spot the door" because you'll need it to beat a hasty retreat if interest rates begin to rise; or, alternatively, if Mr. Gross resigns his portfolio management duties at PHK to "concentrate" on the expansion of the Total Return Fund.
Caveats: Visibility regarding non-interest rate earnings and profits from hedging is low and could play a meaningful role in generating earnings to support distributions as well as the difference between GAAP versus Earning & Profit (tax) accounting-the latter which is the basis for distributions.
Lastly, I have been consistently wrong in my expectation for a narrowing of the premium. So, one should take this all in consideration when investing in this stock.
Last Week's Focus Stock(s): Our focus stock last week was VK Senior Income Fund which was included in a separate report entitled "Investors Ignore Distribution Declines in Fixed-Income CEFs", to which we refer you. That report also recommended the accumulation of Nuveen Floating Rate Income Fund (JFR) and the disposition of PIMCO High Income Fund .
Fed chief, Mr. Bernanke, signaled, before the opening bell on Monday, the Fed's intention of continuing its accommodative interest rates policies and possibly giving quantitative easing another look. His comments took the "wind out of the sails" of those investments that would benefit from a rising interest rate environment. This included floating-rate senior loan investments. Mr. Bernanke's remarks created buoyancy for some of the fixed-income investments, e.g. junk bonds.
We believe now's the time to accumulate floating-rate CEFs such as VVR and JFR. We like the portfolio diversification aspects of these stocks as well as the "pop" they'll receive once there is momentum for rising rates. With a 6% annualized monthly distribution yield we're getting paid to wait. However, the near-term appreciation may be muted under the current interest rate regime.
I would also refer you to an excellent interview of the management of Nuveen Floating Rate Income Fund in the "The Scott Letter: Closed-End Fund Report", for those seek some "texture" regarding VVR's management, published by Closed-End Fund Advisors, a respected investment advisor in this sector.
Disclosure: I am long PCEF, VVR, JFR, CH. I own a diversified portfolio of CEFs and ETFs and am long stocks in the CEFBig10™ and CEFMuni10™. The first is a balanced equity-income portfolio (CEFBig10™) and the second a tax-exempt income portfolio (CEFMuni10™).
[*] All things being equal, price and NAV should move in tandem. A price movement greater than the NAV generates a positive PrcNAVSprd and may be interpreted as negative on a near-term basis and indicate that the stock is overvalued relative to its NAV which in theory is the stock's intrinsic value. The opposite would be true for a negative PrcNAVSprd.