MySpace has enjoyed a relatively long and successful run as in a red hot sector of the internet, but it may not be long before the site has to defend this title. Facebook, having gone through big changes about every three months for the past year, may have finally started to pull users away from the incumbent. Facebook has grown not only in member base, but also in member engagement, while MySpace has fallen dramatically on these same measures.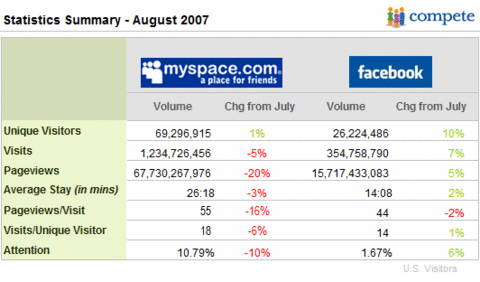 In terms of both monthly Attention and Page Views, MySpace has been the highest ranking site on the internet since early 2006.
What it lacks in unique visitors, MySpace makes up for with intensity: people visit an average of 18 times per month, and stay for over 26 minutes.
Facebook received 15.7 billion page views in August. This puts the site squarely in third place (across the internet) in terms of page views
Since launching its application platform, Facebook attention has grown over 50%.
Visitors to Facebook have been spending more time on the site, and visiting more frequently in August than in any other recent month.
There's still a substantial gap between traffic to these two social networks, but Facebook's growth trajectory, seemingly endless supply of 3rd party applications and multiple ways for members to engage one another makes it a serious threat to MySpace. But how does this engagement happen? Later on this week we'll take an in-depth look at Facebook usage…stay tuned.