In a couple of previous articles related to beauty products company Estée Lauder (EL), posted on February 2, 2012 and on March 5, 2012, a collar was considered for the first article due to an upcoming earnings release, and a covered call was discussed in the second article as there wasn't an earnings release on the horizon. The time value of the covered call proposed in the second article has only about 0.5% time value left, so management of the position should be considered.
Rolling the covered call outlined in the second article to another covered call for the same option expiration is considered first. However, there aren't any attractive covered calls available to roll to for April, so rolling to a May position is considered. But, since Estée Lauder will probably release earnings around the first of May and with the run-up in Estée Lauder's stock price over the last several months (shown below), a collar position might be wise to investigate, as it provides some protection in case some bad news is released.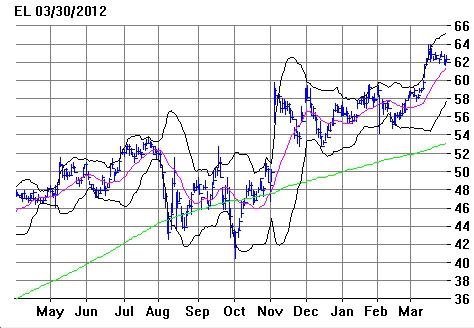 Using PowerOptions tools, a collar was found for Estée Lauder for May expiration with a potential return of 2.1% (15.3% annualized) and a maximum potential loss of 5.7% (even if the price of the stock goes to zero) as shown below:
Click to enlarge

For investors currently short the 2012 April 60 call option discussed in the second article, it can be closed for about $0.40. The specific call option to sell for the new collar position is the 2012 May 62.5 at $2.20 and the put option to purchase is the 2012 May 57.5 at $0.90. A profit/loss graph for one contract of the new collar position is shown below: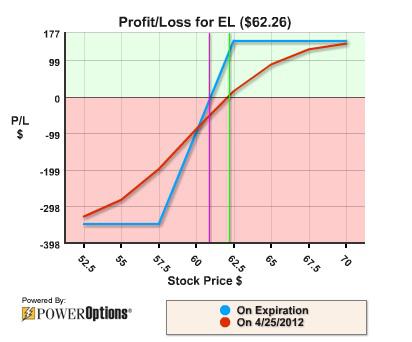 With the profit realized for the previous positions, the actual aggregate maximum potential loss is more in the neighborhood of 3%. If the price of the stock increases to around the $70 range, the position can most likely be rolled in order to realize additional potential return.
Disclosure: I have no positions in any stocks mentioned, and no plans to initiate any positions within the next 72 hours.