The correlation between high yield bonds and stocks has always been strong as both assets are considered high risk. However, the divergence between the two asset classes so far in 2012 is an ominous sign for stocks. To track the high yield bond market, I will use the SPDR Barclays Capital High Yield Bond ETF (JNK). JNK is a good measure of the high yield bond market because it is large and diverse. JNK has a market cap of $12 billion and has over 223 holdings.

[Note on charts: Labels are incorrect! S&P 500 is ORANGE and JNK is BLUE]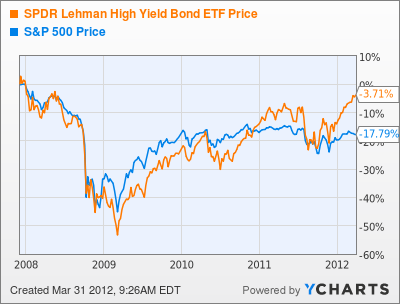 As you can see, the correlation between JNK and the stock market has been very strong over the past few years. Interestingly, JNK's outperformence in late 2008 and early 2009 signaled the stock market bottom. The high yield bond market continued to outperform the stock market until the start of 2011. In early 2011, the stock market continued to march higher, while the high yield bond market stagnated. After a short period of outperformence, the stock market suffered a major correction, which brought the stock market back to its proper place relative to the high yield bond market. A similar scenario to early 2011 is currently unfolding so far in 2012.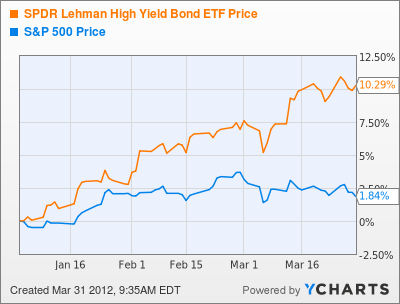 This divergence between high yield debt and the stock market so far in 2012 is a major cautionary signal for stock market bulls.
Conclusion
Currently, investors should be cautious about buying stocks because the high yield bond market has not confirmed the rally. Instead, investors should opt for investments such as JNK in the high yield bond market because the risk for a correction is much lower. However, it is possible that instead of a stock market correction, we get a high yield bond market rally to close the gap. In either event, based on history, it makes sense to be cautious about the stock market's short-term future.
Disclosure: I have no positions in any stocks mentioned, and no plans to initiate any positions within the next 72 hours.