By Paul Carton
While Cable and Satellite continue their battle in the ever-crowded race among TV service providers, the newest TV entrant – Fiber Optics – appears ready to come on strong.
That's according to the latest ChangeWave consumer survey of the U.S. and Canadian TV markets – conducted August 1-8, 2007. A total of 1,586 ChangeWave Alliance respondents participated in the survey.
Question Asked: What service provider do you currently subscribe to for TV programming at home?
Cable Service Providers

Battle of the Cable Guys: Considering their extensive geographic coverage, it was expected that cable giant Comcast (NASDAQ:CMCSA)(25%; down 1-pt) would continue to lead in current market share. But the one noteworthy move since our previous survey in June was by second place Time Warner (TWC), up 2-points to 13%.
Satellite Service Providers

Satellite Wars: On the Satellite front, DIRECTV (NYSE:DTV)(13%; up 2-pts) has broken their previous tie with DISH Network (10%; down 1-pt) to claim the top spot among Satellite subscribers.
Fiber Optic Service Providers

Newcomer on the Block – Fiber Optic TV: Verizon (NYSE:VZ) FiOS and AT&T (NYSE:T) U-verse are still in start-up mode and are only being offered in limited geographic areas. There have not been any changes in market share since June.
But when we looked at customer satisfaction levels, we begin to see TV service providers separating out in new and radically different ways.
Customer Satisfaction – Not All TV Services Are Equal
First and foremost, satellite subscribers appear far more content with their TV service than cable subscribers (85% Very/Somewhat Satisfied vs. 70% Very/Somewhat Satisfied). However, an equally high satisfaction level was also found among fiber optic customers. Although based on a smaller sample, an impressive 85% of fiber subscribers gave the newest TV technology a thumbs-up.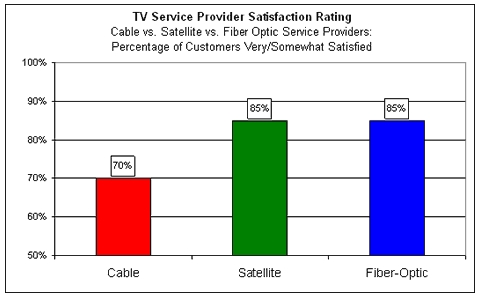 Drilling down to the company level, we found a wide divergence in customer satisfaction ratings depending on the individual TV service provider.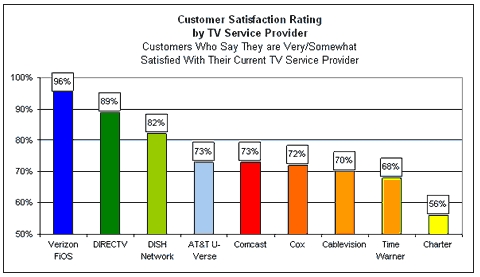 Fiber Optic Service Providers (44%)
While the sample of AT&T U-verse subscribers wasn't large enough to draw final conclusions, it's quite clear from these results who the strongest players are overall – Verizon FiOS (96%), DIRECTV (89%) and DISH Network (82%).
But perhaps what's most striking is that none of the top players in terms of customer satisfaction are cable companies.
And the Winner Is?
It's the American (and Canadian) way: We all want to own and use the fastest, sharpest and coolest technologies. So considering the above ratings, it's not surprising that when we looked at respondents planning to switch TV service providers in the next six months, nearly half (44%) said they'd choose a fiber optic service – a huge 8-pt jump since the previous survey. Here are our findings on where subscribers are most likely to switch to - broken down by company:
Question Asked: What TV programming service provider are you most likely to switch to over the next 6 months? (n=200)
Fiber Optic Service Providers (44%)

Verizon FiOS TV (34%; up 5-pts) shows by far the biggest gain of any service provider. Of course, these findings will be contingent on their ability to expand coverage fast enough to keep up with such strong demand.
Satellite Service Providers (40%)

Overall, 40% of potential switchers say they'll transfer to a Satellite service provider. Within this group, DIRECTV (24%; down 5-pts) has the clear market share advantage. But they could be in for a battle as DISH Network (14%) is showing some momentum – jumping 4-points since the previous survey.
Cable Service Providers (15%)

Clearly, it's the Cable providers who face the biggest uphill climb going forward. Just 15% of potential switchers say they'll move to Cable. Within this group, Comcast (7%) remains the clear leader.
The Future of TV
Imagine cable is now the old-fashioned "Ma Bell" of the service providers market, with satellite gaining ground as the more stylish wireless competitor but suddenly looking over its shoulder at fiber optic TV – the new "iPhone" of the service providers industry.
The verdict is still out on whether fiber optic will overtake satellite and cable as the service provider of choice. While the 85% fiber satisfaction rating is nothing short of phenomenal for a new service, it remains to be seen if the fiber rollout can stay on pace and customers remain satisfied as the market matures.
Importantly, while Verizon's TV service is now being marketed to nearly 3.9 million homes, that so far has translated into 515,000 current FiOS TV subscribers – still a drop in the bucket compared to Comcast's 24.1 million customers.
Future surveys will tell us how this horserace pans out. We'll continue to update you on the winners and losers of this extremely competitive market. Stay tuned.
---------------------------------------------------------------
This article summarizes the results of a recent ChangeWave Alliance survey. The Alliance is a research network of 11,000 business, technology and medical professionals who spend their everyday lives working on the front line of technological change. For more info on the ChangeWave Alliance, or if you are interested in joining, please click here.