Size of Global and Domestic Stock and Bond Markets:
Combined global bonds and stocks have a market-cap of about $176 Trillion, consisting of about 76% bonds and 24% stocks. The US market for bonds and stocks has a market-cap of about $52 Trillion, consisting of about 63% bonds and 37% stocks.
Market Weighted Global and Domestic Bond/Stock Portfolios:
For those who feel there is no chance to "beat the market" and who have a global orientation, a passive portfolio consisting of 76% global bonds (proxy: PSAIX, PIMCO global bonds) and 24% global stocks (proxy: VT, Vanguard world; or ACWI, iShares world) would pretty much do the trick.
For those U.S. investors who prefer to stay at home with a domestic portfolio, but who also wish to be passively balanced to the whole market, a 63% allocation to U.S. bonds (proxy: BND, Vanguard U.S. aggregate bonds; or AGG iShares U.S. aggregate bonds) and 37% to U.S. stocks (proxy: VTI Vanguard total U.S. stocks; or IWV, Russell 3000 stocks), would get it done.
Yield of Market Weighted Bond/Stock Portfolios:
With a Morningstar projected yield of 3.75% for PSAIX and 2.15% for ACWI (2.11% for VT); a passive global portfolio of PSAIX and ACWI would yield about 3.37%.
With a Morningstar projected yield for BND at 3.07%, and VTI at 1.74%; a domestic portfolio using BND and VTI would generate about 2.58% yield.
Assets Required To Live on Income Only:
For retirees who may seek to live from investment income only, these two portfolios would require assets of 30 times required income for the global portfolio, and 39 times required income for the domestic portfolio.
The Inflation and Income Growth Problem:
A problem with both of the portfolios is that with bonds as the majority of assets, income growth would be muted.
Dividend growth from equities will probably exceed inflation, and in fact substantially exceeded inflation over the long-term past.
If you assume that dividends would grow at 6%, for example, and inflation at 3%; then the income growth of the two portfolios would be about 2.2% for the domestic portfolio, and about 1.4% for the global portfolio.
Both portfolios with those assumptions would fall behind the rate of inflation, with a gradual reduction in standard of living, or the need to sell assets to live - increasing the "risk of ruin" (outliving assets).
Assumptions Required For Market Weighted Portfolios To Keep Income up with Inflation:
For these two portfolios to achieve 3% income growth, the required dividend growth rate on the equity allocation would have to be about 8.5% for the domestic portfolio, and about 13% on the global portfolio. The former may happen, but the latter is less likely to do so.
Choosing a Suitable Mix of Bonds and Stocks:
We think designing a portfolio with deviations from a domestic or global fully balanced bond/stock portfolio is a good idea.
While we would not be inclined to hold the mix of bonds and stocks in a market balanced portfolio, we think knowing what that balance happens to be, provides a consistent base for conscious deviation.
Because our clients have income requirements, and because they prefer not to be forced to sell assets in volatile markets, we are inclined to hold more stocks than the market mix, and to select a mix of funds and individual stocks that have more in the way of dividend yield.
However, for those who feel that any attempt to "beat the market" is futile, or for those who believe that targeting income for "young" retirees with allocations other than market weight is not prudent, a 76%/24% global bond/stock allocation, or a 63%/37% U.S. bond/stock allocation may be the way to go.
We aren't going that way, but the modern portfolio theory people really must if they really believe what they say about passive management at market weight. Otherwise they would just be defining the market in a way that is itself a form of the active management they believe does not work. Defining "the market" more narrowly than all bonds and all stocks, is selective to the point of being active.
Domestic Allocation Performance Charts:
Various Allocations to Stocks (20%, 40% 60% 80%, 100%)
Here are some charts showing how different mixes of domestic stocks and bonds have done on a total return basis over different time periods:
From Stocks Bottom in 2009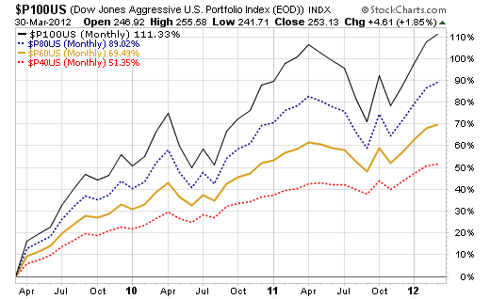 1 Year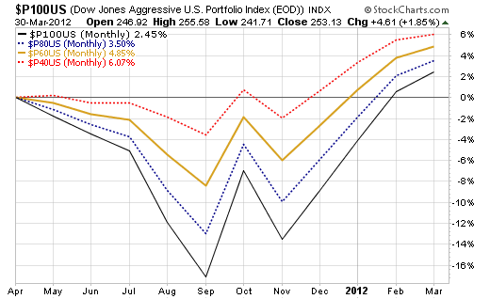 Disclosure: QVM has no positions in any mentioned security as of the creation date of this article (March 31, 2012).
Disclaimer: This article provides opinions and information, but does not contain recommendations or personal investment advice to any specific person for any particular purpose. Do your own research or obtain suitable personal advice. You are responsible for your own investment decisions. This article is presented subject to our full disclaimer found on the QVM site available here.