After a very busy month of March, April will not be any easier for the FDA. There will be seven events in April that will involve five small cap biotech companies as well as four large cap healthcare firms. Per the usual, small cap biotech stocks are made or broken when FDA decisions come about. Therefore biotech traders will have their fair share of stress throughout April.
April 5
The first event on the docket is an Advisory Committee meeting for Astellas Pharma's (OTCPK:ALPMY) Mirabegron. Mirabegron is a once daily beta three receptor intended to treat patients with overactive bladder (OAB). The FDA stated that it will focus on Mirabegron's safety and efficacy. It appears from the company's efficacy trials that Mirabegron works very well. Therefore the focus will likely be on the safety aspect of Mirabegron. We have seen the FDA give the cautious thumbs up towards beta receptors that effect the urinary system in the past. Therefore, though Astellas has a big hill to climb for a positive review, it is possible.
Astellas' share price has more or less flat lined over the past few months. After briefly touching $42, the stock has remained range bound between $41-$42. It appears investors are waiting for the Advisory Committee and PDUFA before making any long-term decisions. The share price is indicating bullish sentiment towards Mirabegron, but it would not surprise me if the Advisory Committee has too many concerns with the safety of the drug.
April 16
The first PDUFA of the month will come for Galderma and Nuvo Research's (OTCQX:NRIFF) Pliaglis. Pliaglis is already approved by the FDA, although it was voluntary pulled off the market in 2008. This time around Nuvo is requesting the FDA approve Pliaglis as a pain relief cream for dermatological procedures. Galderma and Nuvo believe the manufacturing problems have been fixed and the treatment will receive a positive review. A positive review is necessary in order for doctors to feel safe prescribing Pliaglis to patients. I am expecting a second approval for Pliaglis because the treatment has not changed since the 2008 approval. I am assuming that the manufacturing flaws are fixed.
Nuvo's share has not shown any signs of a catalyst approaching. The lowly traded stock has simply followed the broader pattern of equities over the past year and has trended downwards since April 2010. However, if Pliaglis can get back to market, Nuvo's share price has plenty of room to run.
Click to enlarge: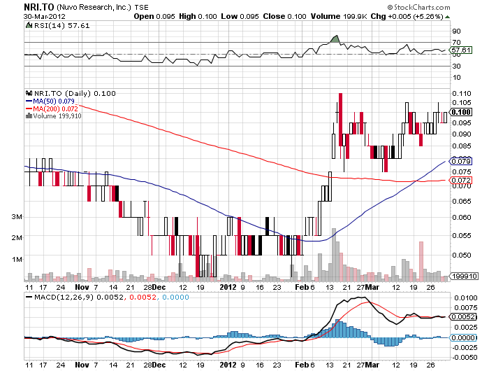 April 17
February's big winner Vivus (VVUS) will receive the final word on Qnexa on April 17th. Qnexa received a favorable Advisory Committee vote on February 22nd and the share price soared 125% over three trading days. Qnexa is intended to treat obese adults. Qnexa will be a blockbuster drug because obesity is becoming a disastrous problem in a world where fast food restaurants are becoming family dinner tables. The consequences of obesity are anything from diabetes to heart disease and everything in between. Because Qnexa is likely to be approved, I will focus more on the share price action traders and investors should expect.
Even though the stock soared in February, we will see more gains come regulatory approval. The share price has given back about 6% since the top and this gap will definitely be covered with an approval. Even though an approval is certain, there is always the possibility of a rejection if the FDA decides to implement the new heart risk studies that an Advisory Committee recommended last week.
Fortunately, it is unlikely that the FDA can implement this new rule on Vivus at this point, but it is not out of the question to see the FDA require post-approval heart risk studies. This will close the gap between Arena (ARNA) and Vivus because the heart risk studies will likely determine which will be the preferential treatment for obesity.
Nevertheless, investors should expect a clean approval with a possible heart risk study added on, which will increase Vivus's R&D spending. On approval, the share price may surge up to 10% as investors rejoice over the approval. Also, as I will discuss later, Vivus has another PDUFA for Avanafil later in the month which will keep the share price moving.
Click to enlarge: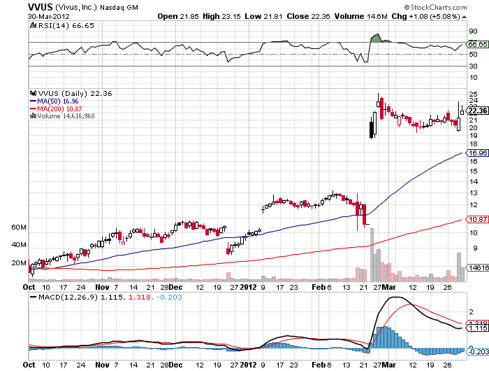 April 18-22
Kicking off on April 18th is the International Liver Congress in Barcelona. This is important because Achillion (ACHN) will be reporting the company's phase 2a results for the firm's chronic hepatitis C drug ACH-1625. This will be an important catalyst for Achillion. The stock price is currently 35% below the 52 week high and if results are extraordinary, we may see the share price make a move towards this high in early May. I am expecting the results to at least hit the primary endpoints.
April 25
The next PDUFA scheduled in April is for Furiex (FURX) and Takeda's (OTCPK:TKPYY) alogliptin and the combination of alogliptin and pioglitazone. Alogliptin is intended to treat type 2 diabetes. Type 2 diabetes has been a hot button over the past few years because the diabetes market is perpetually growing. Alogliptin is coming off a CRL back in 2009. The CRL requested a cardiovascular study in order to determine the safety of the treatment. More recently, the FDA delayed the decision date for alogliptin from January to April 25th.
I would not be surprised to see the FDA deliver another CRL for Alogliptin. The reason for this is because one of Alogliptin's adverse effects is upper respiratory tract infections. This has always been a big trouble spot for diabetes treatments and we may see alogliptin fall in line with the likes of Mannkind's (MNKD) Afrezza. Keep in mind alogliptin is not a spray, but the FDA has been cautious towards upper respiratory tract infections in the past.
Regardless of an approval or CRL, Furiex will be the stock to watch. Furiex's share price has soared 50% since January. Quite the impressive move. This sets up a perfect short opportunity. Similarly, if alogliptin receives an approval, the share price will surge higher. Therefore biotech traders will have a decision to make prior to April 25th. Traders will have a clue to the decision dependent upon whether the share price moves above the March 19th high or not.
Click to enlarge: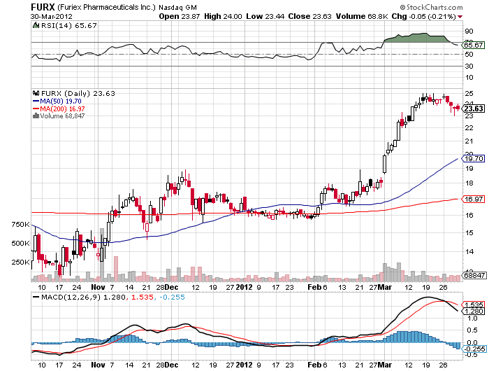 April 26
On April 26th, Amgen (AMGN) will receive a final decision for Xgeva. The FDA will be sending Amgen a CRL after an Advisory Committee voted 12-1 against approval. The Advisory Committee stated that Xgeva presents more risk than benefit to patients. Even though we will see a CRL sent to Amgen, the share price will not be affected. One reason for this is because investors are expecting a CRL. The second reason is because Amgen is a large cap healthcare company, therefore any large share price swing will be avoided regarding one single PDUFA.
April 27
The following day, the FDA will make a ruling on Progenics (PGNX) and Salix's (SLXP) Relistor. Relistor was approved in 2008 for the treatment of patients with opioid-induced constipation (OIC) when laxative therapy failed. The indication to be determined this month is for patients with OIC from non-cancer pain. While I believe an approval is headed Salix's way, it is important for investors to steer clear of using the stock price to determine whether the drug will be approved.
Investors should not use the stock price as a bullish indicator for Relistor because Xifaxin is the reason the share price has surged. Xifaxin has proved to be a strong treatment option for irritable bowel syndrome, and Salix's share price has surged because of it. Nevertheless, I am expecting Relistor to be approved because the adverse effects are not life threatening. Also, the phase three trials were very promising because bowel movements occurred within four hours of taking the drug without any long-term side effects.
Both stocks will see a surge upon approval. Progenics will see a more substantial surge because the company is much smaller than Salix. Nonetheless, both stocks are stocks to watch come April 27th. Inherently, since there is the possibility of a big surge, short traders have a potential for profits if a CRL is sent to Salix and Progenics. Again though, I do not expect this to happen.
April 29
Vivus's second PDUFA is for the erectile dysfunction drug Avanafil. Avanafil's market is extremely large and if Avanafil can prove to beat Viagra, Cialis, and Levitra, we will see Vivus turn into the next healthcare giant. In Avanafil's Revive and Revive Diabetes studies, we saw Avanafil outperform placebo by 100% with regard to successful intercourse. Also, the adverse effects are not anything out of the ordinary for any over-the-counter antihistamine or ibuprofen. Therefore, the FDA will likely not have any issues with the safety or the efficacy of Avanafil.
Unfortunately, investors always need to be weary of safety issues that the FDA finds during in-depth research of the trials. Nevertheless I am expecting an approval from the FDA. In fact, not only am I expecting an approval, but combined with the approval of Qnexa earlier in the month, investors may see Vivus's share price surge to $35-$40 before May. This is not a guarantee, but if Vivus gains access to the lucrative erectile dysfunction market, we will see the firm's revenues and profits exceed expectations.
It is difficult to determine if the share price is pricing in an Avanafil approval courtesy of the Qnexa hype. With only 12 days between the Qnexa and Avanafil PDUFA dates, investors and traders will have a very short time frame to make any short-term trades. On the other hand, long-term investors may find it best to load up early in the month because April will be a very profitable month for Vivus.
As you can see, there are plenty of opportunities for short traders to pick up profits. While there are a few slam dunks this month, many of these FDA catalysts are difficult to make a concrete conclusion on. In just about every event it is easy to find at least one problem as well as at least one reason why the treatment should be approved. One thing that is certain is that April will be a fun month for healthcare traders.
Disclosure: I have no positions in any stocks mentioned, and no plans to initiate any positions within the next 72 hours.