The 10 sectors of the S&P 500 have substantially different portfolio statistics. Some investors may find the details helpful in portfolio construction.
The following chart provides the statistics for the 9 SPDR sector ETFs and the two iShares ETFs that breakout technology and telecom from the SPDR that combines the two, plus the SPDR S&P 500 (market-cap weighted) ETF and the Rydex S&P 500 Equal Weight ETF.
The 10 sectors are based on the GICS (Global Industry Classification System) developed by MSCI and S&P.
S&P 500 is highlighted in blue. The S&P 500 Equal Weight is highlighted in orange. The statistics for each sector ETF that are more favorable than the S&P 500 overall are highlighted in yellow.
[]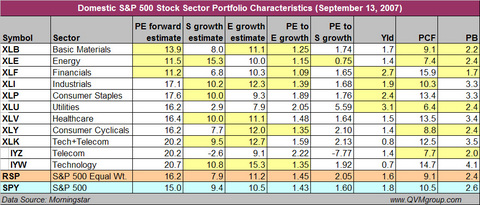 This information might be useful to investors who wish to weight the separate sectors in their portfolio differently than the sector weights in S&P 500, whether it be the traditional market-cap weighted S&P 500 (NYSEARCA:SPY) or (NYSEARCA:IVV) or the S&P 500 Equal Weight index (NYSEARCA:RSP).
The recent and intermediate-term performance of the same sectors and ETFs are shown below:
[]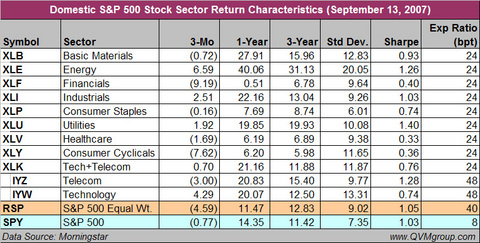 The Sharpe Ratio (named for William Sharpe) is a measure of risk-adjusted return, where risk is defined as return volatility. It is calculated a follows:
(total return less the risk free return) / standard deviation of return
In this case the measurement period is 3 years. The risk-free return is often set equal to the 3-month Treasury return.
Larger ratios are better than smaller ratios.
The expense ratio is not specifically a measure of return, but it is an indication of return drag, or return loss due to "friction", as Warren Buffet has described investment fees and commissions.
Full Disclosure: Author does not own any security mentioned.