With the housing market finally showing signs of bottoming, here are 5 single-digit stocks to play the recovery.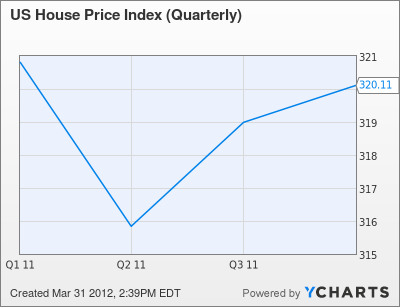 Bank of America Corp (BAC)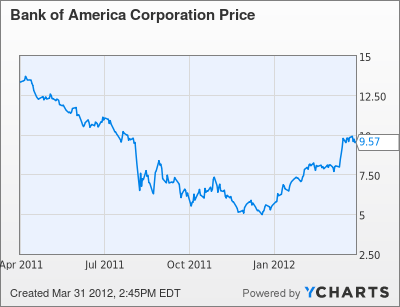 BAC is one of the largest U.S. mortgage holders in the world. BAC's mortgage exposure has led to massive losses over the past 5 years. However, BAC is now in a position to benefit from an improving housing market. A bottom in housing prices will lead to a decline in the number of foreclosures for BAC. A stronger housing market also means more consumers are borrowing money to buy houses, this is also bullish for BAC.
MGIC Investement Corp (MTG)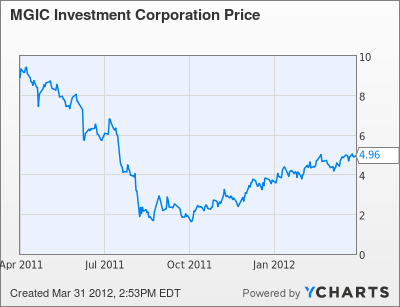 MTG is a private mortgage insurer. MTG has suffered from the weak housing market because it has been forced to pay claims on mortgages that it insured. However, MTG is now positioned to benefit from a stronger housing market. (for more detail on MTG click here)
Louisiana Pacific Corp (LPX)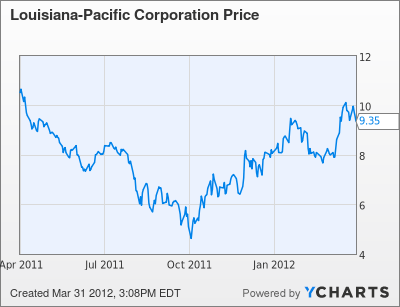 LPX manufactures building products. Specifically, LPX is highly leveraged to lumber prices. An improving housing market means more demand for the products that LPX produces. LPX has a high short interest, over 15%, if there is any good news for LPX the stock is a good candidate for a short squeeze.
Regions Financial Corp (RF)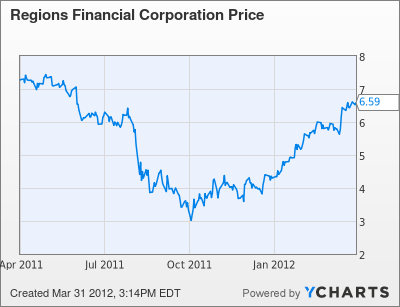 RF is a large regional bank with a big mortgage business. Like BAC, RF has suffered major loses over the past 5 year because of mortgage exposure. However, with an improving housing market RF is poised to benefit. RF recently announced plans to sell $900 million in new shares in order to repay TARP money.
Pulte Group Inc (PHM)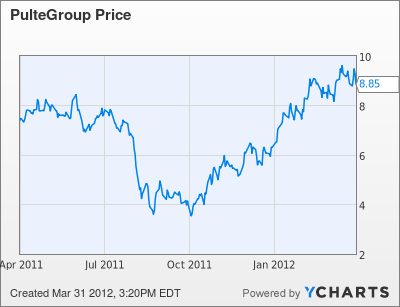 PHM is a large homebuilder. Due to the vast number of foreclosed houses, PHM has had a difficult time selling new homes over the past few years. A recovery in housing prices will certainly help PHM.
Conclusion
BAC, MTG, LPX, RF, and PHM are all good plays on the recovery of the housing market.
Disclosure: I have no positions in any stocks mentioned, and no plans to initiate any positions within the next 72 hours.