According to the Census Bureau advance monthly sales for retail and food services:
The U.S. Census Bureau announced today that advance estimates of U.S. retail and food services sales for August, adjusted for seasonal variation and holiday and trading-day differences, but not for price changes, were $377.6 billion, an increase of 0.3 percent (±0.7%)* from the previous month and 3.7 percent (±0.8%) above August 2006. Total sales for the June through August 2007 period were up 3.8 percent (±0.5%) from the same period a year ago. The June to July 2007 percent change was revised from 0.3 percent (± 0.7%)* to 0.5 percent (± 0.2%).
The 3.7% year/year gain is an improvement from 3.2% in July. Still, looking at the longer-term trend it is too early to call an improvement. Furthermore, with CPI running 2.4% year/year the real retail growth is still pretty light.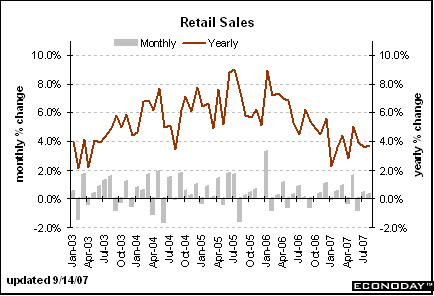 I'm sticking to my previous characterization: Good but deteriorating.
Economic Data