The Dividend Champions spreadsheet and PDF have been updated through March 30, 2012. Note that all references to Champions mean companies that have paid higher dividends for at least 25 straight years; Contenders have streaks of 10-24 years; and Challengers have streaks of 5-9 years. "CCC" refers to the universe of Champions, Contenders, and Challengers.
Opportunity Knocks
As I've mentioned in a few article comment sections, one of my favorite quotes came from Winston Churchill, Prime Minister of Great Britain during World War II, who said, "The pessimist sees difficulty in every opportunity. The optimist sees the opportunity in every difficulty."
On March 1, Yahoo Finance presented me with an opportunity, when it updated its portfolio system to an "improved" format. Unfortunately, the new set-up does not allow me to use a "copy-and-paste" function to place data into an Excel spreadsheet. (The Download option only transfers the current day's closing price and price change.)
So what had been a useful source of data suddenly became unusable, leaving me with two options: I could either eliminate about 10 columns of data (and several more whose formulas depended on them) or I could find another data source.
Fortunately, I had become familiar with FinViz.com (short for Financial Visualizations) just over a year ago, when Yahoo first "threatened" to update its portfolio system. In early 2011, Yahoo had tried to introduce its new system, but restored the existing set-up after it was inundated with protests from users. This year, it apparently decided to make the change, whether users wanted it or not.
While there are similarities in the data available from the two sources, there are also some differences that required changes to the Dividend Champions spreadsheet and the method of retrieving the data. On the whole, however, I think the changes result in some improvements, which I'll describe below. While FinViz may seem a bit intimidating to a new user, I would encourage readers to explore the site, particularly the Portfolio and Screener sections.
Changes in format and a new column
While Yahoo Finance allowed portfolios of up to 200 stocks, FinViz is limited to no more than 50 symbols per portfolio, but users can set up an unlimited number of portfolios. To allow for future expansion, I set up portfolios of 32 to 39 symbols - three for the Champions and five apiece for the Contenders and Challengers.
Furthermore, FinViz also has more data available, though it's fairly sparse for dividend information. But since all my dividend information is input directly, this shortcoming should have no material effect on the process I've developed. Better still, FinViz has a very easy-to-use download function (which it calls "Export"). The data is exported in comma-delimited (.CSV) format, but can easily be saved as an Excel file, and uniting the "pieces" into one file each for the Champions, Contenders, and Challengers is simple.
One "glitch" is that some companies - an even dozen for the CCC - are not recognized by FinViz, so I have them set up at Google for a limited amount of data and they are color-coded brown (instead of blue) in the CCC document.
One area where the data from FinViz is different is the Earnings Per Share estimates, which are shown in percentage terms. But that provided an opportunity to simplify the CCC format and reduce this section from four columns to three. So whereas I previously retrieved the estimated EPS for This Year and Next (in dollars and cents) and then calculated the percentage change for Next Year, as well as the percentage change for the Next 5 Years, I can now insert the percentage changes for This Year, Next Year, and the Next 5 Years.
Saving a column in turn allowed me to insert a new column for Beta, to the right of the Market Capitalization column. Beta, a measure of a stock's volatility (compared with that of the market as a whole), is an item that many users had expressed a desire to see included.
Quick Summary
Page 2 of the Summary tab includes a table comparing the composite numbers from the latest update to those from the previous month and the end of the previous year. Below that is a summary of the latest month's activity, in terms of companies added, deleted, or promoted. That is reflected below:
Quick Summary:

3/30/12

Champs

Contdrs

Challgrs

Total

No. of Companies

103

166

194

463

Ave. No. of Years

38.9

14.7

7.1

16.9

Average Price

53.35

48.31

44.68

47.91

Average Yield

2.83

3.10

3.27

3.11

Ave. MR Increase

6.89

8.80

12.15

9.75

2/29/12

Champs

Contdrs

Challgrs

Total

No. of Companies

103

161

195

459

Ave. No. of Years

38.8

14.9

7.2

17.0

Average Price

52.58

47.81

44.79

47.60

Average Yield

2.86

3.12

3.24

3.11

Ave. MR Increase

7.12

8.56

11.95

9.64

12/30/11

Champs

Contdrs

Challgrs

Total

No. of Companies

102

146

200

448

Ave. No. of Years

38.7

15.1

7.2

17.0

Average Price

49.98

46.20

42.62

45.46

Average Yield

2.94

3.10

3.36

3.18

Ave. MR Increase

7.24

8.47

10.99

9.39

MR = Most Recent

Additions:

A. Schulman Inc. (SHLM) to Challengers

Lyons Bancorp Inc. (LYTC) to Contenders

Syngenta AG (SYT) to Contenders

Thomasville Bancshares Inc. (OTCPK:THVB) to Challengers

Deletions:

None

Promotions:

Communications Systems Inc. (JCS) from Challenger to Contender

Qualcomm Inc. (QCOM) from Challenger to Contender

Xilinx Inc. (XLNX) from Challenger to Contender
(Table from author; may include underlying data from FinViz.com)
Looking Ahead
We're approaching the portion of the year when many Boards of Directors pass along more of the profits by declaring dividend increases, often in conjunction with the annual meetings. I think they will continue to be more generous than in recent years, continuing a recovery prompted by improving earnings.
As a bonus, I'm inserting one of Chuck Carnevale's F.A.S.T. Graphs below, highlighting one of the companies listed above. When the stock's price line has moved into the green area, it indicates that the stock is undervalued in relation to its earnings.
Click to enlarge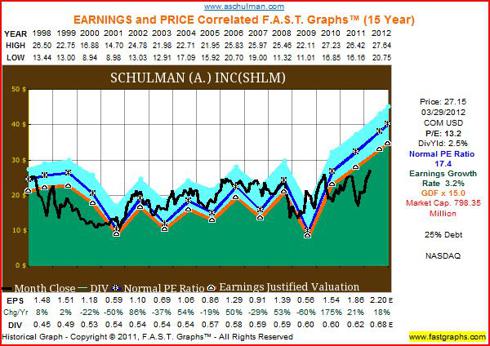 Disclosure: I have no positions in any stocks mentioned, and no plans to initiate any positions within the next 72 hours.