A number of key developments to note for eBay (NASDAQ:EBAY) watchers:
EBAY Sets New 52-Week High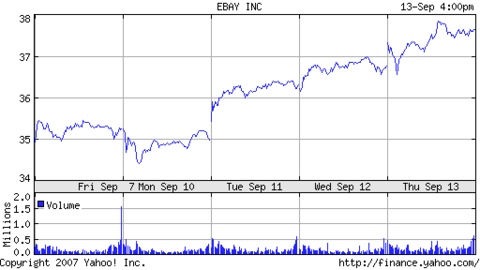 EBAY set another 52-week high reaching $37.86 in intraday trading Thursday, and yes, it feels good. We are now very close to the $38 price target that regular readers will recall as my Strong Buy threshold. As I suggested in a previous post, while I still believe EBAY offers an attractive valuation above $38, I do advise taking some profits at this level.
While I think Q3 is "in the bag" with an outstanding performance from PayPal, there are substantial risks going into the all-critical Q4. Most important of these risks is a lackluster performance by EBAY marketplaces in the face of fresh competition and flat buyer demand. Monitoring listing data will be critical from now until year-end so stay tuned.
ChannelAdvisor Acquires Marketworks
ChannelAdvisor, which provides auction management solutions for professional sellers, has announced the acquisition of its principal competitor Marketworks, for an undisclosed price. The combination results in a powerhouse of third-party e-commerce solutions with 5,500 customers and $2.5 billion in annual GMV. For comparison purposes, EBAY's 2007 expected GMV is of $60 billion.
While the transaction has been well-covered by the media and specialist blogs, none seem to mention that EBAY is a actually a principal shareholder in ChannelAdvisor. As recently as this past May, EBAY participated in ChannelAdvisor's $30 million fund-raising alongside New Enterprise Associates, Kodak Venture Partners, Advanced Technology Ventures, and Southern Capitol Ventures.
EBAY thus becomes a principal shareholder in the merged companies. That said, it is unclear the strategic value of this stake for EBAY. Their notable absence for the board of directors suggests a lack of involvement. And ChannelAdvisor's increasing reliance on alternative marketplaces like Amazon and Overstock suggests a potential conflict of interests. That said, as we have seen with the success of EBAY's minority stakes in MercadoLibre and Craigslist, holding minority stakes in high-growth competitors can often be a profitable and viable option.
Serious Bug at ebay.com
This problem has been reported on both EBAY's official Chatter blog as well as by AuctionBytes but both make it seem as though it is affecting a very small number of purchases. Frankly, I think the problem is more widespread than EBAY would like to admit and as a case in point, it happened to me this morning.
Here is my bug experience: First, I found an item I wanted to purchase using 'Buy it Now' feature. After clicking 'Buy it Now' I confirmed the quantity and pressed 'Continue'. At this point, the correct shipping address appears on ebay.com with all the correct pricing information and I clicked 'Continue to PayPal'. However, within PayPal the shipping address is completely wrong. PayPal is trying to use an address I used once many months ago but which is no longer useful to me. If I try to edit the address I get returned back to the previous EBAY screen to start an endless loop. Naturally, after a few frustrating attempts, I simply gave up.
This bug, however contained it may or may not be, is certainly causing fewer transactions to take place on EBAY. I can say this from my first-hand experience. Lets see how long it takes for EBAY to get it sorted.
Analyst Comments Last Week
Monday September 10.
Goldman Sachs analyst Anthony Noto reiterates "buy" rating with a $43 price target.
Merrill Lynch reiterates "neutral" rating stating website improvement and listing promotion efforts continue, but listings data still does not show concrete signs of listings growth or GMV reacceleration, in our view. Listing trends in 3Q remain behind 2Q, with QTD total unadjusted listings down 10% y/y, versus down 6% in 2Q and our 3Q estimate for down 4%.
Tuesday September 11.
Deutsche Bank reiterate "hold" rating with a $33 price target stating that EBAY is facing a tough environment and the share price is expected to remain range bound in the near term. Listings on EBAY's German site continue to be weak, while listings on the US and the UK sites are declining, the analyst says. Although EBAY's US listings are likely to improve in September, due to promotions, the company is likely to continue to face challenges in generating demand.
JPMorgan reiterate their "overweight" rating stating that EBAY has seen its listings trends improve considerably after the anniversary of the pricing changes made August 22, 2006. We remain comfortable with our 3Q and F'07 outlook. Since August 22nd, worldwide new listings are up 6.1% Y/Y. We estimate worldwide listings were down 6.4% Y/Y through August 22nd. Since the anniversary of eBay's price changes, which were implemented on 8/22/06, listings have grown Y/Y, up 6.1% worldwide.
Jackson Securities initiates coverage of EBAY with a "hold" rating and a target price of $37. The analyst mentions the company's core business has been growing consistently over the past several years. Healthy growth in payments and communications is likely to offset the marginal decline in eBay's core auction business. The company is expected to achieve earnings, margin and multiples expansion going forward.
More Legal Troubles for EBAY
First was jeweler Tiffany's (NYSE:TIF). Next was luxury goods group LVMH Moet Hennessy L.V. (OTCPK:LVMUY). Now, it is cosmetics group L'Oreal (OTCPK:LRLCY) that has launched legal action against EBAY for not doing enough to combat the sale of counterfeits. And the list is likely to keep getting longer.
According to sources, negotiations between EBAY and L'Oreal failed because EBAY found L'Oreal's requests to be unreasonable. "We are truly disappointed" by L'Oreal's legal proceedings, the eBay spokeswoman said.