I noticed that Bespoke highlighted some changes in the sector correlation to the S&P 500, but disagreed with some of their choices in the piece.
One of my biggest caveats with most analysis that's done has to do with the difference between log-return and percentage return. Especially given long-term spans with weekly intervals as in their post, the difference becomes marked when one calculates correlation. Furthermore, I think it's relatively trivial to accept that today's economy is not well-represented by the economy of 1990, as several large shifts in domestic focus and global trade have no doubt changed many sectors' dynamic relation to the overall economy.
Based on these problems, I decided to provide an alternative look at the situation. I used weekly log-returns in this case, and compared the past 50 sessions (since July 3rd) to the past 500 sessions (~ 2 years). I've generated a plot similar to theirs, including as well the "unchanged correlation" line and the averages lines in both dimensions.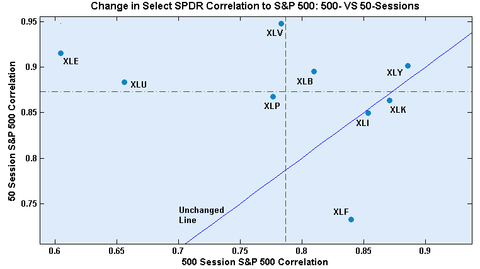 Here as well are the actual calculated changes in these Select SPDR ETFs versus the SPY.
| | |
| --- | --- |
| Symbol | Change in Corr. |
| XLE | 31.06% |
| XLU | 22.68% |
| XLV | 16.46% |
| XLP | 09.10% |
| XLB | 08.50% |
| XLY | 01.55% |
| XLI | -00.40% |
| XLK | -00.76% |
| XLF | -10.78% |