On November 2, 2011, I published an article introducing the Canada based energy producer Equal Energy (EQU). I recommended the company as a good investment due to its rich asset base and a number of expected catalysts. Since then the stock has lost over 30% of its value. The reason for this decline is twofold: the first one is related to the significant weakness in natural gas prices since November of last year; the second is due to the management failure (until now) in proceeding with the expected Mississippian Lime joint venture.
The weakness in the stock price, however, is not reflective of a material change in the company business or its Net Asset Value (NAV). As a matter of fact, despite the low natural gas prices analysts continue to project the company NAV to stand at somewhere between $8.50 to $13 a share.
On March 5, PI Financial issued a NAV estimate (excluding the Mississippian acreage) valuing Equal Energy's NAV per share at $12.15:
Click to enlarge.
While on March 22, Scotia Capital issued a NAV estimate of $7.5 (excluding the Mississippian acreage) and $8.50+ inclusive of it:

Source: Scotia Capital
It is fair to say, that by using a number of valuation metrics Equal Energy's net asset value is in the vicinity of $8 to $12 a share.
Equal vs its Peers
Equal Energy produces approximately 10,000 Bpd; production is 50% dry natural gas, 37% NGLs and 13% crude oil. The company trades at a significant discount to its dividend paying natural gas weighted peers and to comparable no yield peers. Equal Energy trades at under 40% of its NAV vs. 71% for the no yield peers and at $29,000 per flowing barrel vs. $65,000 for its peers. As a matter of fact the company trades at a cheaper valuation to the natural gas weighted peers - who trade at $58,000 per flowing barrel - despite their similar debt load and 60%+ exposure to dry natural gas.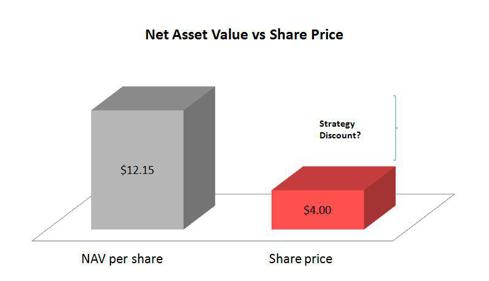 We don't believe this discount is justified by the quality of the company assets. However, we think this discount is partially due to the company's lack of growth or income producing strategy.
The Company Assets:
Equal Energy owns assets both in Canada and the United States. The company is also dual listed on the Toronto Stock Exchange and the New York Stock Exchange. Follows is a summary of their assets: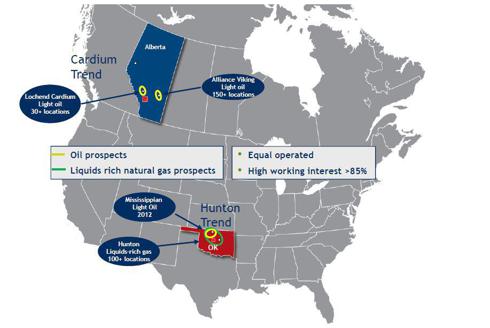 Source: Equal Energy
The Canadian assets:
Clair
The Clair property is located 20 kilometres north of Grande Prairie. The corporation's assets include a 100% working interest in 7,360 gross (4,260 net) acres of land (1,220 net undeveloped acres), 16 producing wells, 6 water injection wells, and a profit sharing interest in an oil blending facility. Natural gas is conserved and processed at the Encana Sexsmith gas plant. Oil is delivered into the Pembina Peace Pipeline System.
Oil and natural gas production is primarily from the Doe Creek (Dunvegan) formation. The Doe Creek oil pool produces light (41 API) oil along with solution gas and is currently under water flood to maximize oil recovery. There is also natural gas production from one Charlie Lake well. Average working interest production for December 2011 was 227 bbl/d of oil and 316 mcf/d of natural gas.
The McDaniel Report has assigned total proved plus probable reserves of 455 mbbl of crude oil, 0.3 Bcf of natural gas, and 13.3 mbbl of NGL to the Clair property.
Lochend-Cardium
Lochend is located approximately 20 kilometres northwest of Calgary. At Lochend, the corporation holds 8,653 gross (7,996 net) acres of land with 5,970 net undeveloped acres, and 11 producing wells. Oil is produced into single or multi-well batteries and trucked to terminal facilities. Currently, half of the solution gas is conserved at the TriOil Shiningbank gas plant by the third quarter majority of the gas should be conserved.
Oil and natural gas production is from the Cardium formation. The oil pool produces light (38 API) oil along with solution gas Average working interest production for December 2011 was 330 bbl/d of oil and 69 mcf/d of gas.
The McDaniel Report has assigned total proved plus probable reserves of 1,621 mbbl of crude oil, 2.6 Bcf of natural gas, and 64.8mbbl of NGL to the Lochend property.
Halkirk-Alliance-Wainwright (Viking formation)
The corporation's assets in the Halkirk-Alliance-Wainwright producing area of east central Alberta include production from the areas of: Alliance, Halkirk, and Wainwright. The corporation currently has 111 producing oil and natural gas wells in this area. Netundeveloped acreage totalled 12,143 acres at year-end.
Production is obtained primarily from the Dina, Cummings, Sparky, and Viking formations. Average working interest production for December 2011 was 449 bbl/d of oil and NGLs and 859 mcf/d of natural gas. The corporation continues to optimize well pumping systems and upgrade or consolidate oil batteries and water injection facilities to handle produced fluid volumes more efficiently. Solution gas is conserved at most of the oil batteries.
Viking oil production at Alliance continues to be a focus area for the Corporation. In 2011, nine wells were drilled and put on production. Produced oil and solution gas is processed through existing infrastructure. At year end, this corporation has 12 proven undeveloped locations with reserves assigned.
The McDaniel Report has assigned total proved plus probable reserves of 1,639 mbbl of crude oil, 3.0 Bcf of natural gas and 51.8 mbbl of NGLs in the Halkirk-Alliance-Wainwright area.
The US Assets:
Hunton
In Oklahoma the key producing horizon is the Hunton formation. The Hunton is a carbonate rock formation which has been largely ignored by the industry in areas with high water/hydrocarbon production ratios. Over the last decade, new drilling and production techniques have enabled profitable development of the Hunton formation. Extensive dewatering lowers reservoir pressure allowing the liberation and mobilization of oil, natural gas and NGLs from smaller rock pores. Typical peak hydrocarbon production rates average 150 boe/d per horizontal well and are generally observed within six months of production commencement.
Average Hunton production for December 2011 in Oklahoma was 29.9 Mmcf/d of natural gas and 3,862 bbl/d of crude oil and NGLs The Haas Report has attributed total proved and probable reserves of 499 Mbbl of crude oil, and 108 Bcf of natural gas and 13,931 mbbl of NGLs to the Hunton.
In Oklahoma there are approximately 20,000 net undeveloped acres of land, at year end 2011. This acreage is centered in Alfalfa, Grant, Lincoln, Logan, Garfield and Jefferson counties of Oklahoma.
The Mississippian
The company controls 15,200 acres in the Mississippian formation (13,400 held by production). Those acres are undeveloped as of now; once drilled the company expects the production component to be 43% crude oil and 57% natural gas.
Shareholders Activism:
Following the continued decline in the share price I, along with a number of shareholders, have initiated an activist shareholder action with the goal of unlocking the significant shareholder value that we perceive is hidden in Equal Energy shares. We believe that the company current strategy, which is lacking both growth and income, is not a formula that will lead to a higher valuation.
The Plan:
Our plan is designed around two points:
- Reduce debt through the divesture of the Canadian assets and forming a joint venture for the Mississippian acreage.
- Transforming Equal Energy into a dividend paying entity through the formation of a Canadian based or a US based Trust.
Debt Reduction:
We believe that Equal Energy continues to be heavily indebted. Despite the divesture of the non-core Canadian assets last year, the company debt to cash flow continues at a high 2.7 ratio. We believe divesting the Canadian assets and the formation of the Mississippian joint venture will reduce the company's debt by $100 million, and thus lower the debt to cash flow ratio to 1.3.
Valuation of the Canadian assets:
Currently the company produces 1100 barrels per day (mostly crude oil) mainly from its Cardium and Viking assets. We believe those assets are worth $80 to $90 million based on the value of comparable asset deals in the area:

Source: TD Waterhouse
It is worth noting that in our conversation with the company CFO, Mr Dell Chapman, on February 28th he presented a valuation very similar to the one proposed above.
Valuation of the Mississippian acreage: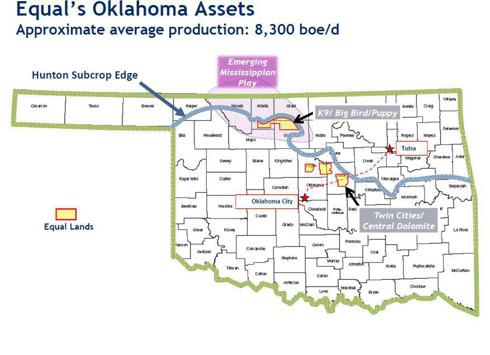 Source: Equal Energy
As can be seen from the above the company Mississippian acreage is located at the heart of the Mississippian formation. Deals in this area by competitors such as SandRidge energy (SD) have fetched valuations ranging from $2700 per acre to over $5000 per acre - (deal examples). If we were to place a valuation at the low end of the spectrum to Equal Mississippian acreage, the company's 15200 acres would be worth at least $42 million ($1.25/ share). A 50% joint venture could produce an immediate cash injection of $21 million.
It is worth noting that Equal Energy's Mississippian acreage does not include any potential Mississippian Lime in Logan County, where Equal holds a substantial land position. This is where Devon Energy (DVN) encountered very encouraging oil production results.
Trust Transformation
The second element of our plan is the transformation of the company (post Canadian divesture/ post Mississippian JV) into an income trust, with a growth "kicker" presented by drilling in the Mississippian acreage in coordination with their future joint venture partner.
Canadian tax law allows for the formation of a mutual fund trust for Canadian companies with assets held outside of Canada. Trusts with a similar structure came public last year on the TSX, most notably Eagle Energy Trust (EGL.UN) and Parallel Energy Trust (PLT.UN).
The formation of a trust will eliminate the double taxation caused by the current corporate structure, thus allowing the resulting entity to distribute the majority of its excess cash flow to its shareholders.
Most importantly, due to the income component of those trusts, such entities trade at a significant premium to the market; Parallel Energy Trust (33% NG, 43% NGL, 23% Condensate) trades at $84,000 per flowing barrel. The formation of a US based trust can also be envisaged.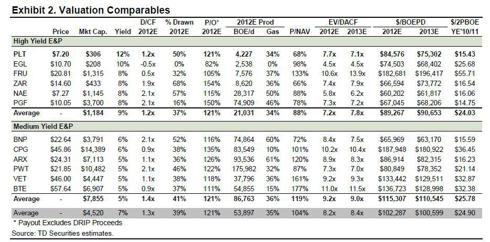 Source: TD Waterhouse
Equal Energy Trust
Cash flow:
Post the divesture of the Canadian assets and the Mississippian joint venture, Equal Energy will emerge as a trust holding the Hunton assets and 50% of the Mississippian acreage. The Hunton production which is very NGL rich (131 bbl per mmcf) stands at 8700 Bpd (56% NG, 41% NGL, 3% Oil) and is expected to generate $50 million in cash flow (at current NG/NGL price strip). This is excluding any incremental cash flow from the oil rich Mississippian acreage production.
Debt:
The trust will have only $65 million in debt, with $45 million maturing in March 2016. The trust's credit lines are expected to be at least $120m post divesture, with only $20m withdrawn thus giving the trust ample flexibility to pursue growth through the drill bit at the Mississippian prospect.
Dividends:
The capital needed to maintain production flat at the Hunton is $35 million; $15 million will be available for distribution to the shareholders - or about 44c per share - at the current share price this would represent 12% yield. Furthermore, there are more savings to be had through the elimination of the expensive dual listing structure and streamlining operations in one jurisdiction.
Valuation:
We believe the reduction of debt to CF ratio from 2.7 to 1.3 in conjunction of a dividend payment and a deep drilling inventory represented by both the Hunton and the Mississippian will lead to a significant re-rating of the stock; potentially leading to a doubling of the stock price. This is despite the temporary increase in natural gas production in the overall mix to 56% from 50% today. Eventually the steady rise in crude production due to the development of the Mississippian will further underpin the valuation.
Management Response
On February 25th 2012, a letter was sent to the management requesting the company to consider a number of strategic options, including the plan outlined above. On February 28th 2012, a conference call between myself, the company's CEO Mr. Don Klapko and the company's CFO Mr. Dell Chapman took place. In that conference call, Mr.Klapko defended the company record and indicated that the weakness in the stock price was the result of weak natural gas prices; he clearly did not have a favourable view of our plan. Mr. Chapman on the other hand was more cordial and admitted that the status quo cannot continue. He also promised that the company is looking, and will be looking, at all options including the plan proposed above. Both of them also indicated that they are hopeful the Mississippian joint venture will close shortly (reiterating the same comments made during the Enercom San Francisco conference on February 21st).
Following that conference call, our shareholders group entered in discussions with the company's institutional shareholder base. Within two weeks, we were able to garner the support of several major holders, thus bringing the total supporting shareholders from 1% when we first started our efforts to about 10% post our shareholders communication campaign.
On March 9th 2012, a formal letter was sent to Mr. Peter Carpenter, Chairman of the board of directors; our letter requested the board of directors to implement our mutual fund trust and divesture initiative, or alternatively consider other strategic initiatives to unlock shareholder value. As of today we have not received an answer to this letter.
Excessive CEO compensation
There is one aspect I overlooked in my analysis of this company in November of last year: CEO compensation. Mr.Don Klapko was initially hired as a consultant in late 2007, eventually he was chosen as CEO on June 30th 2008. Follows is his compensation from 2008 to 2010 (the information for last year has not been published yet), from the April 7th 2011 information circular.
2008 as consultant: $840K
2008 as CEO: $6.6m
2009: $854K
2010: $554K
Total for the 3 years above: $8.84m
If 2011 comes close to his first 3 years average, his total compensation since his involvement with the company would touch $10 million dollars. Meanwhile shareholders have lost over 60% of the value of their shares since he assumed the CEO position.
Mr. Klapko maintains that the decline in the share price is due to the significant decline in natural gas prices during his tenure. Yet, as highlighted in this article, the company's peers trade at a valuation at least double Equals, while being exposed to the same natural gas prices.
I admit that Mr.Klapko has undertaken a number of measures to strengthen the company, rationalize its assets and refinanced its debts. However, he has been paid generously for his efforts.
When we asked Mr.Klapko on February 28th on his vision and strategy to unlock shareholder value over the next 3 years? His answer was: "We expect natural gas prices to rebound."
Expecting natural gas prices to rebound is neither a vision nor a strategy; shareholders certainly do not need to pay millions of dollars in compensation to wait for natural gas prices to rebound.
What now?
Canadian corporate law is quite favourable to shareholders activism. Major shareholders are not required to publicly disclose their stake until they cross 10% ownership, corporations do not have access to the poison pill defense, shareholders with 5% of the shares may initiate a special shareholders meeting, and shareholders with only 1% of the shares may introduce a special resolution in the annual shareholder meeting.
The dissenting shareholders group will continue to work diligently to unlock value at Equal Energy. Should the company fail to proceed with a credible strategic plan by the annual shareholders meeting on May 11th 2012; our group is considering additional steps such as requesting a special shareholder meeting or commencing proxy solicitations for board members nominations.
Meanwhile we believe Equal Energy shares continue to offer a very compelling value. It is likely that the company will proceed with the Mississippian joint venture in the near future in order to deflect some of the shareholder pressure. Over the long term we believe that there is a decent chance that the company will ultimately adopt our proposal or at least proceed with an alternative strategic plan.
At this occasion, I would like to remind shareholders in Equal Energy - and all public corporations - that you are the ultimate owners of the companies you hold in your portfolios. The board of directors and the management team serve at the pleasure of the company shareholders. If you perceive that your company is mismanaged, don't give management a pass. Even individual shareholders can make a significant difference due to their sheer number; a sustained and well articulated pressure campaign on any company should ultimately lead to results. The key is patience and persistence.
Disclosure: I am long EQU.