If you read me often, you know that I work pretty hard and get things right (in the factual, not necessarily the predictive sense) a vast majority of the time. However, I don't fret much over being wrong. In fact, I reserve the right to be wrong.
From a predictive standpoint, I expect to be wrong. Quite often actually. That's the nature of this business. When I get a fact wrong, it bugs me quite a bit more, but I move on. We all make mistakes. So, maybe I have missed something here. If I have, please correct me in the comments.
I pay close attention to what happens in both the smart phone/gadget space as well as the attendant wireless sector. And while I have seen the stories of AT&T (T), Verizon (VZ) and Sprint (S) paying hefty costs to subsidize the iPhone, I have not seen any reports that Apple (AAPL), or other gadget companies for that matter, should contribute financially to the wireless spectrum infrastructure problem.
That "problem" comes in two folds. Wireless carries not only have to jockey for spectrum (and pay for it), they also have to maintain and support their networks as data usage by consumers and business continues to explode.
Apple's iPhone Owes Some Of Its Success To Subsidies
There's no question, consumers bend over backwards to get Apple products. I am sure some folks miss meals or sacrifice one or thing or another to have an iPhone or iPad. When iTV comes out, if it floats my boat, I might slum to drinking Old Milwaukee for a week or two. And, of course, Apple products will always sell - and sell well - to the well-to-do masses who likely always will be able to afford them.
If, however, consumers had to pay the full cost to secure an iPhone, the product might not be quite as successful as it is. Thanks to the subsidies wireless carriers pay to Apple for the "privilege" of carrying the iPhone, the end user only foots a fraction of the cost when he or she buys the device. That makes the decision to go with the iPhone feel a whole lot better on the psyche as well as the pocketbook. I'm not debating the beauty or utility of the iPhone. I worship the ground Steve Jobs walked on. I am just saying if it cost twice or three times as much as it does, it likely would not sell as well as it does.
Apple has put the screws to AT&T, Verizon and Sprint because it can. The carriers realize that people want iPhones, therefore they do what they need to do to get them and sell them at attractive price points. But that attractive price does come at a cost, one that wireless companies, not consumers, bear. Consider the numbers from Geoff Duncan of Digital Trends:
Apple's most-recent fiscal results reveal that the average selling price (ASP) for an iPhone is about $660. Now, that cost is an average across all iPhone models, from the lowly and almost-three-year-old iPhone 3GS to the high-end 64GB version of the iPhone 4S. Apple does not break down sales across its iPhone lines, but it's relatively safe to assume sales of the iPhone 4S skew toward the lower end of the line, with the $199 8GB version no doubt being the most popular. That means, of the roughly $660 carriers are paying Apple for an iPhone, about $200 is being picked up by the customer directly. That leaves about $440 to be made up by the carrier over the length of a contract.
If you don't think that subsidy matters to, and boosts sales for, Apple, think again. Digest recent figures compiled by The Wall Street Journal that show meaningful differences in iPhone sales in countries where subsidies prevail versus countries where they do not:
Last year, despite Apple Inc.'s high-profile launch of the new iPhone 4S, only 5% of the smart phones sold in Greece and 9% of those sold in Portugal were iPhones, according to research firm IDC. Most of the rest were phones running Google's Android operating system, which the company is promoting heavily as it seeks a firmer foothold in the wireless industry.

The results point to a rare weak spot for Apple - its heavy reliance on subsidies from wireless carriers to make its iPhones affordable to a wider range of consumers. The practice has proved to be a big advantage for Apple, which posted a 73% jump in revenue in its latest quarter, at the expense of carriers such as Sprint Nextel Corp., which started carrying the iPhone last fall but doesn't expect to make a profit on the device until 2015.

In countries like the U.S. and the U.K., carrier subsidies helped the iPhone win more than 20% of the smart phone market last year. But its performance in parts of southern Europe where most consumers don't sign contracts and have to pay full freight for phones suggests Apple's position could suffer if carriers tire of underwriting most of the cost of the devices, as some are in countries such as Denmark and Spain.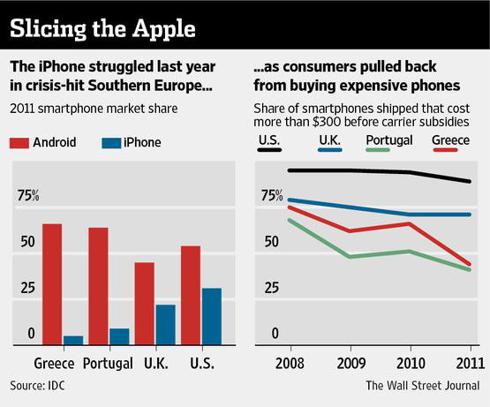 It's not completely clear how the wireless companies fare when the dust settles, probably because the dust settling has not yet taken place. Numbers Duncan put together suggest that, by locking customers into two-year contracts, the wireless companies turn a tidy profit even after subsidizing iPhone:
AT&T, Verizon and Sprint do not simply pocket those $1,000 to $3,640 profits. They have businesses to run. And a large part of that business consists of buying and supporting the infrastructure required to power many of the tasks that make consumers flock to smart phones.
You could, of course, make the argument that the investments wireless companies make today in increased capacity will pay off big tomorrow. But, as Anthony Wing Kosner seems to imply in Forbes, there's no guarantee that that will take place:
The phone and cable companies have invested billions of dollars in fiber optics and high-speed switches and are looking for a return on their investment. All of the providers except Sprint at this point have turned away from the unlimited data plans that consumers favor ... The engineering question for the bandwidth providers is how to set prices to keep demand strong while still making respectable margins. It used to be that the phone companies were like the railroads or utilities in the game of Monopoly-steady, dependable earners. Now the scale of investment is such that telecoms are pinned between shareholders and strategy. It's a tricky place to be.
In the near-term, at least, as Apple's growth and profits explode, wireless carriers feel significant near-term pressure:
AT&T and Verizon were downgraded by analysts at R W Baird. The analysts cited valuations and industry ROIC concerns given the need to upgrade spectrum and slowing revenue growth. Verizon's price target was lowered from $41 to $37 and AT&T's remains at $31.

Smart phone users are using increasing amounts of data and the enterprises will have to pay a hefty price for "fresh spectrum." In addition, sales growth is slowing and free cash flow generated by telecom providers has been stagnant since 2007.
I am long VZ, however, I have scaled down my regular purchases. I will not begin to buy again until the stock pulls back considerably and I feel like future prospects are solid. It's not as if telecommunications companies in the United States operate in a regulatory environment where they can easily expand spectrum capabilities, gobble up other firms and latch onto new lines of revenue.
AT&T had its bid for T-Mobile (OTCQX:DTEGY) collapse. And it should come as no surprise that carriers have failed to strike deals or partnerships with DISH Network (DISH) to get their hands on its capacity. This is not Canada, where the "socialist" government stands by as Rogers (RCI) and Bell (BCE) dominate everything from wireless to Internet and cable to media and entertainment. For whatever reason, the feds in the States will not let companies like DISH or VZ exist at such a scale at all or without a fight and/or major, potentially unworkable concessions.
Implications For Investors
The next Presidential election looms large. Barack Obama has made creation of a wholly-connected society one of his primary goals. From the President's 2013 budget:
Bring Next-Generation, Wireless Broad-band to All Parts of the Country. The advances in wireless technology and the adoption and reliance on wireless devices in daily commercial and personal life have been dramatic. High-speed, wireless broadband is fast becoming a critical component of business operations and economic growth. The United States needs to lead the world in providing broad access to the fastest networks possible.
The next several years could provide interesting times. If I run AT&T, Verizon or Sprint or if I am thinking about building out my own network at DISH, I would spend plenty of time in Washington, D.C., in 2013. I would lobby more than Phillip Morris (NYSE:PM).
At the moment, the big three wireless companies have their hands tied. It costs a lot of money to be in the spectrum business. And the "plan" now is that they have to follow a whole host of rules and spend tons of cash to collect and babysit spectrum at the same time as the current administration considers wireless technology vital for business and economic growth. Something's gotta give.
Ultimately, the heads at AT&T, Verizon, Sprint and maybe DISH need to come together and strongly suggest the notion of a partnership between government and business. Washington needs to make a considerable investment in wireless infrastructure. The carriers, who also stand to benefit, should continue to as well. I've thought about it quite a bit, and cannot find a reason why Apple and other companies that sell gadgets that gobble up data should not to have share in the cost.
While plenty of reasons exist not to buy shares of Sprint, AT&T and Verizon look much more attractive. Generally, I like both companies. At the moment, however, I am putting up a big stop sign. I need to see more certainty as to how this situation will ultimately play out. What will happen to DISH's spectrum? Will it unload it to a telco or will it build out its own network and become a competitor? Whatever DISH decides - and whatever regulators allow to happen - will have profound impacts on wireless companies going forward.
As far as Apple is concerned, if we were looking at a Steve Jobs-run Apple, the company would simply sit back right easy and laugh, as iPhone and iPad continue to bust this city in half. Apple during Jobsian times would scoff at the mere mention of the government or a telco asking them to chip in to cover the cost of deploying and maintaining a network. But, now, with the more conciliatory Tim Cook at the helm, it seems that the time is ripe for one of the above to rock the boat. If I am in charge at T or VZ, in particular, I take this opportunity to do something few companies have had the courage to do - challenge Apple. If nothing else, it would be interesting to see how Cook responds. There's no question Apple has the cash, even after dividends and buybacks, to pay, at the very least, its fair share.